Check Out Lily Aldridge's NYFW Periscope
No one does New York Fashion Week quite like a top model, and Lily Aldridge's backstage Periscope recording demonstrates exactly what it means to be in the thick of the sartorially swoon-worthy extravaganza. A Victoria's Secret Angel and a member of the modeling elite, Aldridge leads a covetable existence strutting down the runways of illustrious designers and basking in the company of famed friends including Taylor Swift and fellow Angel Martha Hunt, who happens to make a cameo in the Periscope video as well. Aldridge's video takes the viewer through the whimsical labyrinth that is backstage at Carolina Herrera's Spring 2016 show, and the results are sheer sartorial fun.
Throughout the short video, Aldridge chronicles her journey to the presentation's venue and backstage preparations. A jaunt in the car deposits Aldridge at the Frick Museum, where the model saunters through the architecturally arresting space before heading into hair and makeup. Throughout the model's short one-and-a-half minute video, the viewer is transported in double time through the rigors of backstage beauty and fashion preparations for one of the country's most beloved design houses, but the journey isn't without its droll moments.
Read on for the six most typical fashion moments from Aldridge's video.
1. The Model Selfie
Aldridge encountered an enthusiastic Orlando Pita, the unofficial hair guru of Fashion Week, and posed for a quick selfie with the equally excited Hunt.
2. The Designer Selfie
A beaming Aldridge posed with Herrera post-show in the classic designer selfie beloved by Fashion Week insiders.
3. The Hair And Makeup Moment
Aldridge then submitted to a routine primp and polish before walking the runway in rehearsal for the show.
4. The Runway Strut
After donning a beautiful cream frock with illusion trompe l'oeil detailing, Aldridge strolled the runway and subsequently took a moment to bask in the show's success with Herrera herself.
5. The Multiple Models Selfie
A final round of selfies with fellow runway runners concluded the experience.
6. The Incognito Departure
In a classic sartorial gesture, Aldridge donned her black, oversized Jackie O. sunglasses and bid the paparazzi adieu.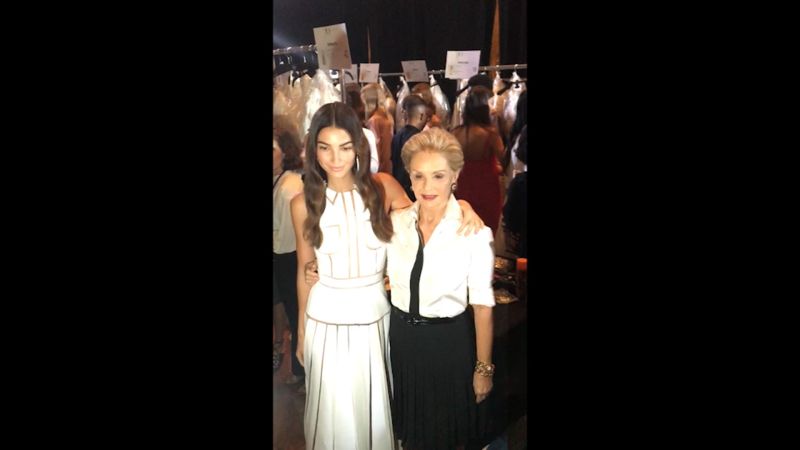 Images: Lily Aldridge/Periscope