This Time The JV Debate Actually Has An Audience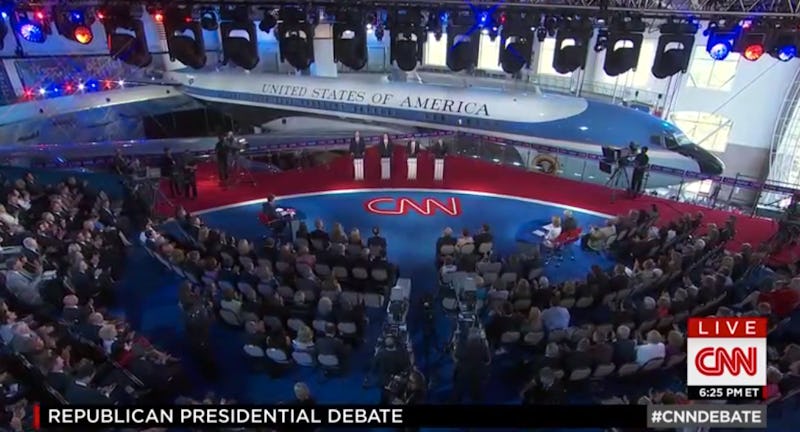 The first round of the second Republican presidential primary debate has just started, but photos of the mini-debate audience prove that it's already off to a much better start than last time. The "happy hour" debate, which takes place before the main debate tonight, features the four candidates who didn't poll high enough to be included in prime-time.
The happy hour debate has lost some candidates since the first go-around — Carly Fiorina graduated to the main event, Rick Perry has dropped out, and Jim Gilmore didn't poll well enough for inclusion. But though their numbers are few, their debate doesn't look quite as depressing as the last one.
Those who tuned in early in August saw the shots of the auditorium and felt incredibly awkward, since no one showed up. The large center, which was packed for the later candidates, was practically empty, adding insult to injury for these candidates who were relegated to a "kiddie table" debate. But luckily, this time around, first-round candidates aren't speaking to an empty room. The Ronald Reagan Presidential Library is packed already, with viewers seated and ready for the show. Even Lindsey Graham noticed, and started his opening statement with a joke: "Thank you to CNN, for actually having an audience here tonight."
Even though they might just be the opening band before the headlining act, at least the candidates aren't speaking to an empty room. Which will maybe alleviate some of the awkwardness.
Images: CNN (2)