A Short Woman & A Tall Woman Attend NYFW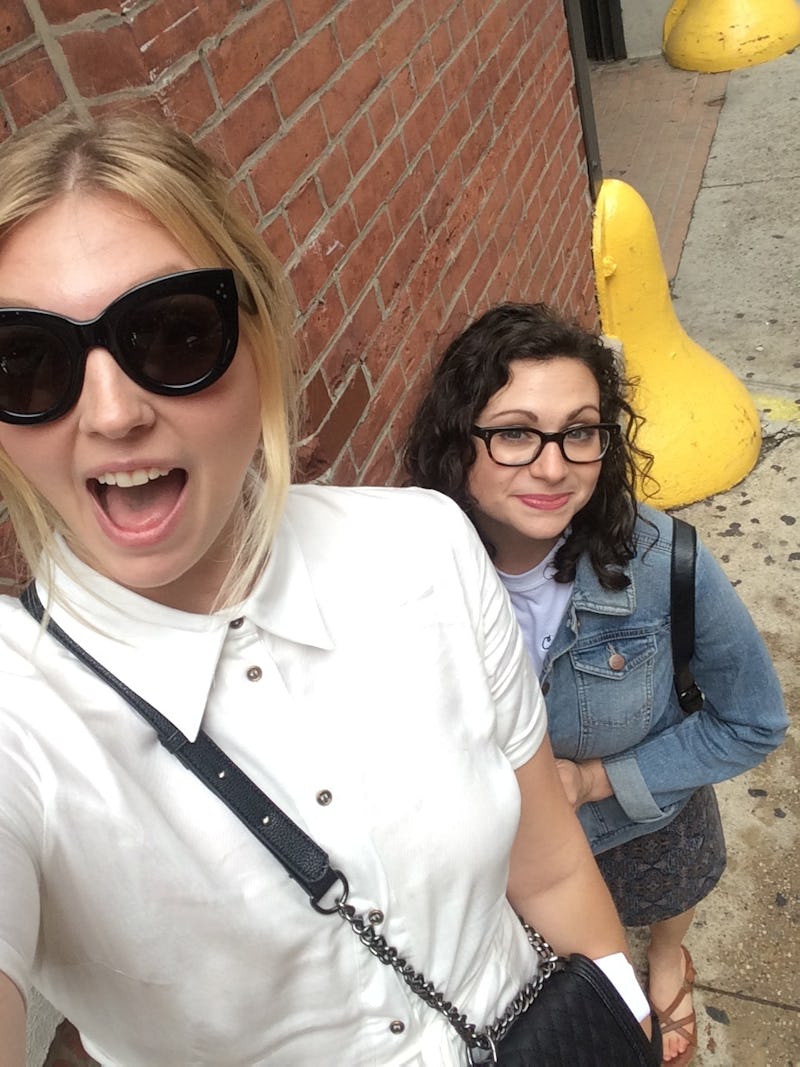 Fashion Week is all about tall — tall models, tall shoes, tall egos. That's why I, a very petite five foot, zero inches tall human being, decided to attend New York Fashion Week 2015 with my fellow Associate Fashion and Beauty Editor Olivia Muenter, who towers over me from a stature of almost six feet. Curious about how our experiences as people on opposite ends of the height spectrum would differ, we hit several events — the Charles Yousseff presentation, the backstage areas at Marissa Webb and Banana Republic, and the Betsey Johnson 50th anniversary runway show — and took pictures and videos of the same things at each.
The results of our experiment were fairly predictable. Olivia scored some awesome images pretty much whenever she held up her camera, while I snapped a lot of blurry pictures of the backs of people's heads and had to bob and weave whenever I wanted to get a clear look at the action. But even if my view of the NYFW excitement was somewhat more, well, obscured than Olivia's, I think we both got a lot out of the experience (read: free stuff and celebrity sightings).
So, are you ready to find out how going to Fashion Week as a short person and going to Fashion Week as a tall person differ? Of course you are!
Let's do this!
1. Charles Youssef S/S 2016 Presentation
Olivia's Perspective:
Models sitting pretty in gorgeous clothing.
Erin's Perspective:
This photographer's black t-shirt as he takes photos of models sitting pretty in gorgeous clothing.
2. Backstage At Marissa Webb S/S 2016
Olivia's Perspective:
Backstage seems to be a pretty even playing field when it comes to snapping photos.
Erin's Perspective:
I, too, managed to snap an unobscured pic of models getting prepped for the runway by a team of TreSemmé stylists.
3. Maddie Ziegler
Olivia's Perspective:
The Dance Moms star looking adorable in a high pony and a mini Chanel bag.
Erin's Perspective:
I know this doesn't look like Ziegler, but I swear she's standing in front of this blue backpack... somewhere.
Told you! The image is still super blurry and out of focus because I was rushing to get a photo before someone stepped in front of me again.
5. Betsey Johnson S/S 2016 Runway
Olivia's Perspective:
Gorgeous.
Erin's Perspective:
Not a bad photo, but still — so. many. heads. in. my. way.
6. Betsey's Cartwheel
Olivia's Perspective:
Erin's Perspective:
This needs no explanation.
7. #OOTD Photos
Olivia:
Question: What is fashion week without an outfit Instagram photo at the end of the day?
Erin:
Answer: Nothing. Nothing at all.
Comparison:
Same wall. Same photo. Same Fashion Week. Two very different heights.
Next time you attend Fashion Week, a concert, the movies, or anywhere else that might be a challenge for the, well, vertically challenged, be mindful! Look out for the shorties around you, because they're likely having a very different experience. It's hard out there when you can't see what's going around you.
Images: Olivia Muenter (3); Erin Mayer (5)