Caitlyn Jenner Would Bring Great Scenes To 'KUWTK'
Caitlyn Jenner starred in E!'s groundbreaking docu-series I Am Cait this summer, giving viewers a first-hand look into her life. But you have to wonder if next Caitlyn will appear on this season of Keeping Up With the Kardashians , because they are all family. Rumors have said both yes and no, but there hasn't been any official word from the woman herself. Last month, rumors began popping up that Caitlyn wanted to be back on the flagship series in the Kardashian TV franchise. Later in the UK's Mirror, Caitlyn's rep denied she will return, saying, "This is not true. She has her own show."
This week, WhoSay published an essay penned by Jenner, in which she writes that she'll be taking a break after having such a busy summer. But Keeping Up With the Kardashians is always filled surprises, so I wouldn't be shocked if there were a surprise guest appearance. I mean, the New York Post's Page Six recently reported that Leonardo DiCaprio just watched the show film an episode at the club he was at during New York Fashion Week. Could he possibly make an appearance on screen? Who knows. I feel like anything is possible with the Kardashian-Jenner family — guest appearances, hair color changes, you name it.
On the off-chance Cailtyn drops by, here are some things I hope she gets to do on Keeping Up With the Kardashians.
Hang Out With Kris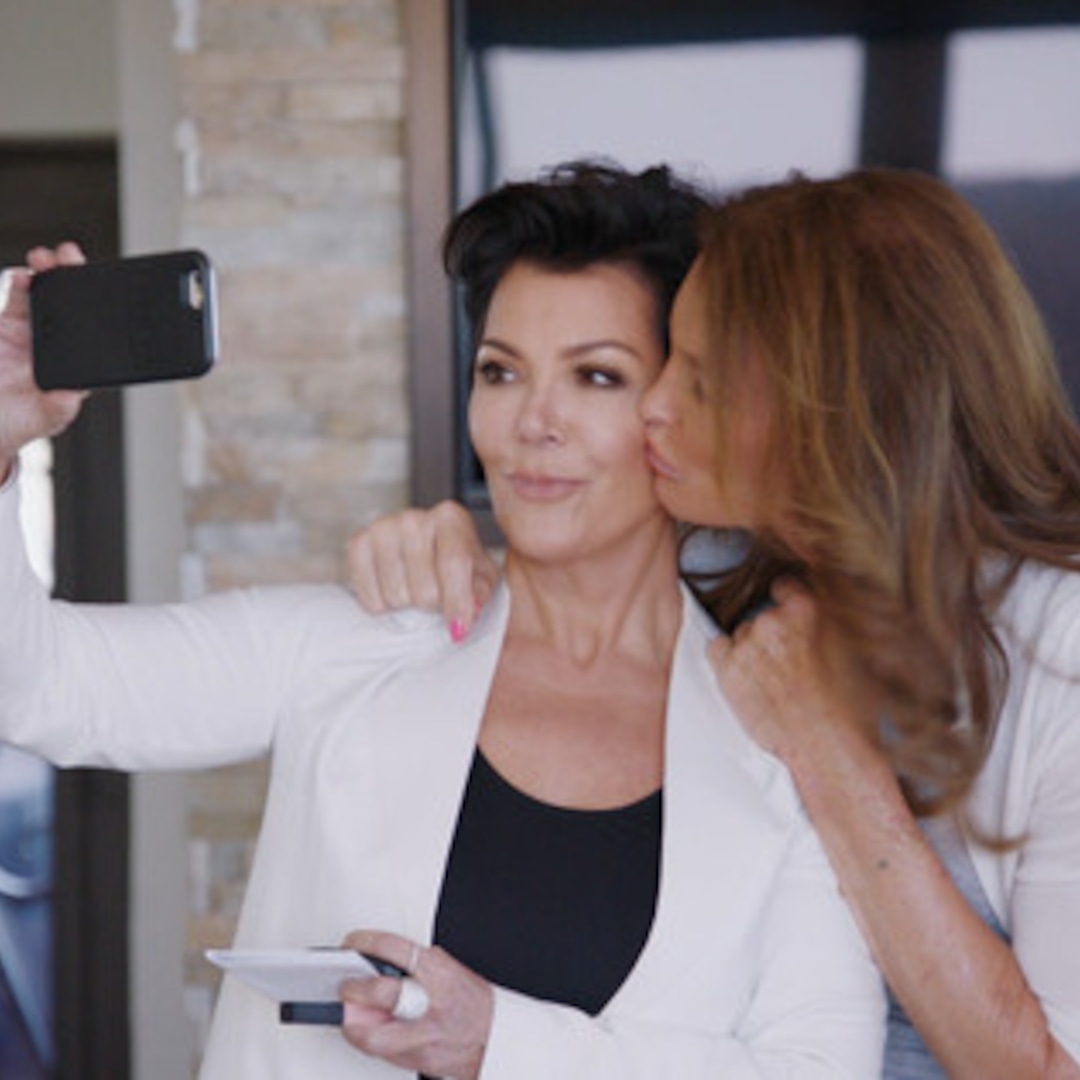 Caitlyn and ex-wife Kris recently began speaking again on the season finale of I Am Cait. Despite the differences they have with each other, they said they wanted to be able to share family celebrations together and spend time with their children. "Are we going to start hanging out together?" Caitlyn asked Kris, in the clip above. "Sure, you can come over for a drink," Kris said. "I just want to get to a place where it's comfortable for us to share celebrations together."
Hopefully, those celebrations will commence on Keeping Up With the Kardashians and maybe one or two of their hangouts.
Bond With Kendall & Kylie
The Jenner sisters have been incredibly supportive of Caitlyn's journey and I think it would be awesome to see the three of them bonding on Keeping Up With the Kardashians. I mean, check out how cute Caitlyn's cameo is in Kylie's makeup tutorial on her app. "I hate your brows," Caitlyn told Kylie, words dripping with both sarcasm and pride. "Yeah, they're too perfect and young."
Meeting Tyga
Many sources have cited rumors that Kylie's rapper boyfriend will appear this season on KUWTK. After all, she did just star in the music video for his single "Stimulated." I'd love to see Caitlyn and Tyga meet on-screen, especially after a suggestive song like that — whew!
Styling Tips From Kim
In an recent essay on her website, Kim Kardashian West detailed her feelings about Caitlyn, her transition, and being able to now bond with her about fashion. "I'm just so proud of Caitlyn, and our relationship is even stronger now," Kim wrote. "And, after all, she asks me for style and glam tips all the time. What's more fun than that? LOL." I'd love to see this on-screen and how they spend time together now.
Chillin' With Kanye
I know Yeezy doesn't make many appearances on his wife's show, but come on — how about just one to see Caitlyn and Kanye hang out? Who knows, we could end up with a Kanye/Caitlyn 2020 presidential campaign.
Just Being A Big Ol' Happy Family
Sure, nothing will ever be picture perfect, but the best and most fun Kardashian moments have been when they're sticking together as a family — a big, modern, awesome family. It would be great to be able to see Caitlyn as part of that on KUWTK.