13 Books To Get You Excited About Halloween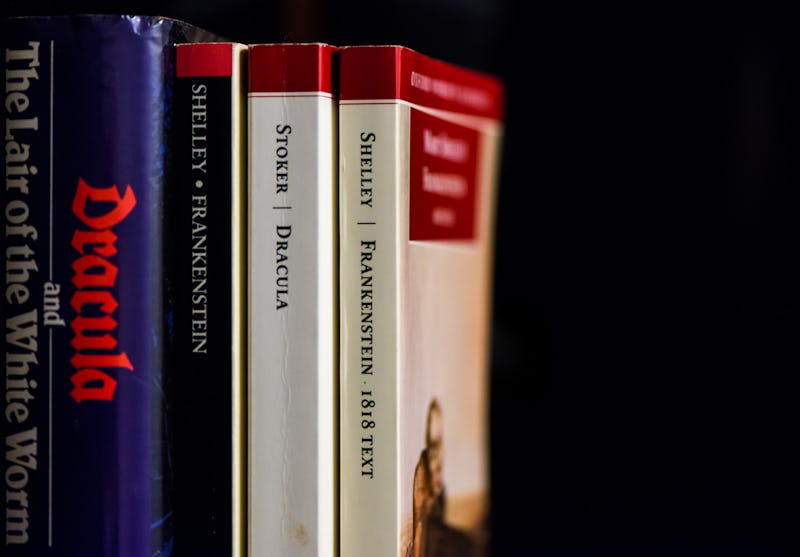 The leaves are about to change, and that means that the absolute best holiday is right around the corner: Halloween. Sure, Halloween has changed a bit since we were kids, given that it's no longer socially acceptable to go trick-or-treating, but that doesn't mean we still can't celebrate it. You're never to old to wear a costume, and now that you're an adult, you can just buy the candy yourself... and only the good kind.
How does one get revved up for the Halloween season every year? Well, the way I do it is to have my annual "Spooky Book Reading Fest," during which I read as many scary books in the horror genre as possible in the weeks leading up to Halloween. There's something exciting about turning reading into an event, and given the wealth of incredible horror books out there, Halloween is the perfect holiday with which to do it.
For those interested in having their own horror reading fests, I've compiled a spooky list of creepy tales, ranging from classic to contemporary. There's something for everyone, so long as they love scary stories!
Frankenstein by Mary Shelley
One of the classics in the Gothic horror genre, Mary Shelley's Frankenstein tells the story of dedicated science student Victor Frankenstein, who has become obsessed with the idea of raising people from the dead. After assembling a bunch of stolen body parts and bringing the creature to life, his horror sets him running, with the creature in hot pursuit. Written by a 19-year-old Mary Shelley while on a particularly rainy holiday in Switzerland with her husband, her one nightmare spawned the foundation of a cornerstone of horror literature.
Dracula by Bram Stoker
Long before Edward Cullen hit the scene, the mysterious and terrifying Count Dracula was the vampire in literature. Following the tale of Jonathan Harker as he travels to the far off country of Transylvania as a guest of Count Dracula. Relations between this member of foreign royalty are not as they seem, and Harker begins to realize that the Count may not be human. Hearkening back to the time where vampires were terrifying forces that had to be stopped, Dracula is a truly scary supernatural tale.
The Strange Case of Dr. Jekyll and Mr. Hyde by Robert Louis Stevenson
The classic tale of good vs. evil, The Strange Case of Dr Jekyll and Mr Hyde follows young lawyer Gabriel John Utterson as he discovers the strange case of Dr. Henry Jekyll, a man who has discovered a draught that brings out man's base instincts and uses it to become the evil Mr. Edward Hyde.
The King in Yellow by Robert W. Chambers
Those of you might remember The King in Yellow from its references in the first season of True Detective, this book of short connected stories centers around a mysterious play called The King in Yellow that induces despair and madness in anyone who reads it. Each of the ten stories are chilling on their own, focusing on anything from paranoia and egotism to Bohemiam romanticism and losing one's soul. However what's truly disturbing are the little snatches of the cursed play itself, taking a less is more approach to horror.
The Woman in White by Wilkie Collins
Written in 1852, The Woman in White is widely regarded as one of the forefathers of Gothic horror. The story centers on drawing master Walter Hartwright as he becomes increasingly embroiled in the evil intrigues of Sir Percival Glyde and his odious companion Count Fosco, a man who loves vanilla bon bons, white mice, and poison. After a chance meeting in the moonlight with a beautiful woman dressed entirely in white, Hartwright goes on a journey that will have him discovering insanity from the English countryside to the madhouses of Bedlam.
'Salem's Lot by Stephen King
Stephen King is an expert about writing about small towns containing a big evil, and 'Salem's Lot is his response to the classic vampire story. Written during a time when the brooding, dramatic vampires written by Anne Rice held sway, King wrote his vampire to be a vicious predator, stripping all romance away. Set in a small town that is slowly being torn apart by an evil force, this modern day Dracula will keep you creeped out up until the very end.
The Exorcist by William Peter Blatty
You may remember the classic film, but The Exorcist was a book first. 12-year-old Regan MacNeil, the daughter of a famous actress, has been possessed by a demon. This requires the services of Jesuit priest Father Lankester Merrin and a younger psychiatric priest Father Damien Karras, who is having a crisis of faith. Full of demons and ghost-like activity, The Exorcist will keep you on the edge of your seat.
Hell House by Richard Matheson
The Belsaco House has seen just about every form of depravity there is, and is now regarded as the "Mount Everest of Haunted Houses." With every ghost hunting expedition ending in murder, madness, and suicide, a new expedition of four strangers arises to enter the house, with terrifying consequences. If you're going to read one haunted house novel this Halloween, this one better be it.
The Turn of the Screw by Henry James
In 1899, The Independent described The Turn of the Screw ""the most hopelessly evil story that we have ever read in any literature, ancient or modern." This ghostly novella tells the story of an unnamed governess put in charge of two young children, only to realize that the estate that they are all living in is haunted by two ghosts. Written in a rather dry, traditional style, the horror of the work nevertheless creeps up on you, it's definitely not to be missed.
Rosemary's Baby by Ira Levin
The top bestselling horror novel of the 1960's, Rosemary's Baby tells the story of Rosemary Woodhouse, a young woman who has recently moved to a beautiful old Gothic revival apartment building in Upper Manhattan. Although she wants children, her husband Guy is a struggling actor and would rather wait. All of this changes when Guy befriends the neighbors next door, suddenly becomes successful, and decides immediately that he has changed his mind about children. Rosemary's subsequent pregnancy puts her on a strange path as she slowly realizes that the father of her baby just might be the devil. Chilling on both a physical and psychological level, Rosemary's Baby is well worth a read.
The Hellbound Heart by Clive Barker
A creepy mixture of eroticism and horror, The Hellbound Heart centers on selfish hedonist Frank Cotton, who has devoted his entire life to the pursuit of the greatest sensual experience. After exhausting every sexual experience he can think of, he hears rumors of the Lament Configuration, a puzzle box that will act as a portal to a dimension of unspeakable carnal pleasure. When the box is opened to reveal scarified Cenobites, creatures who no longer understand the difference between intense pain and intense pleasure, Frank realizes that he's in over his head. Chock full of strange eroticism and body horror, The Hellbound Heart is classic '80s horror.
The Cipher by Kathe Koja
Nicholas is a video store clerk, and Nakota is bartender who also goes by the name of Shrike. They assume that they love each other in spite of their mutual strange issues. The monotony of their lives takes a turn when an enigmatic hole is found in the corner of Nicholas' apartment, causing them to slowly grow obsessed with putting living creatures such as insects and mice inside of it. When the severed hand of a corpse climbs back up the rope, they begin to realize that there might be something even more sinister about this hole than they imagined. Written in a poetic style, this horror novel is ideal for those who like a little art in their fear.
Heart Shaped Box by Joe Hill
Aged rock star Judas "Jude" Coyne is a collector of the macabre, whether or not it's a 16th century trepanned skull or artwork painted by John Wayne Gacy, Jude likes to collect it all. It doesn't come has a surprise to him when a link to e-bay shows him a real haunted suit for sale, which he immediately buys. However, when the heart-shaped box containing the dead man's suit arrives, he doesn't expect it to actually be haunted by the ghost of the stepfather of a groupie he once used and threw away, a ghost who is now out for revenge. Full of absolutely terrifying imagery and great ideas, Heart-Shaped Box is an original ghost story full of original ideas.
Image: Mark Seton/Flickr