How To Fix 6 Different Curly Hair Problems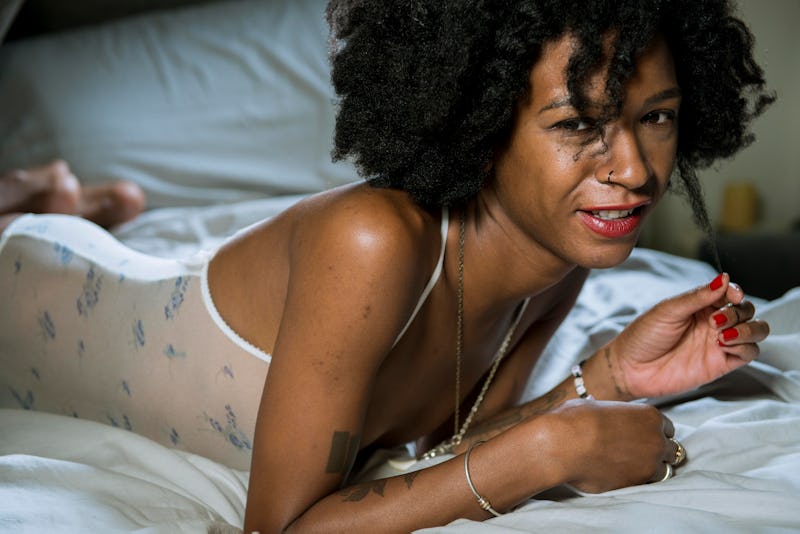 My own set of curl problems keeps me pretty busy. Most often than not, those curl problems that I deal with are unique to my own curl type, texture, and habits. But all curls are not created equal, so I decided it was time to get a group of curly-haired babes together to discuss our curl woes while having a killer brainstorming session... over cocktails of course. From dryness to split ends to too much curl to never enough curl, I wasn't surprised that we all benefited from hearing the best and worst methods we've used to solve our hair problems. Let's be honest, solving hair problems can often feel like trying to solve world hunger.
Over the years of problem-solving, habit changes, and homemade remedies, I've learned one very important thing about my own hair texture that could be said for hair everywhere. More often than not, less is more. My hair has a naturally matte appearance and it will never look as shiny or glossy as it did when I wore my hair chemically straightened. Over-manipulation, smothering my scalp and tresses in heavy butters, and watering it way too much is only going to turn slight dryness into a desert where there is no way out. Yes, obsession is never a good thing — even if we're just talking about hair.
With that in mind, I had my curly friends send me their hair struggles and their best methods to fix them and we sat down to discuss. Unsurprisingly, all of our hair problems were typical problems that occurred by just simply having hair.
1. Shareefah
Curl Problem: "My hair is fine, but I have a lot of hair so it gives the impression that it is super thick — and yes it is when it's not straightened. It tangles very, very, very easily. My hair stylist said that sure, finger detangling is great, but I do need to try to detangle gently with a wide tooth comb or wide brush. Fine hair gets knotted easily.
Curl Solving Tips: This is a problem that we all hear loud and clear. While kinky, afro-textured hair appears thick to the untrained eye, the individual strands tend to be frail and fine, thus wrapping themselves around each other and becoming an unbearable knotted mess. The best advice we had for Shareefah? Finger detangle during deep conditioning will ensure that the nutrients and vitamins of your deep conditioner will reach each strand. Since Shareefah is looking to strengthen those locks, using hair strengthening oils in her deep conditioner is mandatory. Finding the right deep conditioner can be like finding a needle in a haystack and once you've found one that works in your hair, you'll need to be patient while detangling and especially while you wait to notice a change in your stands.
2. Kourtney
Curl Problem: "My hair is pretty awesome, but also very very thirsty. So dryness/sometimes dullness [which I deal with] by steaming my hair often. [My biggest curl problem] is not having a dedicated barber/ beautician. I am terrified of people with scissors and good intentions."
Curl Solving Tips: Obviously, we all confronted Kourtney at the door and demanded to know how she steams her hair. After she fended off three afros begging for answers, she told us her trick was as simple as it was complex. Kourtney takes advantage of the saunas at her gym by allowing her wet hair to drink in the heat while a hair sealant and get all the joys of heat treatments without applying it directly on fragile locks. As far as the fear of haircuts, we all know word of mouth is one of the best ways to find a hair stylist that isn't a sociopath with scissors, but the best way to get over the fear of a barber is to find one that listens and communicates with you. If you tell your stylist not to braid your hair too tight or say you don't care how many dead ends there are, scissors are forbidden during this color session? Your stylist should listen.
3. Laurel
Curl Problem: "Keeping the volume of my hair at the crown is my current curl problem, I try to use hair gels to keep my curls piecey, but it just makes them greasy and hard."
Organic Chia Seeds, $40, Amazon
Curl Solving Tips: There ain't no shame in needing an extra boost to make your natural volume last throughout the day. Outside factors like weather, sweating, and manipulating into different styles can easily lead to limp curls, leaving you with curls only at the bottom of your hair. For Laurel, I made a flax seed hair gel with aloe to use on damp locks in hopes of adding some extra curl. Why flax seed? Because Laurel is not about the build-up of over-the-counter products and this gel is light in weight and fragrance.
4. Amity
Curl Problem: "My problem is hydration, which leads to split ends and crispy hairs. I usually just do deep conditioning and oil, but I'm always looking for new products that won't make my hair look greasy."
Acai Powder, $26, Amazon; Coconut Oil, $17, Amazon; Extra Virgin Olive Oil, $12, Amazon
Curl Solving Tips: For Amity, habit is key to keeping her hair hydrated and limit split ends. While our hair textures differ, our habits are very similar. Getting regular haircuts will keep her from pulling the ends of her hair with her hands which can leave the ends feeling dry. Keeping hair clean and deep conditioning regularly will help the hair feel hydrated without feeling greasy. One habit that can help with hydration without the greasiness is applying oil on damp hair instead of dry hair; hair sealants can't seal in moisture if there is no moisture to lock in.
5. Yves
Curl Problem: "My problem is that my hair never grows. My hair suffers from dryness, but whenever I wet my hair it becomes kinky and breaks off before it can grow. When I don't wet my hair, it becomes extremely dry and breaks off before it can grow."
Curl Solving Tips: For Yves, the problem is largely attributed to hair tight curl pattern. My hair also hates being wet and loses several inches once it becomes dry and then becomes an evil knotted mess. Since Yves hair is so short, her options are limited in protective hairstyles. We suggested a hair growing mask filled with amino acids, protein, and stimulating properties to keep the moisture in her hair. Yves admitted that she treats her hair better when she adds braids, so we know that braids are going to be the best option for her fragile locks to finally grow to their fullest potential.
6. Kristin
My Hair Problem: When I noticed hair breakage in the front of my hair, I didn't speak to anyone for about a week. I was completely committed to stopping the breakage before my hair started to get a reputation. Using smaller twists in my protective style has actually helped my problem area grow hair. Of course, that gave another set of problems. It would turn out, that these small twists were a huge task to take out leaving me cutting out at least one giant knot with scissors.
My Hair Solving Tip: Since the point of the tiny twists was to actually grow my hair where I do the most pulling (where I part my hair), I only use such small twists where the hair breakage occurs. I twist the rest of my hair in larger twists that are easier to get out without having to reach for the scissors. The front of my hair has looser curls and the knots usually occur in the center of my hair. I also am very careful to make sure that my hair is completely detangled before I do small-strand twists, because if it isn't then knots are more likely to takeover.
No matter what kind of curly hair you have, the good news is that you're not alone. Take advantage of your fellow curly friends — chances are you all have knowledge that the others will find revolutionary.
Image: Andrew Zaeh/Bustle; Kristin Collins Jackson (11); Shareefah Mapp (1); Kourtney Brown (1)