BBC's New Streaming Service Is Exciting News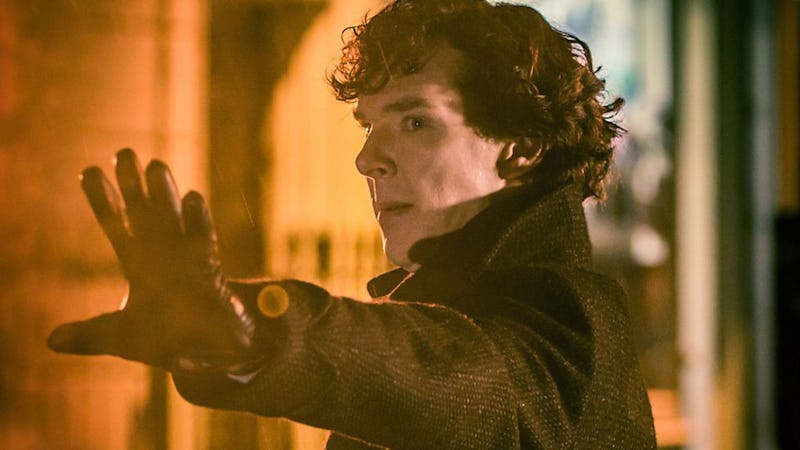 Anglophiles sick of waiting a full year for the latest Sherlock episodes will have something to celebrate: Earlier today, head of the BBC Tony Hall announced that the BBC will launch a streaming service in the United States, allowing American fans access to shows they might normally wait months to see. The service is slated to come online next year, but other details are still a bit fuzzy (most notably, how much will it cost?). The BBC had attempted to take its existing streaming service global a couple years ago, to little success — they abandoned the iPlayer in June, and it never even made it to the United States, according to the Telegraph.
At the moment, Netflix, Hulu, and Amazon Prime all offer some BBC shows, but not immediately, not all in the same place, and certainly not of the depth that the BBC could provide itself. The BBC consistently churns out some of the most thought-provoking and exciting bits of television on air, and as a huge fan of everything from vintage Doctor Who to Peaky Blinders, I'd be first in line to sign up for the new service. Here are a few favorites that would make the BBC service particularly enticing.
1. Luther
Idris Elba plays a renegade detective in this alternately brutal and sensitive crime procedural. Calling Luther a mere procedural feels enormously reductive — it would be amazing to keep up with his escapades in real time, rather than waiting for the whole season to come to Netflix.
2. Orphan Black
Tatiana Maslany was finally nominated for an Emmy for her performance(s) as the whole cast of clones of Orphan Black, and with good reason — she plays no fewer than 10 different characters on the show. It's a show that lends itself pretty well to a good old-fashioned binge-watch, but it's also rife with so many cliffhangers and twists and turns that the avid watcher is liable to encounter a spoiler or two while waiting for the episodes to come online over here.
3. Sherlock
The show that launched a thousand conspiracy theories, fan fics, and inspired Cumberbitches everywhere — Benedict Cumberbatch's Sherlock has had a highly irregular schedule, but it's still going strong. It has earned a cult support that is maybe only rivaled by the BBC's Doctor Who itself, which has cultivated its fan base over the course of decades of series.
4. Peaky Blinders
If you didn't already love Cillian Murphy for The Wind That Shakes The Barley or Inception or his recent pro-choice activism, Peaky Blinders will do the job. Its first two series are available on Netflix now, but with a third series rapidly approaching, the BBC streaming service will hopefully make the new episodes available in real time.
5. EastEnders
The quintessential British soap, EastEnders is an absurd and earnest show about a community in London's East End that's been on air since 1985. There have been well over 5,000 episodes, and the show doesn't give any appearances of slowing up. The theoretical BBC service would give American audiences a chance to catch up (though starting from the beginning might be a Sisyphean task).
6. The Fall
The Fall, like Peaky Blinders, Luther, and Sherlock, is available on Netflix right now. The show, which started airing in 2013, is expected to release a third season series soon, and given the critical acclaim the show has received in both the U.S. and U.K., there's little doubt that American audiences would benefit from the same access as British.
7. Blackadder
Part of the excitement of a BBC streaming service would be the on-demand access to some amazing vintage shows like Blackadder and Fawlty Towers. The acerbic, sarcastic, occasionally political (and Monty Python-esque) Brit humor of the late 20th century holds up today, and some of these shows, like various-period comedy Blackadder, are gems that should not be lost to time.
8. The Catherine Tate Show
During my sophomore year of high school, I had a particularly great — or particularly bad, depending on your viewpoint — French teacher who played episodes of the Catherine Tate Show, scenes from About A Boy (with French subtitles, of course), and the occasional French rap song while translating in real time. The Catherine Tate clips were only tangentially related to our class — in one sketch, the actress and comedienne plays a schoolgirl who gets in a bit of a tiff with her French teacher. It's part of a series of sketches where Tate plays the same young woman, satirizing British class and cultural stereotypes. And it's hilarious. The Catherine Tate Show is another of those old BBC gems that I'd love to see make the transition to American shores.
9. Wolf Hall
The BBC adaptation of Hilary Mantel's Wolf Hall and Bring Up the Bodies starring Mark Rylance has gotten a lot of play over here, too — and has been reviewed as superior even to the excellent Royal Shakespeare Company staging of the books. The miniseries isn't available on any of the big three American streaming services, so there's a gap the BBC on-demand channel could definitely fill. Rumor has it Mantel is working on a third installment to the series, so there might be more Wolf Hall coming, too.
With the BBC service in motion, now all we need is an E4 service to bring us accessible reruns of the original Skins and Misfits. Or better yet, let's just hang in London for a while.
Image: BBC