7 Cool Ways To Decorate Pumpkins For Fall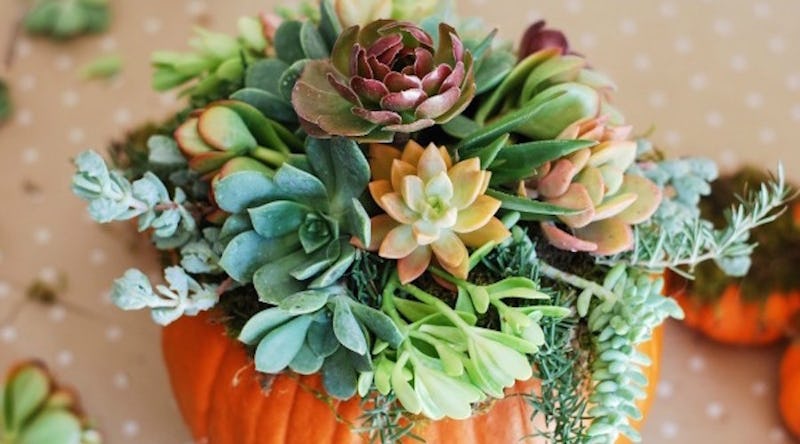 Autumn is here, and that means it is time to start planning your trip to the pumpkin patch so you can give your living space a little festive fall flair. Pumpkin decorating ideas may seem like something more geared toward children, but there is no easier way to pay homage to the crisp, cool season than with a few gorgeous gourds. You don't need to carve a full-fledged jack-o'-lantern to get yourself into the autumnal spirit — you just need to get creative. Porch.com has rounded up seven cool ways to decorate pumpkins for fall that have nothing to do with the ghoulish faces you used to create in your childhood. From chalk paint to succulents, there is something here to fit every style — so go ahead! Get decorating!
By: Mady Dahlstrom, Content Editor for Porch.com
Bring the warmth of fall into your home with colorful arrangements, festive displays, and simple seasonal settings by adding pumpkins to your décor. From stenciling clusters of bright orange mini pumpkins to dressing up plastic pumpkins with gold or glitter, these creative pumpkin decorating ideas aren't only for Halloween.
Take a look at these seven pumpkin DIYs to get your home dressed for fall!
1. Painted Pumpkin
Don't leave your pumpkins plain this season — paint them with your favorite pattern for a quick DIY that will make a big statement.
2. Pumpkin Succulents
Create these DIY pumpkin succulents for a colorful and unique centerpiece for a fall gathering!
3. Plastic Pumpkin Bucket Planter
Take a plastic pumpkin bucket, and turn it into a stylish planter for your porch or patio. See how this pumpkin planter got the stone-look by following this easy DIY tutorial.
4. Copper Tape Pumpkins
If you're looking to add a little extra something to your pumpkins this season, try adding strips of copper tape to the outside, and you'll instantly have a fresh and fabulous look for your once plain pumpkins.
5. Chalk Paint Pumpkins
Mix neutrals with a bit of color by painting your pumpkins with chalk paint. Browns, metallics, and blues combine to create the perfect bundle of fall decor in this simple DIY.
6. Mod Podge Botanical Pumpkins
Get the look of natural fall elements in your home decor by DIY-ing these Mod Podge botanical pumpkins. Follow this step-by-step tutorial to see how you can create these pretty pumpkins with only four items.
7. Monogrammed Pumpkin
Grab a few of your favorite colored mini pumpkins and some paint to make your own monogrammed pumpkins. If you're afraid of free-handing, use a letter stencil to keep your lines crisp and clean.
How will you be decorating your pumpkins this fall?
Top Image Credit: Simply Happenstance
This article originally appeared on Porch.com