Proof You Need To Re-watch 'Willy Wonka'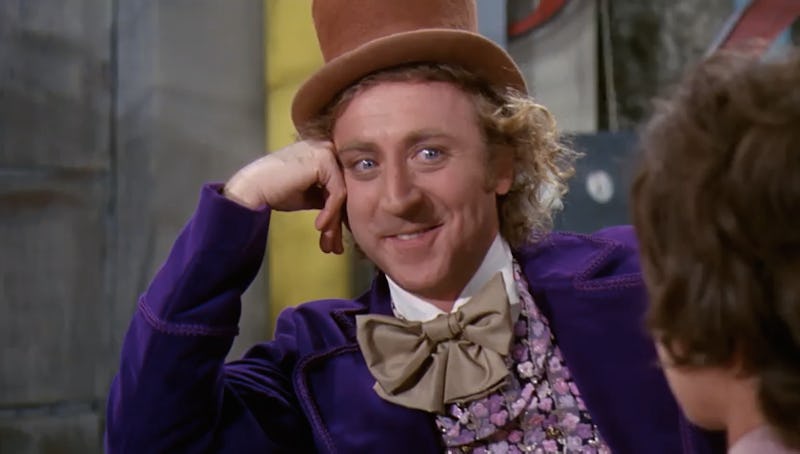 When life feels like an endless dinner of cabbage water, my go-to move is to put in Willy Wonka and the Chocolate Factory. The reason for this? Simply because Willy Wonka and the Chocolate Factory is the most wild, wonderful, whimsical, candy-filled, and weird film of all time... emphasis on the weird. And that's why I'm thrilled I can make it this week's bad movie re-watch.
Now, of course, the movie isn't BAD at all — it's a classic and filled with candy, it can't be bad! In fact, it's really a delightful movie. That said, however, it is weird and includes a very troubling scene with a chicken. The OG Willy Wonka and the Chocolate Factory with Gene Wilder is exceptionally strange because it isn't TRYING to bring on any spooky vibe — it's just an intentionally eccentric movie that HAPPENS to also be occasionally terrifying.
So, of course, it's the kind of brilliance that deserves deconstructing, even though this feature is called the "bad movie re-watch." Hold on tight, kids, because you have a golden ticket. Here are just a handful of the most incredulous things from Willy Wonka and the Chocolate Factory that you notice when you re-watch the movie as an adult, documented chronologically:
1. The Candyman Is Highly Inappropriate
Forget the fact that these are literal children, I don't think it's appropriate to handle any customers like that.
2. He Also Just Gives Half Of His Candy Store Away For Free
"LOL JUST THROWING AWAY ALL MY INVENTORY #YOLO"
3. "Up The Airy Mountain, Down The Rushing Glen, We Dare Not Go A-Hunting, For Fear Of Little Men."
... um, OK, great chat with meat cleaver salesman.
4. Anyway, Then Charlie Gives Grandpa Joe Drug Money
The family is literally eating cabbage water every day, but yeah, let's foster blood-sucking Grandpa Joe's smoking habit.
5. "We'll Have A Real Banquet!"
Like, honestly, this house is terrible.
6. I'm Not... Sure What Country Charlie Lives In
Off the top of my head, I assume America, but his teacher is British. Not that it would be so unfathomable that a British person would move to America, especially in a movie about oompa loompas, I'm just saying.
7. All Of This Uncomfortable Nuzzling From Slugworth
Is he smelling their hair? Like, this is very not OK. Also, how on God's green earth is he able to jump to the EXACT place where all the winners are? Veruca had JUST found that ticket 30 seconds ago.
8. When You're Still Using An iPhone 3
9. It's Gotten So Bad At Charlie's Place That Mom's Just Making Laundry Stew Now
But hey, at least Grandpa Joe has his tobacco.
10. This Dude Just Gave Away All Of His Candy And Some Of His Ecstasy For Free, And Asks The Poorest Kid In Town For Money
Oh, that feels fair.
11. ALL OF A SUDDEN, A Previously Incapacitated Grandpa Joe Is Free To Walk Around And Go To A Chocolate Wonderland
When his daughter and grandson were working every day so they can afford a loaf of bread he was somehow incapable to move, but NOW he has a golden ticket and is down to party.
Like literally Mama Bucket was probably emptying out that bedpan every day, but HE gets to go to Willy Wonka's factory. Jackass.
12. Willy Wonka Just Pets Mike Teevee's Head
Even Violet knows that's suspect.
13. THIS ENTIRE ACID TRIP
UM, the snake on that guys face?
A CHICKEN GETS IT'S HEAD CUT OFF, GUYS, THIS IS A CHILDREN'S MOVIE.
STAAAAAAHP THE BOAT.
14. Rice?
15. Are Those Clothes On The Floor Next To The Whipped Cream Churner?
I mean, I get that these methods are unconventional, but...
16. Violet Says She Can Taste Pot Roast And A Baked Potato And Her Father Is All LMAO About It
"WITH SOUR CREAM? HAHAHAHAHAHA THAT'S HILAR, VIOLET!"
17. #BlueberryShaming.
18. Anyway, Grandpa Joe Decides He And Charlie Should Break The Rules, Because He Is A Terrible Person
Also he endangers both of their lives, so that.
19. "I Want A Feast. I Want A BEAN Feast."
"Oh, one of those." YEAH, you know, a BEAN feast, that's definitely a thing that people do.
20. Presented Without Comment
21. When You're The Most Successful Chocolatier Of Your Age But Can Only Afford To Decorate Half Of Your Office
Sadface.
22. The Fact That Willy Wonka Wrote His Contract In Latin, But Props For Ripping Grandpa Joe A New One
"YOU BROKE THE RULES, AND YOU SMELL LIKE MUSTY COBWEBS AND YOU DON'T DESERVE ANYTHING YOU'RE GIVEN."
"But our CHOCOLATE, I WANT IT." That's how the conversation goes.
23. This Happens
24. And Then Willy Wonka's All, "I Couldn't Give My Factory To A Stranger, So I Just Sent Out Five Golden Tickets And Hoped One Of You Wouldn't Be A Little Asshole."
So like, that's pretty much how he decided to get rid of his fortune.
25. "Can I Live In The Magical Chocolate Factory Too?"
"Hell no."
Images: Paramount Pictures (38)