4 Ways To Catch The Emmy-Winning 'Bessie'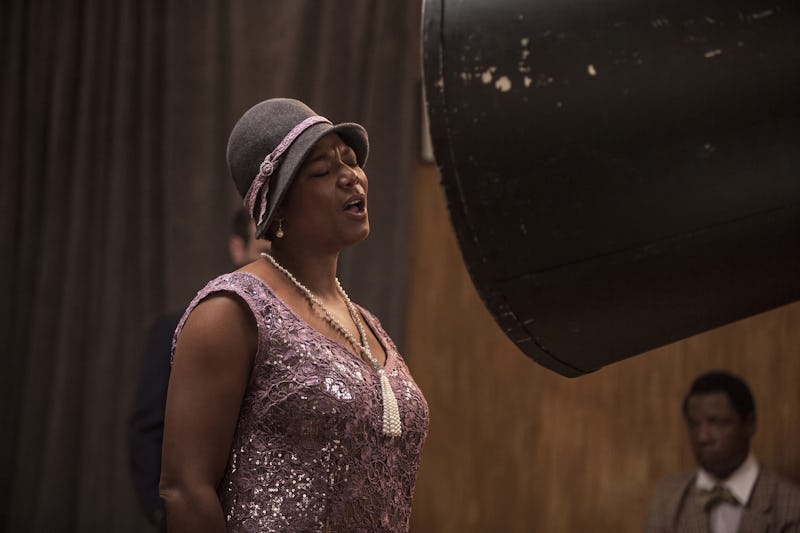 HBO has a certain level of perfection that viewers expect it to live up to, and the network hit it out of the park with its latest film. Bessie won the 2015 Outstanding Television Movie Emmy, as announced during the Creative Arts awards on Sept. 12. The film, which follows the life of the legendary blues singer Bessie Smith, definitely deserved the honor. If you hadn't already caught it, hopefully that recognition reminded you to tune in, and to make it even easier for you, I've compiled all of the ways to stream Bessie online.
Still need a reason to tune in? Bessie is played by Queen Latifah, who shines in the leading role. (Seriously, who doesn't adore the Queen?) The dramatic tale chronicles her transformation from small town girl growing up in Chattanooga, Tennessee during The Great Depression, to the music legend she eventually became, and is truly harrowing. Viewers see how racism often stood in the way of talented black performers, providing a sad and fascinating view into our country's past. With so many twists and turns, Bessie's life is marked by overcoming such barriers, a tumultuous relationship with her husband, and a furiously unwavering ambition to get to the top. It's an excellent film about the intriguing life of a real Hollywood legend. It's also a heavy contender for even more awards at the Emmy Awards on Sept. 20, and here's how you can watch Bessie so you know why it's so deserving of every single nomination.
Stream It On Amazon
Amazon Instant Video is super easy to use and right now, you can buy Bessie for $14.99 HD, or $12.99 SD. And I recommend owning it, only because it's a great film to watch over and over again.
Check It Out On Google Play
Google play has the option to buy Bessie for $12.99, and right now there's no option to rent, but it's not a bad deal for a re-watchable flick.
Stream It On HBO GO
HBO GO is the easiest option if you have an HBO subscription or know somebody who does. If that's the case, then you can watch Bessie for free on the HBO GO app or website.
Own It On DVD
If you have a crazy hunch that you might love it or you've already seen it and can't get enough, Bessie is also available to own on DVD. If you have an Amazon prime membership, it's on sale right now for $12.98.
At least one of these Bessie-watching options has to work for you, so what are you waiting for?
Images: Frank Masi/HBO (5)