It's National Cheeseburger Day!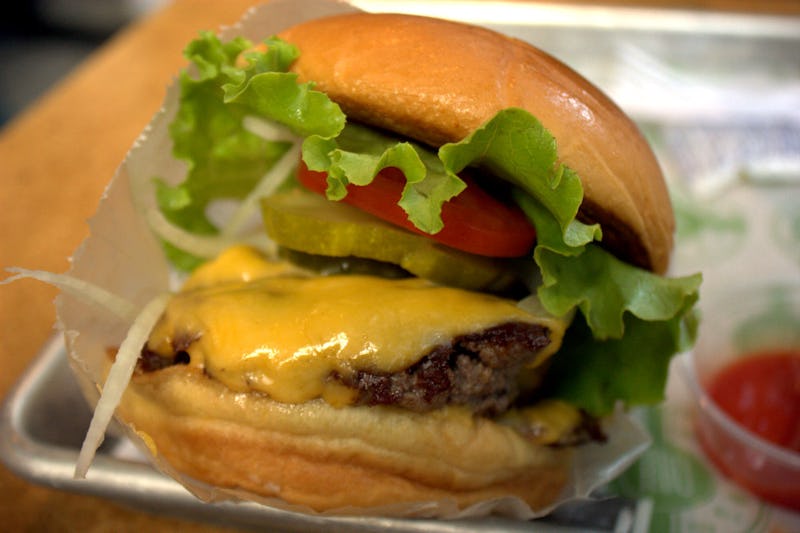 Today is just like any other Friday, except for one important detail — it's also National Cheeseburger Day, so get ready for a cheesy celebration. Since the fateful day in 1926 when 16-year-old Lionel Sternberger plopped a slice of American cheese onto a burger at his father's Pasadena burger stand, hungry omnivores have been incredibly enthusiastic about the gooey umami madness, and Sternberger's slice of American cheese multiplied, many-a-billionfold, into a slice of American life.
Think about it — If McDonald's has sold more 300 billion burgers in its 60 years of operation (about 75 burgers per-second, literally), if you can find a cheeseburger on essentially every menu in creation, and craft beer enthusiasts will religiously patronize their favorite bars for equally crafty burgers, we've got to be eating a lot of cheeseburgers in this country. According to The Rundown, Americans consume approximately 50 billion burgers every year — that adds up to three burgers per person, per week.
So, whether you choose to celebrate National Cheeseburger Day at the Hamburger Hall of Fame in Wisconsin, or cashing in on the $0.69 McDonald's cheeseburger deal (deal limited to Connecticut and Western Massachusetts), you'll definitely be in good company. Here are some great places to score a cheeseburger today or any other day, for that matter.
1. Cheeseburger In Paradise — Maui, Hawaii
Jimmy Buffett's classic tune about eating a cheeseburger someplace tropical comes to life at his restaurant in Lahaina on Maui. The "It's All Good" burger features cheese, bacon, pineapple, and a huge scoop of guac, which, is not, by some miracle, extra. Paradise indeed.
2. Hopdoddy — Austin, Texas
Hopdoddy is not only home to some of the best burgers in Austin, but also is frequently featured as one of the best burger joints in the USA. This Pinetop Pimento Burger is gooey perfection with a hefty portion of pimento cheese, bacon, and a wonderfully drippy fried egg.
3. Eggslut — Los Angeles, Calif.
Eggslut is a local favorite with a following (and a line) that seems to grow with every passing month. Its buns are the best water rolls I've ever had in my life, and it knows what it's doing with the whole eggs-in-a-sandwich thing. The cheeseburger is a staple for anyone lunching downtown.
4. Harlem Shake — New York, N.Y.
Harlem Shake is a wonderful little throwback of a diner. With its '50s-inspired decor and adorable checked placemats, patrons come for the aesthetic, and stay for the bomb cheeseburgers and delicious French fries.
5. Dain's Place — Durham, N.C.
Dain's Place is the home of my favorite burger in the entire universe. The menu at Dain's Place is unique in that it has a few pre-designed burgers complete with ridiculously fresh, gigantic burger patties and apt names like "The Defibrillator," but really the magic lies in that you can get basically anything in the world on your burger. This place has as many awesome toppings as it has craft beers, which is saying something, because it has tons of both.
6. Quickie's Burgers and Wings — Hollywood, Fla.
Quickie's Burgers and Wings in Hollywood, Fla., a suburb of Miami, has normal-sized burgers as well... by comparison, anyway, but they also have this: a 4-pound burger challenge, which if you're in the neighborhood, you probably want to order for your squad to share.
7. In-N-Out Burger — West Coast, (Almost) Everywhere
What cheeseburger list would be complete without a shout-out to the best coast's most happenin' burger chain? Obviously, today is gonna be a double-double #animalstyle kind of day. For those of you East Coast people who haven't had the pleasure of negotiating In-N-Out's notoriously short (but secretly long) menu, that means two mustard-grilled beef patties, two pieces of cheese, a boatload of special sauce, and extra pickles.
8. Badmaash — Los Angeles, Calif.
The spicy lamb burger at Badmaash is a great example of its delicious fare. This downtown gem is a fusion of traditional Indian food and American gastropub chow. Get the chili cheese naan while you're there.
9. Fritzl's Lunch Box — Brooklyn, N.Y.
Fritzl's is a Brooklyn hotspot where you're sure to find seasonal ingredients and hipster-fied salads, but you can also get a cheeseburger and fries like you wouldn't believe. Make Fritzl's a part of your National Cheeseburger Day celebration.
10. Lucky Boy Restaurant — Pasadena, Calif.
Lucky Boy is one of those places that looks incredibly unassuming from the street — that is, if you don't notice the enormous crowd of giddy hungry people standing outside. Pretty much everything at Lucky Boy is delicious, but it has made a name for itself with the colossal breakfast burrito, to which you can add a burger patty because it already comes with cheese.
Images: scaredykat/Flickr; ginajeans19/Instagram; hopdoddy/Instagram; eatinglikeabeast/Instagram; harlemshakenyc/Instagram; rljmsrys/Instagram; natefiggs/Instagram; pinkys_macarons/Instagram; peetahyoon/Instagram; fritzlslunchbox/Instagram; lori_yareth/Instagram