These Mini Nutella Pizzas Are The Future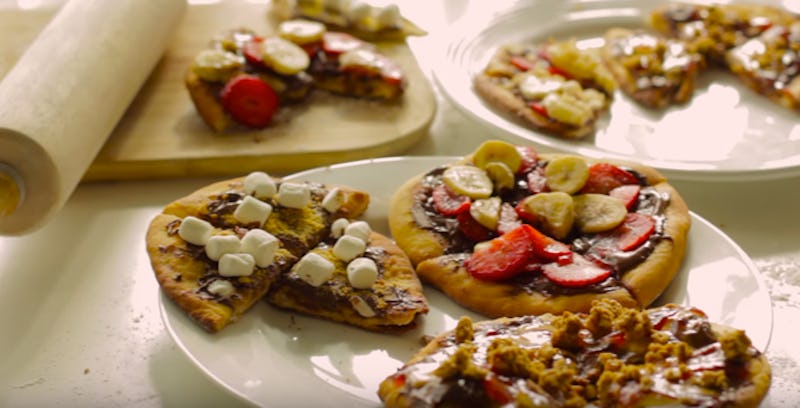 Mini + Nutella + Pizza = the most perfect combination of words known in the history of the English language. A new cooking video from BuzzFeed shows you how to make mini Nutella pizzas in about 15 minutes. Best of all: it's an insanely simple recipe. Even if you're a bit of a lazy chef in the kitchen, making these glorious creations requires about as much culinary skill as a making bowl of cereal or toasting a Pop-Tart.
The only ingredients you'll need are a stick of butter, spoonful of sugar, Pillsbury Grands! biscuit dough (of course you can make your own dough, but we're being lazy here, remember?), Nutella, and toppings of your choice. It's so easy to customize: use fresh fruit for a healthier lunchtime treat, or seriously indulge with extra chocolate for a midnight snack. Make one for yourself, or use the entire package of biscuits for a make-your-own-pizza buffet during your next girls' night in (Mini Nutella Pizzas and Rosé, anyone?).
We've broken down the video into three easy steps that we honestly plan to have memorized forever and ever. Follow along and we promise your world will be forever changed:
1. Make The Crust
First, microwave your butter until it's liquid. Add your spoonful of sugar and mix.
Pop open that cylinder of Pillsbury dough and roll out your dough onto a floured surface. The thickness of your dough is proportional to the crispiness of the crust, so remember that when rolling out.
Next, add a layer of your sugar-y butter (my heart hurts already) to one side of the dough.
Bake at 400 degrees Fahrenheit for 11 minutes.
2. Add Nutella
Nutella is the key ingredient here that ties everything together. Once your crust is fully baked, the video encouraged you to liberally add a coating of Nutella to the top of your pizza. Don't mind if I do!
3. Get Fancy With Toppings
This is the really fun part: adding all kinds of delicious, crunchy, chewy, chocolatey things to the top of your "pizza." The video has some great ideas, including: strawberries and bananas, peanut butter, jelly and granola, and graham crackers and marshmallows. Yeah, it's not exactly a salad, but as a wise woman once said: treat yo'self.
We also think Oreo crumbs, whipped cream, candy, dulce de leche, and raspberries would be fabulous topping choices.
4. Revel In Glory
You just created a work of art. Eat it, enjoy, and be happy you live in a world where Mini Nutella Pizzas exist.
Images: YouTube(4)