Autumn Coffee Drinks To Sip All Season Long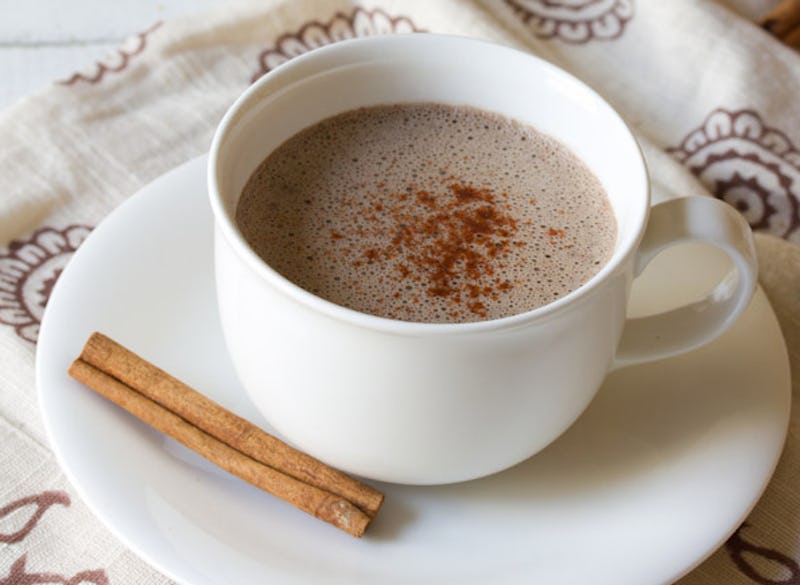 Whether you consider yourself a pumpkin spice latte devotee or you favor a nice glass of cider, there's nothing quite like kicking the colder weather off with seasonal fall drinks. While you can enjoy flavors like pumpkin, apple, and caramel any time of year, there is something about the changing colors of leaves and crisp, chilly air that inspires us to sip on drinks that keep us cozy — or just seem to taste like fall. And when you add some coffee to that mix, things couldn't possibly get any better.
In a time of year filled with hay rides, Halloween, and plenty of sweaters, we tend to crave a very specific kind of drink: something a little spicy, creamy, and all-around crave-worthy. When you need a pumpkin spice latte, you need a pumpkin spice latte. Why should you have to fight your seasonal cravings, after all? It's only autumn once a year. Time to break out the pumpkin, caramel and more.
Your vanilla latte will remain a staple all year long, so use the new season as an excuse to branch out or to indulge in your usual autumnal favorites. Maybe you'll even wind up with a new go-to drink — or you'll get creative and decide to spike your favorite fall drinks. It's up to you. Just make your choice a delicious one.
1. Salted Caramel Mocha Latte
I can't think of a time when I wouldn't want to be sipping on one of these. Inside BruCrew Life explains how easy it is to make this chocolatey drink at home.
2. Iced Pumpkin Spice Latte
You can't go wrong with a favorite — especially when you try A Cozy Kitchen's iced version.
3. Mexican Mocha
A little bit of spice makes A Spicy Perspective's beverage the perfect way to stay warm in colder temperatures.
4. Honey Bee Latte
Give the pumpkin a break, and try something a little more simple. Five and Spice's honey latte is a crowd-pleaser.
5. Vegan Caramel Frappe
No need for dairy! Minimalist Baker's caramel frapp is the frosty drink you'll want to sip, even when it's cool outside.
6. Creamy Mocha Hot Chocolate
The secret to making Oh She Glows' mocha hot chocolate creamier than ever? Coconut milk!
7. Salted Caramel Pumpkin Latte
This hybrid between a PSL and a salted caramel mocha is one drink we can't get enough of. Thanks, Inside BruCrew Life!
8. Pumpkin Spice Latte
When in doubt, a PSL always satisfies. Averie Cooks shows how it's done with a recipe that's almost as good as the real thing.
9. Dirty Chai Latte
This isn't you average cup of tea — Five and Spice gives a chai latte a boost with a shot of espresso.
10. Pumpkin Frappuccino
If you're craving something a bit chillier, Minimalist Baker's pumpkin frappuccino-esque drink makes a great frosty dessert.
11. Autumn Spiced Toddy
This cold brew by Ari's Menu will start your day on a perfectly spiced seasonal note.
Looking for more pumpkin spice? Check out Bustle on YouTube.
Images: Five and Spice (3); Inside BruCrew Life (2); A Cozy Kitchen; A Spicy Perspective; Minimalist Baker (2); Oh She Glows; Inside BruCrew Life; Averie Cooks; Ari's Menu