9 Fashionable Capes Perfect For Fall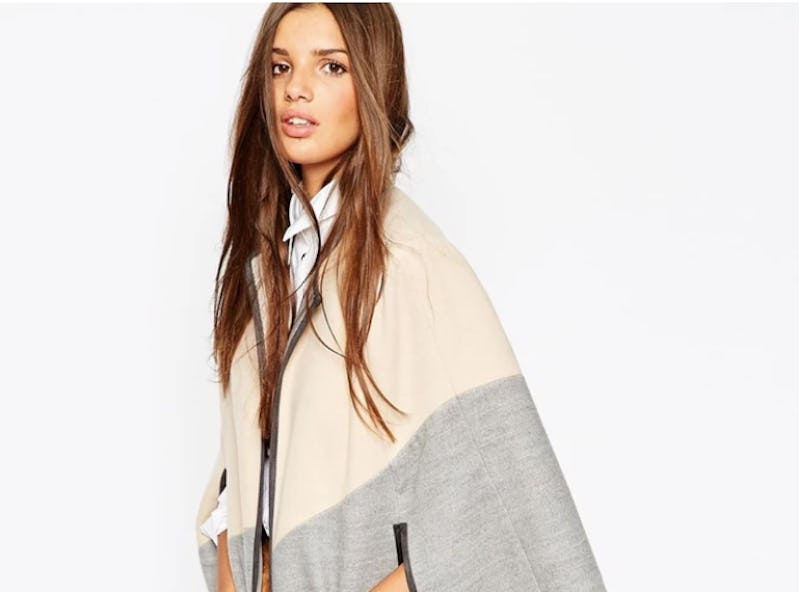 Want to feel like a superhero? Try out using a cape for your fall wardrobe staple this season. Capes are both functional and fashionable, are a statement piece that simultaneously works as a staple in your wardrobe — it's truly the best of both worlds. Usually made with heavier materials, capes are a great way to stay warm during the colder months. Unlike bomber jackets or a heavy peacoat, they keep the body warm without looking chunky or voluminous. The coats flow over your body to create a seamless silhouette without sacrificing comfort... or warmth.
Need more convincing that you need this outerwear staple in your closet? Well, they happen to be all over the runway during the autumn/winter 2015 season. From Lavin to Chloe, designers all across the board are sticking to the classic style. Think of capes as jackets with better flexibility; no longer are you trapped behind bulky pieces. My favorite part about this seasonal piece has to be the freedom — they are basically blankets that I can wear in public, which is kind of amazing. Ready to get your collection started? Here are a few fashionable capes that you need to add to your wardrobe this fall.
1. Trimmed In Leather
A classic style gets an edgy twist with this Ralph Lauren coat. I adore the subtle gray pattern paired with sleek leather accents.
Ralph Lauren Cape, $398, Nordstrom
2. A Neutral Palette
Keep warm this fall by layering this fashionable cape over your favorite outfit. With easy-to-wear neutral colors, this cape is a great accent piece.
Faux Fur Trimmed Wrap, $46, ASOS
3. Light As Air
Don't stick to dark, harsh colors this fall! Brighten up your wardrobe with this cream and grey cape from ASOS.
Diagonal Cape, $72, ASOS
4. A Gypsy's Dream
GET. IN. MY. CLOSET. This boho-inspired coat is incredibly chic, and perfect for any fall outing. Whether playing in the leaves or sipping mimosas at brunch, this cognac colored cape is a great go-to piece.
Fur Trimmed Cape, $248, Free People
5. Bright White
Channel your inner fashion guru with this sleek, bright white cape, perfect for standing out. Who says you can't wear white after Labor Day?
White Cape, $68, Nasty Gal
6. Plaid-Inspired
Looking for a shorter length cape? Incorporate this beautiful checked coat into your wardrobe to really channel your inner fashionista.
Mixed Check Cape, $85, Topshop
7. Perfectly Preppy
Who doesn't love a houndstooth print? It goes with practically any neutral base.
Houndstooth Cape Jacket, $350, J.Crew
8. Glamorous Grunge
Step up your fashion game by incorporating this grunge-inspired number into your wardrobe. Pair with more neutral colors so that this beautiful piece is a stand-out.
Mustard Plaid Coat, $50, Forever 21
9. The Essential
This is an essential cape to have in your closet. From the neutral color to the classic shape, this cape will do wonders for your fall wardrobe.
Wool Cape, $250, J.Crew
Capes are an absolute style essential. However, if you aren't feeling up to the trend you could always wear a superhero cape instead #nojudgement.
Images: Pexels (1); Courtesy Brands