Eye Contouring Is Apparently A Thing You Can Do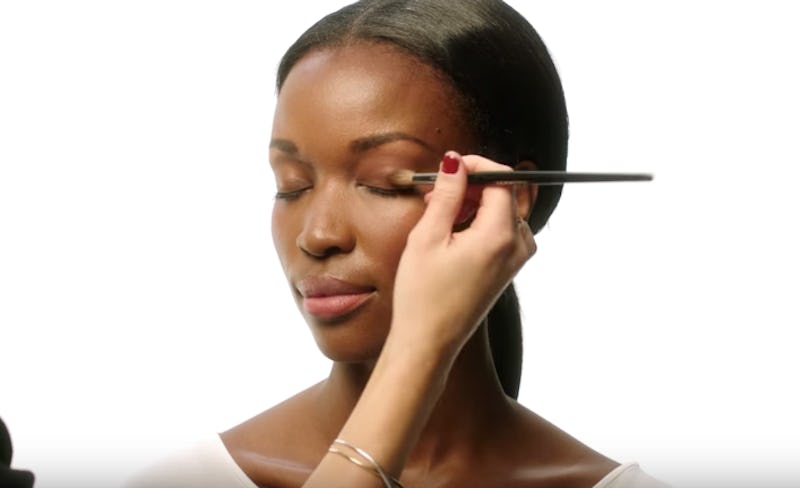 Hold up, hold up. I haven't even mastered defining my cheekbones yet. I guess the beauty world is leaving me behind, because apparently, the latest buzz is all about eye contouring, as shown in a DIY YouTube vid posted by Sephora. In other news, there's officially nothing that makeup cannot do.
It's all about shadow when it comes to defining your baby blues (or greens. Or browns.) The video describes how to contour three different eye shapes: hidden crease, barely visible crease, and and visible crease.
Even though each shape has a slightly different approach, there are a few things to keep in mind for all techniques. According to Sephora Pro Helen Phillips, "Matte eyeshadows make the eyes appear larger...and light draws attention, and deeper shades recede." (This is true for regular contouring, too.) For all eyes, she recommends using neutral shades that are 2 shades lighter than the skin tone and 2 shades darker.
Even though I'm nowhere near Kim Kardashian-level face contouring yet, I'm all ears for eyes. If there's one thing on my face that I've always been incredibly self-conscious of, it's my teeny little peepers. So when it comes to something that can enhance and enlarge them, I'm game. Check out the techniques from the Sephora video below:
But wait, there's more! In case you don't have enough to contour already, here are five other features you can enhance and define. Watch and learn...
Lips
How simple is that?! To step it up, add a little highlighter to your cupid's bow (that little indent above the center of your lips.)
Nose
"How to get a nose job using makeup." I repeat: There's officially nothing that makeup cannot do.
Eyebrows
Contouring meets #browsonfleek? Modern day beauty goals in a nutshell.
Hair
So, spoiler alert: Hair contouring pretty much just means strategically placed, hand-painted highlights and lowlights (AKA balayage, as Refinery29 points out.) Regardless, chat with your stylist if you're interested — it will add depth and dimension to your locks.
Boobs
For those nights when you're just feeling a little extra va-va-voom. (Hey, no judgement!)
Image: Sephora/YouTube