5 New Year's Travel Destinations Better Than NYC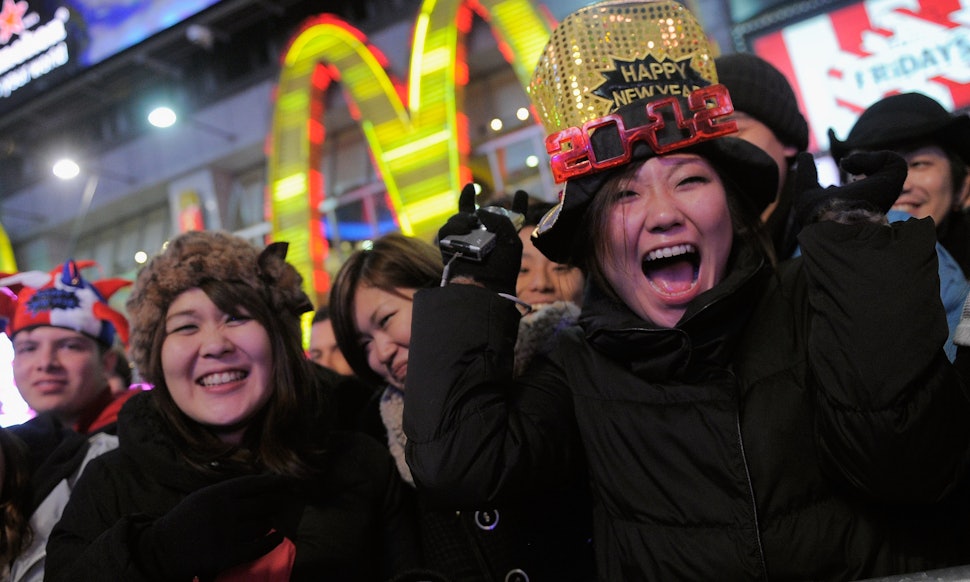 Jemal Countess/Getty Images News/Getty Images
In the four years that I've lived in the Big Apple, I've only celebrated New Years here once and I was technically in Brooklyn. Some of my best memories of ringing in the New Year happened when I was traveling. I spent one year in Bolivia and the next in Egypt and both countries sure know how to throw a party. Even if you're not in the "best city in the world" this year you can still have a pretty spectacular New Year and these five cities give NYC some stiff competition.
Paris
Paris isn't called the "city of lights" for nothing. Fireworks are a given, and naturally the Eiffel Tower is front and center for the light show extravaganza. If you're hanging around the Champs-Élysées area, give yourself a tap on the back because you've just unlocked party central. One of the best things about Paris on New Years are papillotes, little chocolates that explode just like fireworks.
Image: facebook/paris (©Henri Garat/Mairie de Paris)
London
London may have a bad reputation when it comes to weather but all that is forgotten when January 1st rolls around. About a quarter million people line up along the Thames River for the evening's events. When the clock, and by clock we mean Big Ben, strikes midnight, the ten-minute light show begins. From here you can see the London Eye, Westminster, and Parliament so the view isn't half bad. Most people hit the bars after the show.
Image: facebook/visitlondon
Maui
Maui may not compare to London or Paris in terms of over-the-top drinking and revelry but it sure does trump them in terms of scenery. Maui, and really anywhere in Hawaii, is absolutely stunning even if it's pouring outside. Most hotels will schedule a fireworks show for their guests and considering Maui is honeymoon central, definitely go here with your honey. Splurge on a cruise and enjoy an open bar and live entertainment.
Image: facebook/visitmaui
Hong Kong
Hong Kong may be on the other side of the world for many of us, but it's sure worth the hike. The city tries to outdo itself every year, which is great news for travelers seeing it for the first time. Similar to New York, Hong Kong's Time Square area is where most of the action takes place. After the ball drops, fireworks are shot into the air and many people line up along Victoria Harbour for the best views. The fireworks finale includes a dancing dragon.
Image: facebook/DiscoverHongKong
Rio de Janeiro
Rio de Janeiro throws the most widely praised Carnival each year so you have to give them credit for managing an equally impressive New Years show. Copacabana beach is the place to be and make sure to put on your dancing shoes. Get ready for lots of crazy costumes, champagne, and flowers. Oh, and remember to wear white for good luck.
Image: facebok/timeoutrioenglish