7 Pairs Of Faux-Snakeskin Shoes To Shop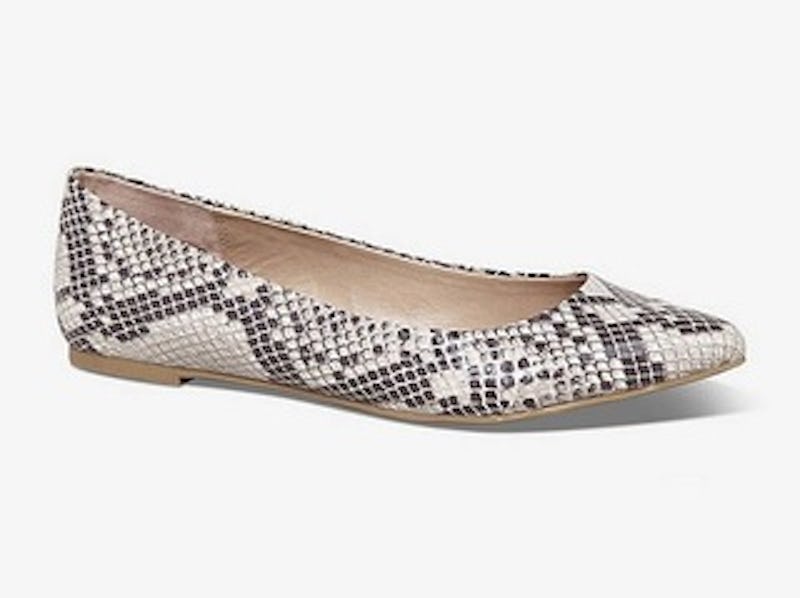 You've probably seen glimpses of these python Converse sneakers as you've scrolled through Instagram. Everyone, from Kylie Jenner to Beyonce, has been wearing them, making me think that these expensive kicks might be the newest celebrity trend. But what makes these sneakers so special?
If these python sneakers look essentially the same as your Chuck Taylors, only glam, that's because they are Chuck Taylors, just reconstructed. According to Glamour, the company that makes them is called "Luxe Chucks" and they take regular pairs of Converse, take them apart, and then replace the canvas with python skin. So basically, everything remains the same, from the silhouette to the soles, but they have a very luxe feel, which is why they've become such a hit with celebs.
Beyonce wore a pair of these python sneakers with a pair of rolled jeans and a white t-shirt. Jenner paired hers with a matching snake skin bikini while on vacation and then with a chambray shirt and denim shorts. Kourtney Kardashian paired hers with a white tank top and cut offs. The options are really endless. The python converses add a luxury vibe to anything you wear, so it makes sense that they are often paired with casual basics, but I bet they would look just as good dressed up for a night out.
You can even have a custom pair of these Luxe Chucks made for yourself. All you have to do is send them an email. Unfortunately, these Chucks are a little more expensive than the pair you probably have sitting in your closet, costing about $1,000 or more depending on the style you get. But you can still enjoy these photos of celebs wearing them.
Officially in love with the trend? You can get some fake python shoes for way less, ensuring that 2016 will be a super stylish year for you.
1. These Python Sneaker Flats
Pink Pop Python Print Flatform Slip-On Sneakers, $20, Charlotte Russe
Affordable and casual. I'll take one pair, please. Thanks.
2. These Python Booties
Topshop 'Midnight' Snake Embossed Ankle Boots, $834, Nordstrom
I'm such a sucker for booties and then throw in an animal print and I'm done. Buying these immediately.
3. These Snakeskin Loafers
Loafers, $7, H&M
Show your wild side while also dressing up for work.
4. These Python Ballet Flats
Snakeskin Print Pointed Toe Flat, $19, Express
Animal print ballet flats are always chic,
5. These Sneaker Flats
Snakeskin Shoes, $7, H&M
These come in a black snakeskin-esque pattern. Love.
6. These Rag & Bone High Tops
Rag & Bone Kent High Top Sneaker, $212, Blue and Cream
These high top sneakers are probably the closest you'll get to the one-of-a-kind converse sneakers, but for a fraction of the cost.
7. These Affordable Sneaker Flats
Pivot Faux Snakeskin Slip On Sneaker, $17, Drjays
For only $17, you can get these sneaker flats in every color... And they have a lot of choices.
8. These ASOS Booties
ASOS ATLANTIS 60's Ankle Boots, $24, ASOS
These snakeskin booties would look super cute with a pair of skinny jeans and a leather jacket.
9. These Subtle Black Booties
ASOS ASTRONOMICAL Pointed Ankle Boots, $36, ASOS
If you like the idea of snakeskin but want to wear something more subtle, these black faux snakeskin booties from ASOS are the perfect solution.
Images: Courtesy Brands