Pixar Movies Are Here To Make You Cry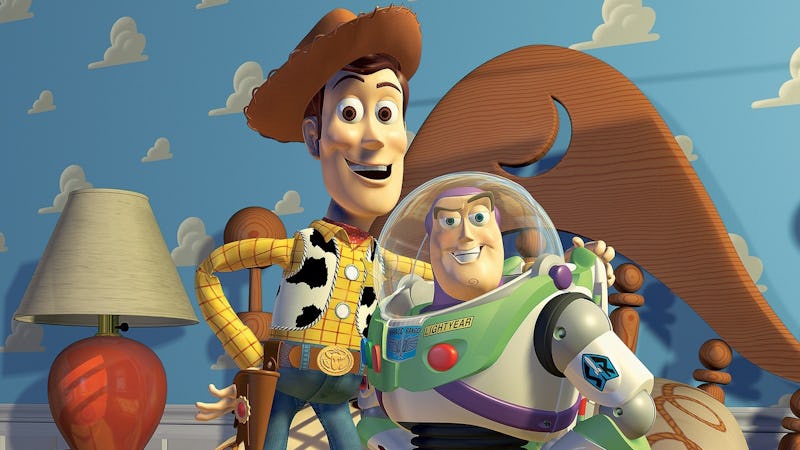 There are two universal truths when it comes to Pixar movies: they will be amazing, and they will make you cry. I think many people didn't realize that second point until the recent release of Inside Out, the film that deals explicitly with the complex nature of human emotion, both good and bad. However, it's always been true. Dating all the way back to Toy Story, I've consistently sobbed my eyes out at pretty much every single Pixar movie since, and I'm not even ashamed. Sometimes the tears are from sadness and heartache, other times from joy. Sometimes I don't even know why I'm crying — I'm just feeling so much. Thankfully, it seems I'm not alone, as Toy Story 3 director Lee Unkrich shared an incredibly touching video montage on Twitter on Saturday which displays the true depth and array of emotion in Pixar movies.
I should warn you before you press play that you're in for some tears, so you should probably have your tissues at the ready. It's not that all the clips are even sad, but they are incredible works of animation and also beautiful displays of humanity. Vimeo user Lindsay McCutcheon is the creator of the six-and-a-half-minute clip, which she put together in honor of Inside Out, and I think I speak for everyone when I say I'm so glad she did.
The wonderful thing about this video is that I'd actually forgotten many of the clips McCutcheon included, and it was great to be reminded. The emotions are sometimes so subtle and so well done that they're just so relatable. Sometimes we can even forget that we're watching talking toys or blue monsters — we're watching the human condition reflected in cartoon form and nothing else matters but the feeling behind it. If Pixar should be proud of one accomplishment (and really, there are many), it should be how effectively it's able to convey these beautiful and important emotions.
While Pixar movies are geared towards children, they're enjoyed by audiences of all ages, and that's because joy, sadness, pain, strength, and every other emotion we experience aren't limited to one generation. We have all been there, and we can all learn from other stories, and I'm so glad Pixar is there to portray life in such vivid color and in such beautiful detail.
Image: Pixar/Walt Disney Pictures