Here's Who's In The Lunar Chronicles Dream Cast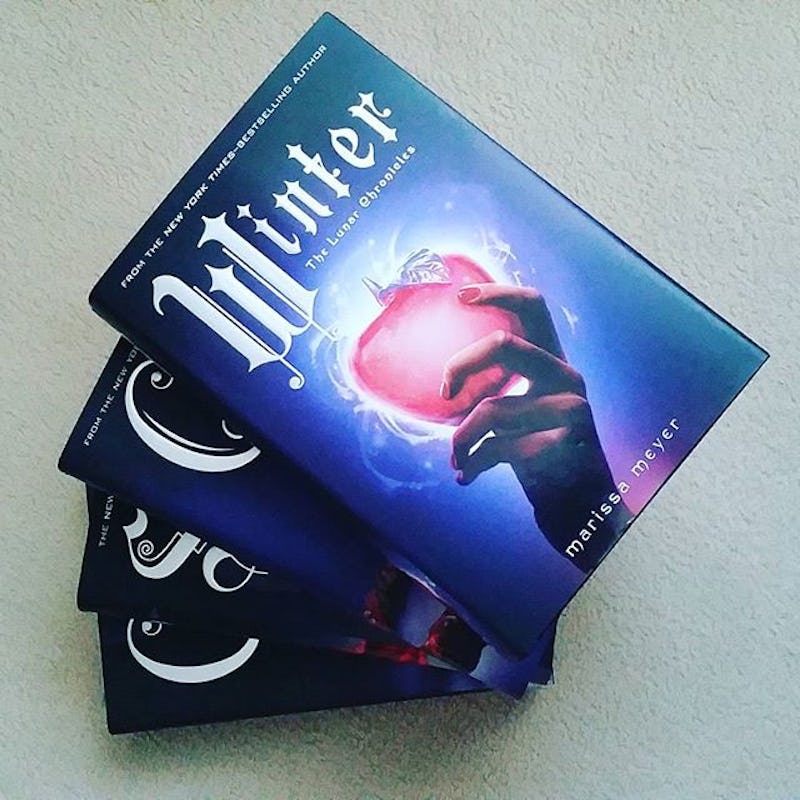 If you're like me, you've been dying to see your favorite fairy tale characters battling it out on the big screen since Marissa Meyer's The Lunar Chronicles series first hit shelves with Cinder. The series has everything: action, space travel, adventure, romance, family drama, political intrigue, friendship, mystery, revolution — not to mention some seriously incredible female characters. So let's all just collectively cross our fingers for a Lunar Chronicles movie, shall we?
Rumors buzzed of a movie adaptation back in 2013 when Meyer told a blog that the movie rights had been sold and that a screenplay was done, as far as she knew. These things can take time, however, and the news has been quiet since then. But now with Meyer wrapping up the series this Tuesday with the release of her finale Winter, maybe it's time to get that chatter back up again. Because Cinder, Scarlet, Cress, and Winter — and Thorne, Wolf, Kai, Jacin, and the rest of them — are primed and ready to take over movie theaters.
I know Meyer is going to be super busy with the release of yet another fairy tale retelling, Heartless, about Alice in Wonderland's Queen of Hearts, and sometimes movie studios are off with these things, so I've come up with my Lunar Chronicles dream cast to help everyone out.
Linh Cinder: Chloe Bennet
Cinder is arguably the "main" character in the Lunar Chronicles, so we need someone who can do her character justice. Chloe Bennet shows she has the chops with her portrayal of Daisy Johnson in TV's Marvel's Agents of S.H.I.E.L.D — so we know she can pull of Cinder's stubborn, tenacious, but kind-hearted spirit. Now we just have to get Bennet suited up to look half-cyborg.
Crescent "Cress" Moon Darnel: Candice Accola
The Vampire Diaries' Caroline, aka Candice Accola has that babyfaced but tough look that is the epitome of Cress. And we definitely know that Accola can play the seriously skilled character that hides a bit behind her upbeat, happy peronality. I can just imagine her outsmarting everyone on Luna and hacking her way into a battle with Queen Levana.
Scarlet Benoit: Jenna Thiam
That hair, my gosh that hair. It's absolutely perfect. But more importantly, The Returned's Jenna Thiam has just as much fire in her personality as she does in her hair, which is perfect for Scarlet who sometimes can be an act-first, think-second kind of girl.
Princess Winter Hayle: Zendaya Coleman
The fairest young woman in all the land? Um, check. Zendaya has the grace to play the more "sane" side of Winter and the acting skills to pull her off at her most crazy. Who wouldn't follow Zendaya into a battle?
Queen Levana Blackburn: Jessica Paré
Two words: Meghan Draper. Jessica Paré, first of all, is completely stunning and precisely what the evil queen would want to glamour herself to look like. Second, I know the actress can go full-throttle fierce for the role.
Emperor "Kai" Kaito: Shannon Kook
Cinder and Iko would definitely fall for the young emperor if he looked as handsome as Shannon Kook. Degrassi's Zane can also pull off the royal, VIP aura while also showing a bit of his fun-loving side.
Captain Carswell Thorne: Brant Daugherty
Noel Kahn himself was always a bit of a charmer on Pretty Little Liars (no matter how creepy he could be) and so we know Brant Daugherty can turn up the devilish smile to play Captain Throne, the most charismatic and criminal and not-really-captain captain flying a ship.
Ze'ev "Wolf" Kesley: Alexander Koch
One look at Alexander Koch in Under the Dome and you know he's the hulking, he-man type to play Wolf. Now we just have to tousle his hair a bit.
Jacin Clay: Alex Pettyfer
Sure his hair could be a little blonder, but are you telling me that Alex Pettyfer doesn't look like the kind of guy you'd be accepting orders from? The YA veteran actor can pull off the straight-laced guard, but one look in his eyes and you know he's willing to break the rules when he means it will save someone he loves. (*Cough* Winter)
Iko: China Anne McClain
Poor Iko is stuck being a ship for a lot of the series, but when she gets the new android body, Tyler Perry's House of Payne's China Anne McClain would be just what she is looking for. (And, for that matter, what Thorne would have picked out.) Plus, how incredible would McClain's hair look dyed blue?
Image: jmgofton/Instagram