You Should Be Watching This Series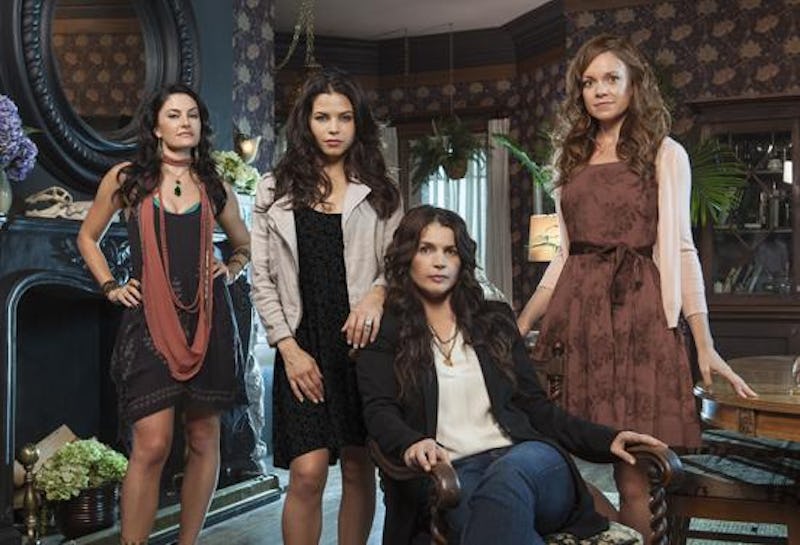 You definitely might have missed Lifetime's new original series The Witches of East End because, let's face it, we're getting a little burnt out with supernatural shows. And that's okay — or at least it was okay — but now it's time to get over it because The Witches of East End is great. We're serious. Witches is based on Melissa de la Cruz's bestselling novels by the same name and follows the Beauchamp women while they work through their complicated history and try to ward off the evil that's plagued their family for centuries. It's the perfect mix of drama, supernatural, and thriller and we can guarantee that once you start watching you absolutely won't be able to stop.
The 2013-14 TV season brought a major influx of witches onto our screens with American Horror Story: Coven, The Originals, and now Witches, so it looks like witches have reemerged as the new "it" supernatural being. And for good reason — because they're cool as hell and the ladies of Witches are no exception. Without giving away too much of this breakout series that's changing Lifetime's demographic, here are five reasons why you should use some of your holiday free time to catch up on The Witches of East End.
1. A Quick Watch
The show's first season has only 10 episodes which is more than reasonable to tackle in one weekend. We know you've binge-watched more episodes than that on Netflix before, don't be shy. Witches will get you hooked on the backstory of the Beauchamp women and on Freya and Ingrid's struggle to understand their powers and keep you that way.
2. The Cast
Emmy-winner Julia Ormond heads a strong female cast as Joanna Beauchamp, which features the stunning Jenna Dewan-Tatum as her daughter Freya, television veteran Mädchen Amick as her sister Wendy, and fresh face Rachel Boston as her other daughter Ingrid.
3. Freddie Prinze Jr.
That's exactly who you think it is. How could you not want to tune in based on '90s nostalgia alone? Freddie Prinze Jr. made his triumphant return to the spotlight as Wendy's (Mädchen Amick) love interest midseason and he's just gotten better with age.
4. Witches And Only Witches
That's right — no vampires, no werewolves — just witches. Well, and one shape-shifter but she's also a witch so we're not counting her as a different species. And it's a breath of fresh air to focus on magic and nothing else. That's not to say the show isn't complex in its own right, but it's really fun to listen to Freya and Wendy talk about reading people's auras.
5. A Super-Sexy Love Triangle
This isn't the first torn-between-two-brothers, a good and a bad, triangle we've ever seen but this is the first one that puts Jenna Dewan-Tatum at its center. Her character Freya has to choose between her safe and stable fiancé Dash Gardiner and his bad boy brother Killian and that's not as easy as you might think. Both men happen to be incredibly attractive and even though one of them is obviously her soulmate, you can't help but root for both to win her over.
Images: Lifetime, Whifflegif