Fiorina vs. Cruz: Who To Watch On Late Night TV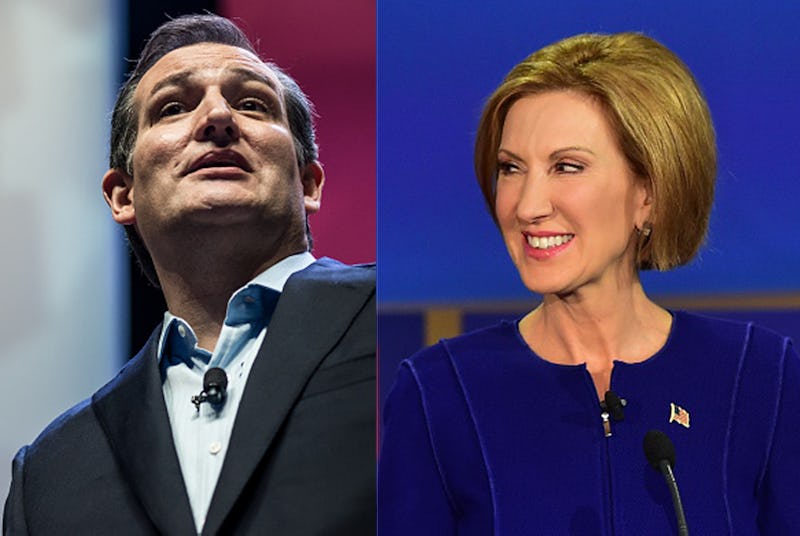 The late-night talk shows are starting to get swamped with political guests, and it's becoming hard to keep up — especially in situations like tonight, when both Carly Fiorina and Ted Cruz will be on separate shows at the same time. For political junkies and fans of both GOP presidential candidates, deciding whom to watch live and whom to catch later might be a tricky decision.
Fiorina, who is currently sitting second in the polls following a boost from the second GOP debate, will appear on The Tonight Show with host Jimmy Fallon, while Tea Party firebrand Cruz will be interviewed by Stephen Colbert on The Late Show. Although it's a little annoying for fans of both candidates (and political reporters trying to cover the shows) that they're at the same time, it's also fitting, in a way. The two candidates are already competing for the nomination, so why not have them compete for ratings as well?
The one thing viewers can be sure of is that the two interviews will be very different from one another, and not just because of the candidates' views. Fallon and Colbert have established very different interview styles. So viewers will have to choose not only whom they want to see interviewed, but also the level of seriousness they want. Both will be entertaining, but here's what to expect out of Fiorina and Cruz's interviews tonight.
Carly Fiorina
When Fiorina sits down with Fallon, don't expect any great insights about her campaign or policies. If viewers want to learn more about her stances on social issues, they're better off Googling. But although Fiorina's Tonight Show appearance may be a little light on the politics, it will definitely give viewers a better insight into who she is as a person. Fiorina is racing to the top of the polls, but the media is just starting to pay attention to aspects of the candidate's personal life — such as how she lost her daughter to drug addiction, or how she's a cancer survivor.
Also, expect Fiorina's appearance to be hysterical. This will be her second time on a late-night show, and her first was a definite success. Back in May, Fiorina appeared on Late Night with Seth Meyers, and she proved that she's as funny as she is ferocious. She rolled with the punches, handling questions about her fledgling campaign like a pro. With Fallon at the wheel, expect a highly enjoyable interview. And also be prepared for some Trump questions. Anyone want to bet whether Fallon reprises his Trump costume?
Ted Cruz
Viewers can probably expect for Cruz's interview with Colbert on The Late Show to be the opposite of Fiorina's performance. Colbert, always the comedian, will surely deliver a funny and engaging interview, and Cruz himself will probably manage some well-timed jokes. But it's unlikely to be a barrel of laughs. As Colbert has proved with previous political guests, such as Vice President Joe Biden and Democratic candidate Bernie Sanders, his questions are designed to pull out details and really put guests on the spot.
Colbert is likely to steer clear of the Trump questions, and might choose to grill Cruz on his Planned Parenthood stance. There will probably be at least one joke about Cruz being born in Canada, but otherwise, it may not be as funny an interview as Fiorina's. Especially given his past history with late-night talk shows, Cruz is likely to find himself as the butt of a joke, rather than as part of it. In March, Cruz was also interviewed by Seth Meyers, and found himself openly mocked, pressed about a viral video which showed him terrifying a three year-old girl by saying "The world is on fire" in a speech.
If viewers are looking for pure entertainment value, Fiorina's interview with Fallon is definitely the logical choice. But for those curious about Cruz, or looking for a bit more substance in the interview questions, Colbert is the way to go. Even past tonight's interviews, these are the key differences that are likely to divide the two late-night hosts going forward, as they begin to battle it out for the ratings.
Image: Getty Images (2)