15 Plus Size Bloggers Rocking Jumpsuits For Fall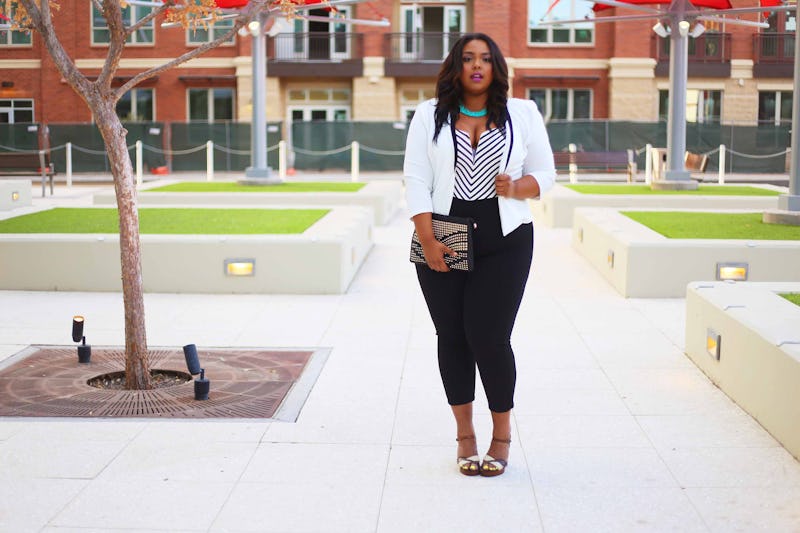 Spring and summer 2015 fashion arguably helped prove that fat girls can rock the hell out of rompers and jumpsuits just like our fashionable straight-size counterparts can. Although autumn may be officially here, however, plus-size jumpsuits are still the sartorial world's favorite onesie — which means fuller-figured babes are continuing to rock 'em.
Designers such as Monif Clarke are featuring an array of sexy jumpsuit options that have capes, wide legs, and long sleeves, while brands such as Fashion to Figure are selling casual jumpsuits in olive (my favorite color for fall). If you ask me, it's no wonder. I mean, there's something extremely versatile about a jumpsuit. For starters, it's easy to add layers over or pile the accessories on.
Personally, I added a new jumpsuit to my wardrobe toward the end of summer. Though the thought was brief, I did question how much longer I could keep this piece in rotation as the weather cools down. That quick doubt was instantly overshadowed when I thought about all of the plus-size fashion bloggers styling jumpsuits in so many different yet glorious ways. They're proving that the jumpsuit is truly autumn's alternative to the romper.
As Sept. 23 was the first official day of fall, all of these looks were technically captured during summer. However, the on-point styling is totally relevant for some fall-ish fashion inspo.
1. Go Black-And-White
Blogger Nicole Simone of Curves on a Budget is known for her expert styling of Fashion to Figure pieces, so I knew I could find her in a jumpsuit with no problem. Because I very strongly disagree with that whole "no white after Labor Day" rule, I think this black-and-white jumpsuit and white blazer combo creates a perfect fall fashion date night look.
2. Be Very Glam
This graphic black-and-white backdrop makes model Felicity Hayward's glam zig-zag ASOS jumpsuit really pop.
3. Layer Unexpectedly
This NYFW outfit from Sarah Chiwaya of Curvily took me back in a good way. She wore a caged bralette from Society+ underneath her Fashion to Figure jumpsuit to put a new spin on a classic silhouette.
4. Say Yes To Lace
Jezra M. is one of my favorite plus-size models and voices in fashion. I love the way this jumpsuit is mixing textures for a super sexy combination.
5. Do A Wide Leg
Gabi Gregg is the self-described "OG plus-size fashion blogger," and this wide-leg jumpsuit/cape combo shows exactly why she is one of the best around.
6. Cape It
Speaking of capes and wearing white after Labor Day, this look from Rochelle Johnson of Beauticurve shows why capes are the new blazers and jumpsuits are the new rompers. It also proves that everything is better in royal blue.
7. Cheetah Print Forever
Hairstylist and plus-size street style blogger Celia Ayala admits in the caption that it was 90 degrees when she wore this cheetah print jumpsuit. Paired with an oversized cardigan, however, I can definitely see the look transitioning into fall.
8. Thick Thighs + Jumpsuits = Winning
In July 2015, blogger Pretty Plus Pep did a four-part series on finding the perfect jumpsuit for thick thighs. Using her own 58-inch thigh, buttock and hip span as reference, she shows four easy ways to wear jumpsuits with thick thighs.
9. Front Slits
When I saw first blogger NatalieMeansNice wearing the Kelly jumpsuit from Monif C., I was in awe, because this was a departure from her typical style (which I also love). Since Natalie is a similar size to me, I was selfishly happy to be able to gauge the fit of the item.
10. Fringe Is Your Friend
Upon looking at the original blog post by Ola Dipo of Road to Fashionable, I learned that this was a jumpsuit and a separate fringe belt. However, they paired so effortlessly that it's hard to tell that the look consists of two separate pieces.
11. Pair With A Duster
Kim of The Natural Fashionista wears her jumpsuit to her day job as a high school English teacher, and shows that adding a duster makes this typical evening look appear super daytime-ready.
12. Travel-Ready
I remember when blogger Chastity Garner-Valentine of Garnerstyle admitted that her friend nicknamed her "Jumpsuit Judy" because she owns so many of them. I admire her ability to transform a jumpsuit in so many ways, making it versatile for travel as well. She wore this jumpsuit three ways for her recent trip to London, but I am partial to this sleeveless coat for fall.
13. Keep It Comfy
This olive jumpsuit look from blogger Kelly Augustine was one of the initial inspirations for this story. This jumpsuit has an ease and comfort about it that I really love.
14. Wine And Dine
I've given olive a big shine for fall, but I love the wine color as well. This jumpsuit, worn by blogger Feed N Clothe Me, is a good example of the richness of the hue.
15. Do It In Denim
This look from blogger Amy (aka WillowCurves) looks more like a Canadian tuxedo than an actual denim jumpsuit, but these two pieces from 17Sundays still do the trick.
So there you have it: Proof that there's no reason to ditch your summer favorite just because the seasons have changed. And that there's certainly no reason to feel like jumpsuits "aren't for you" just because you're plus-size.
Want more body positive inspiration? Check out the video below and subscribe to Bustle's YouTube channel!
Images: Courtesy Curves On A Budget/Nicole Simone