YES! Kenan & Kel Reunite At Good Burger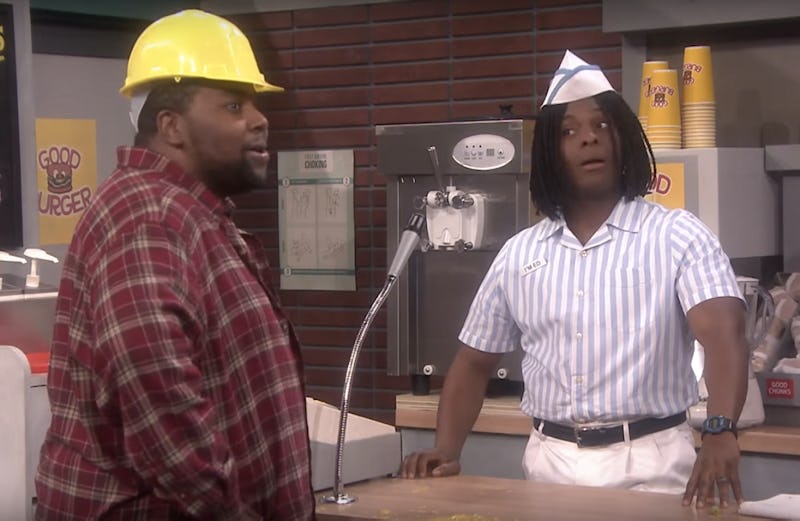 Nickelodeon fans, your favorite burger joint is back! Jimmy Fallon gave '90s kids a reunion years in the making when Kenan Thompson and Kel Mitchell returned to Good Burger Wednesday in an epic segment for The Tonight Show. The Good Burger sketch actually began on the popular Nickelodeon series All That before spinning out into its own film of the same name in 1997. The movie, which follows the antics of Ed and Dexter as they try to save Good Burger in the face of a competitor, has since become a cult classic.
For The Tonight Show, Mitchell returned to loud cheers as the simple but lovable Ed while Thompson stepped on set as Lester Oaks, a construction worker who had been a frequent customer of the burger joint in past sketches. There were some major throwbacks throughout the bit, like Ed's familiar greeting of "Welcome to Good Burger, home of the good burger, can I take your order?" A condiment was also squirted at a customer.
This isn't the first time that Fallon, who donned an apron as another goofball Good Burger employee, has reunited our favorite TV casts from yesteryears. Whether bringing back those angsty teens from Saved By The Bell or our favorite uncles from Full House, Fallon has really tapped into people's nostalgia for the past. And he's been a success at transforming his Saturday Night Live experience into sketches for the daily late-night show.
Check out the segment below!