15 Diverse Magical Fantasy Novels To Read ASAP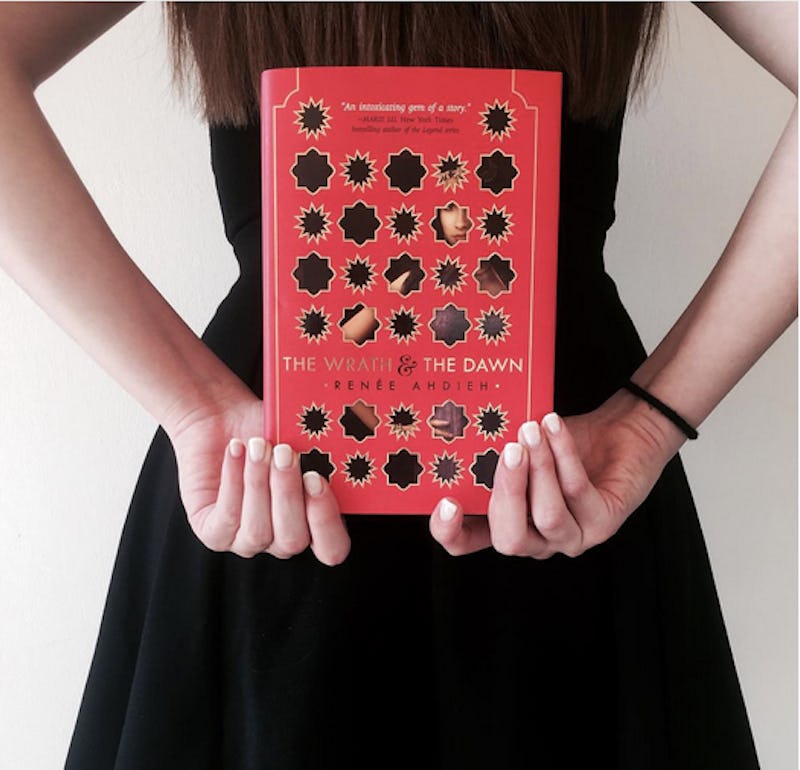 As a little girl who grew up believing in unicorns and princesses, I am a huge fan of fantasy books. I'm that girl who refuses to admit that magic isn't real (...because it CLEARLY IS), or the one who is constantly, dreamily waiting to find out that I'm secretly a magical princess from another world who will one day have to go back and save her kingdom. Of course, it's easy to see myself this way as I'm a mousy, straight, white girl who reads too much. I'm Bella Swan, Hermione Granger, and movie-Katniss Everdeen. I never have to worry.
But what about everyone else? What about those who aren't white, and of European descent? What about the boys who might want to catch the heart of a prince, or the girls who might want to fall in love with a princess? Barring that, we live in a world packed with beautiful stories, fascinating folk tales, and interesting cultural myths. Why is the dearth of what fantasy have to offer full of white people living in Euro-Centric Kingdoms?
I've compiled a list of 15 fantasy novels with a nod to diversity. Grab your magic wand, strap in, and get ready to visit some awesome and interesting worlds.
Li-Lin is living in San Francisco at the turn of the century and is part of a family of ghost hunters studying under the Maoshan traditions of Daoism in order to keep malevolent spiritual forces at bay. Widowed at a young age and cursed with "yin eyes" that allow her to see into the spirit world, she unfortunately brings shame to both herself and her father. When another sorcerer cripples her father, Li-Lin must navigate the male-dominated Chinatown underworld, armed with only her abilities as a priestess, her martial arts skill, and a wisecracking spirit guide who takes the form of an eyeball that she keeps in her pocket. The Girl with Ghost Eyes is a well-researched look into Chinese folklore, as well as commentary on how Asian immigrants were treated during the 19th century.
Sierra Santiago's summer is turned upside down when strange things start to happen around her neighborhood in Bed-Stuy. A zombie crashes the first party of the summer, Sierra's comatose abuelo starts chanting "No importa" over and over, and the grafitti murals all over the neighborhood have started weeping. Sierra soon discovers a secret supernatural order called "The Shadowshapers" who connect with otherworldly spirits using various forms of art, and everything is in jeopardy thanks to an anthropologist attempting to harness the Caribbean magic for his own uses. With growing powers of her own, it's up to Sierra to stop his strange creations and save her family before it's too late.
Set in a post-apocalyptic futuristic version of Africa, one region of the land has been plagued with genocide, pitting The Nuru against the Okeke. When the sole survivor of a massacred Okeke village is brutally raped, she gives birth to a strange child whom she calls Onyesonwu or "Who Fears Death?". Discovering powers of her own, Onyesonwu quickly learns that it's up to her to stop the genocide from destroying the land, and she goes on a quest to do just that. The subject matter might not be for the faint of heart, but this feminist, non-European-centric fantasy will stick with you for a long time.
The world has been thrown out of balance: the sun hasn't shone in years, crops are failing, and to make matters worse, dangerous creatures have been appearing. After consulting an oracle two 17-year-old girls named Kaede and Taisin are tasked with the quest to journey to the city of the Fairy Queen in order to save the world. As the two girls are confronted with unimaginable danger, they begin to rely on each other and soon fall in love. Unfortunately, there seems to be only room for one Chosen One, will the choice tear them apart?
Anansi Boys is not technically a sequel to Neil Gaiman's masterpiece American Gods (another book with a diverse protagonist), but it's set in the same world and uses at least one character from it. When Fat Charlie's father drops dead on a karaoke stage, he doesn't exactly know how to feel about it. Soon his entire life is turned upside down as he learns that his father was actually Anansi, an African trickster god. To make matters worse his long lost brother has decided to arrive in town, and Fat Charlie swiftly learns that his life is never going to be the same.
Published originally in the U.K. as Rivers of London, Midnight Riot centers on Probationary Constable Peter Grant, who dreams of one day becoming a detective in London's Metropolitan Police. Unfortunately confined to a desk job instead, Peter's luck swiftly changes at the aftermath of a bizarre murder, where he unwittingly gains information from what turns out to be a ghost. Suddenly realizing that he can speak to the dead, he is quickly reassigned to work with Detective Chief Inspector Thomas Nightingale. His task? Investigate crimes that involve the occult.
Fledgling by Octavia E. Butler
When Shori wakes up in a cave with no memory, she thinks she's simply a normal 11-year-old African girl. Soon she discovers that this isn't the case, in fact, she is a 53-year-old genetically modified version of a vampire. Navigating this new world of vampire-human relations, Shori must also find out who is trying to destroy her. A meditation on race, sexuality, and what it means to be human, Fledgling turns vampire mythology on its head.
Minion by L.A. Banks
Damali Richards is a musician working with Warriors of Light Records by day, hunter of vampires and demons by night with her troop of fellow hunters called Guardians. When members of her record company start turning up dead in brutal ways, Damali knows that it's not a regular, run-of-the-mill vampire attack. Soon she realizes that the vampire behind the attacks is the most powerful she's ever met, and he's after her next. For those who love Anita Blake and Buffy, this one's for you.
Eighteen-year-old Khalid, the Caliph of Khorasan, is a complete monster. Each night he takes a new wife, only to strangle her to death by morning. When 16-year-old Shahrzad's best friend falls victim to this, she volunteers to be his next wife in order to get revenge. In an attempt to keep his interest, Shahrzad weaves tale after tale in order to keep her husband interested, and is shocked to find that she has fallen in love with him as well. Like its inspiration, 1,001 Arabian Nights, The Wrath and the Dawn centers on the power of storytelling, and is the first book in a duology, with the second book being released in 2016.
Consuela has never felt comfortable in her own skin, but all of that changed the day that she found herself thrust into the world of the Flow. Trapped and kept from her loved ones, she learns that she possesses the power to shed her own skin and create skin from the world around her, from air, water, fire, anything she can imagine. Soon she joins up with other teenagers who possess similar extraordinary abilities, but all is not well in the Flow. When Murder threatens the very safety of the land, Consuela teams up with the strangely attractive V in order to stop it. But what happens when the killer might be the only one who knows how to get her home?
Written in a gorgeous, poetic prose, All Our Pretty Songs, is a punk rock YA retelling of the Orpheus myth. The novel centers on two seventeen-year-old best friends growing up in the Pacific Northwest: the charismatic, gorgeous Aurora, and our devoted and unnamed narrator. Their close relationship is soon threatened when they meet a musician named Jack, and they must choose between love and friendship. Unfortunately, normal teenage angst is disturbed when Jack's music awakens an ancient evil, and it's up to our narrator to descend into the underworld and save what's most important to her. Boasting a large and diverse cast, All Our Pretty Songs is the first of a trilogy.
Set in a kingdom called the Martial Empire, where those who do not take a vow to the Emperor run the risk of execution, Laia's family has been trying to eke out a living in poverty, keeping their heads down and refusing to challenge the Emperor. However, when Laia's brother is charged with treason, Laia decides to receive help from the rebels, and in exchange she will spy for them in the Emperors most prestigious military academy. Undercover, she meets Elias, the academy's greatest soldier, and he's hiding a secret of his own. Together, they realize that their destinies intertwine, and their choices might shape the fate of the Empire.
In this retelling and expansion of a Senegalese folk tale, our heroine Paama is stuck with a husband that has disgraced himself by murdering the village's livestock and stealing corn. After finally leaving him, Paama is approached by the supernatural djombi, who present her with a gift: a Chaos Stick. With this stick, she is able to manipulate the very forces of the world, but unfortunately an indigo-skinnned djombi believes that the power should belong to only him. This lighthearted magical adventure is a fun read, as well as an illuminating look in Senegalese folklore.
Vanyel Ashkevron is the eldest son of a minor noble, although he doesn't seem to measure up to his father's high standards. The only thing Vanyel would like to do is to abdicate his position as heir and become a bard. Instead, his father sends him to his aunt Savil, a very rare Herald Mage who has no interest in her nephew due to his lack of magical ability. Although his dreams of being a bard are swiftly crushed, he soon falls in love with Tylendel, an openly gay Empath. However, when Tylendel's twin brother is assassinated by a family enemy, Vanyel supports his lover on a path to revenge, and on the way discovers potential he didn't know he had.
Set in a magical alternate universe two years after the American Civil War, A Book of Tongues, centers on Pinkerton agent Ed Morrow as goes undercover with the Wild West's most dangerous gangs, run by an ex-Confederate chaplain turned "Hexslinger" named Asher Rook, and his lover Chess Pargeter. It's up to Morrow to infiltrate their inner circle, unlock the secrets of magic, and ultimately team up with Chess to stop Rook from raising a pantheon of bloodthirsty Mayan gods.
Image: lannistersbooks/Instagram