This Palette Is Destined To Be Your Next Cult Fave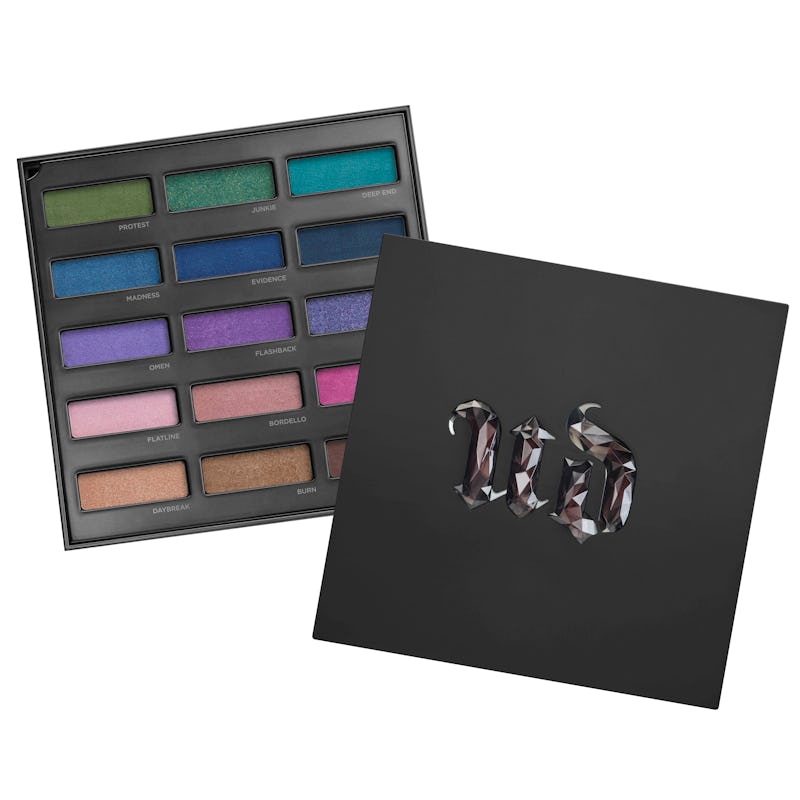 Eye shadow palettes make life super easy for beauty mavens. They offer an array of colors, all housed under one roof. Coordinating colors are usually positioned near one another, eliminating the guesswork. Urban Decay is masterful when it comes to palettes, and the brand's new Urban Spectrum palette is destined to join the ranks as one of the brand's cult favorites.
Urban Decay's trifecta of Naked palettes, which collect neutrals that still allow for a variety of bold, edgy, and anything but boring looks, are iconic. There are several versions and variations, like the blockbuster Smoky set, which I own and cannot and will not live without.
The Vice palettes boast most of the color spectrum, allowing you to do a neutral eye with the option to add a pop of color in the inner corners or on the lower lashline. With the Vices, you can indulge your color lust and have a lot of options under one roof, making for limitless shadow combos.
They also eliminate the need to grab shadow shades from other palettes or from your makeup bag to complete your look. Everything is at hand.
But why is the limited edition Urban Spectrum palette, which will make its debut for the holiday season, ready to take its place among the legends?
There are 15 shades, which are are bright, jewel tones and a mix of new shades, like Flashback (purple), Daybreak (bronze), and Flatline (metallic pink), alongside cult classic shades. You can taste a rainbow of colors via the array of greens, blues, purples, pinks, and neutrals.
So this palette is the polar opposite of the naked range in its colors and its scope.
But the Urban Spectrum's packaging is also quite different. The lid comes off the palette, as opposed to folding over and clicking shut.
Urban Decay is constantly reinventing its palettes, from what's inside to how the packaging is designed. The Vice 3 Palette looked like a painter's palette, due to its size and shape, and it snaps open and shut.
A few years ago, the Smoked Palette came with 10 shades and a matte black zip case. I still use it even though I have beaten the crap out of it.
Meanwhile, the Naked packaging is overall sleek and chic, with long, slim cases that open and close with ease.
Here are some of my favorite Urban Decay palettes.
1. Vice 3
Vice 3 really has everything you need in one compact and compartmentalized case. I still reach for it often. Vice 4 has landed and it's right there with Vice 3 in terms of providing a satisfying color fix for shadow junkies.
2. Naked Smoky
You can create foolproof smoky eyes with this slim and trim selection of shadows. There are no mistakes, since each shades works with the rest. You can do tan smoky eyes, brown smoky eyes, silver smoky eyes, black smoky eyes, bronze smoky eyes with a touch of silver — you name it.
3. Smoked
This was a limited edition palette with only a handful of color options. It does allow me to get creative with my pairings and lets me break the eye makeup rules. You can't have the makeup experts hold your hand all the time! It's fun to experiment with colors.
4. Naked
You can't mess with an original. The first Naked compact offers a perfect array of neutral and anything but basic shadows of all textures and depths.
Stay tuned for the Gwen Stefani x Urban Decay collabo, too!
Want more beauty tips? Check out the video below, and be sure to subscribe to Bustle's YouTube page for more hacks and tricks!
Images: Courtesy of Urban Decay (6)