How To Make An Entire Meal Using Halloween Candy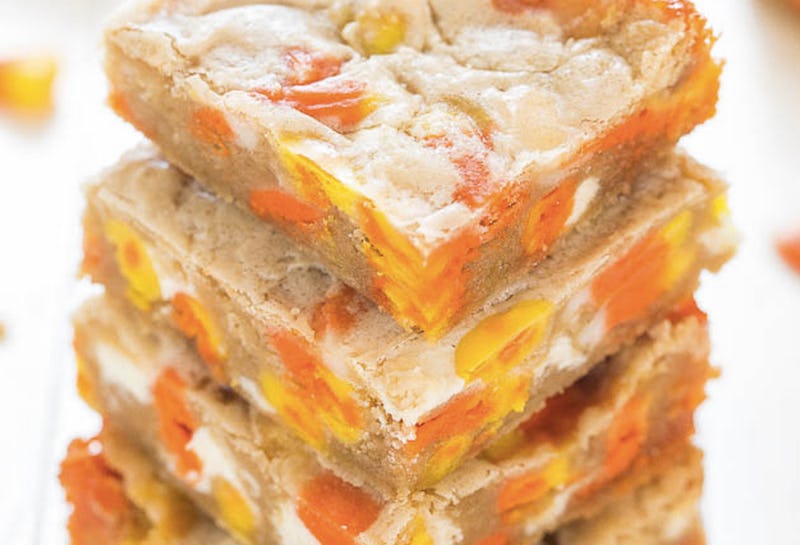 Halloween candy is pretty great any time of the year, but is there really anything to do with it besides eat it by the handful? After doing some serious journalistic digging (I got my college degree for this, y'all), I found that you can, in fact, feasibly make an entire meal out of Halloween candy without going into a diabetic coma and/or throwing up everywhere. And that is always a bonus, am I right?
Here's the thing — a lot of these dishes call for "chocolate chips" or "baking chocolate," but we're going to go ahead and ignore that, because Reese's Pieces and Kit Kat bars taste a million times better. Candy bars aren't typically sophisticated or high quality on their own. But put them in a pepper sauce or throw your gummy bears into some wine? Yeah, that's a definite game changer.
Round up your friends with a major sweet tooth and invite them over, because we're about to make a meal out of all of your Halloween candy. Don't have any candy? Go out and buy a family-size bag, 'cause you're gonna need it. Eating an entire meal made out of candy is something you used to dream about as a kid, and now you are about to make those dreams come true. Let's start off the meal with some cocktails...
How about a pitcher of gummy bear sangria?
Yes, you heard that right. This recipe from My Name is Yeh puts a fun and colorful twist on this brunchy cocktail. Every day will feel like a party when you break out a pitcher full of gummy bears.
Next, break out a basket of orange and chocolate bread
This recipe from My Baking Addiction calls for chocolate chips, but you could easily substitute some leftover Hershey's kisses or M&M's for a little flair.
Feeling super fancy?
Try this lamb in a dark chocolate and pepper sauce from The Kitchn. It may sound weird, but the pepper tones the sweetness down in this gorgeous sauce. Just melt your candy into the sauce for some chocolatey goodness.
Get fruity with these grown up choco tacos
This recipe from Munchin with Munchkin will show you how to make beautiful choco tacos. Melt more chocolate into the mixture for a decadent treat, and top with chopped candy for crunch.
Don't forget dessert!
These candy corn blondies by Averie Cooks are quintessential Halloween perfection. Make them, love them.
For more Halloween ideas, check out Bustle on YouTube.
Images: My Name is Yeh; My Baking Addiction; The Kitchn; Munchin with Munchkin; Averie Cooks