10 Perfect Books For The Music Junkie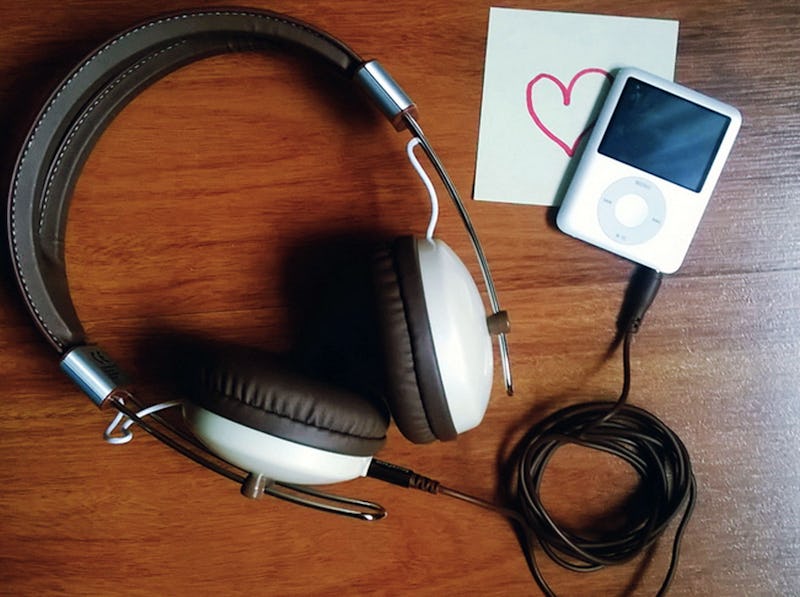 We all have that one friend who scoffs whenever T-Swift comes on the radio. You know who I'm talking about — the friend who makes everyone mix tapes for birthdays and talks about musicians as if she personally knows them. The friend who only knows of one real Paul, who always pilots the aux chord in the car, and who takes the Coldplay vs. Radiohead debate about as seriously as the GOP debate. Or, hey, maybe you're that friend. (Maybe I'm that friend. Maybe not. Who knows?)
Bridging the gap between literature and music is often an awkward, failed endeavor; prose is the language of art, and music chimes in where words just can't cut it anymore. It's hard to compare the two. Though we still try to make that impossible connection with things like music journalism or criticism, it never does either medium any justice, and usually always ends up in inept, try-hard descriptions like, "this song sounds like all my feelings and a tiny saxophone were put together in a blender." (Which actually kind of makes sense if you think about it, but I digress).
There is, however, literature that exists for the sole sake of celebrating music — for giving readers insight into their favorite artists' brains, or fictional characters who share a mutual passion. Whether your groove is folk or jazz, Diplo or Dylan, Top 40 or the underground scene, this list of books is music for the eyes.
High Fidelity by Nick Hornby
This novel is more than music-obsessed. And possibly perfect for someone still trying to figure out the whole "adulting" thing (blech). Hornby's narrator, a thirty-something-year-old Englishman, runs a record store in London where he struggles to transition from selling records the old-fashioned way on vinyl, and from adolescence. It's everything you could want from a novel: a love story, a better-late-than-never coming-of-age story, and an unending, arcane argument about pop music.
How Music Works by David Byrne
Because haven't you ever wondered? Instead of offering the criticism or praise that traditionally comes along with music writing, Talking Heads frontman David Byrne dissects everything form how particular genres fill particular spaces and venues, to how seamlessly music transitioned into the digital age. Littered with pretty, nostalgic reminisces of Byrne's old Talking Head days, your music guru stout-sippin' friend can't wait to talk about this at parties.
Norwegian Wood by Haruki Murakami
So maybe the title isn't that subtle, but it's oh so fitting. The story binds two characters, Toru and Naoko, by the death of their best friend, combining a college student's coming-of-age story with a tragic, nostalgic love story. While Murakami often chooses one song to carry out as a sort of theme for the rest of the novel, it makes sense why he chose the late-'60s hit for this one; think sexually liberated college students, frolicking meadows, flared jeans, and a bit of a trip. (Warning: It's a love story, but not that kind of love story. I'd avoid gifting this to that Special Someone, unless you're both really into sadness).
Beatles Vs. Stones by John McMillian
There's a good chance you've either joined in on this debate or smartly pretended to be busy on your phone or, I don't know, staring off a very interesting spot on the wall as this debate was happening around you. Either way, McMillian offers a fresh perspective on the tired argument while comparing the two and reveals some truth about not only This Band vs. That Band, but the image of a famous band vs. their reality. Besides, that argument was silly anyway (go Beatles).
The Torment Saint by William Todd Schultz
Elliott Smith is one of the few songwriters who can speak to listeners directly: damaged, lovelorn, honest, weighty with sadness, entirely human and imperfect. And while the melancholic '90s musician gained something of a cult following, there was trauma, heartache, drug abuse, and a feeling of misplacement with the world that aided in writing his soul-pinching songs. Basically, if you've worn out your Son of Sam record and are looking for another feasible excuse to cry your eyes sore, read this needle-in-the-hay of a biography.
Autobiography by Morrissey
Have you ever simultaneously loved and scoffed at a person so hard before? Or just questioned who and what they were entirely? Well, Morrissey would probably say, "Same." (In a much more endearing British accent, of course). Autobiography is part poetic prose, part self-pity, part fond remembrance of growing where the rain falls down in a humdrum town, and wholly Morrissey. He's a human and he needs to be loved just everybody else does, guys.
Confidence or the Appearance of Confidence: The Best of Believer Music Interviews
There's nothing more exciting and voyeuristic than peering into conversations with our favorite musicians, because sometimes, getting to know who they are while sipping hot coffee and talking about mundane things makes their music feel that much closer to us. Or at least, that's what I imagine a total music nerd would say, psh, am I right. This collection of Believer's best interviews ranges from Thom Yorke, Bjork, Ice Cube and M.I.A, leaving a slice for every musical appetite.
The Tin Drum by Günter Grass
One can almost empathize with Oskar, The Tin Drum's narrator: never wanting to grow up, disenchanted by growing up in a war era, caring about his toy drum more than people. Gunter's classic is filled with love affairs, WWII melancholy, and the violence Oskar risks just to retain his precious tin drum. It's like he takes the "ride or die" music fan ideology a little too literally.
A Visit From the Goon Squad by Jennifer Egan
Egan's collection of short stories goes back and forth in time from the '60s, to present day, to the near future, and back, all following the lives of aging punk rocker and music executive Bennie Salazar, his assistant Sasha, and their friends. Although each story could carry on just fine as its own separate entity, the musicality is in the way each story is linked to the next by themes of troubled youth, evermore-troubled old age, and moving on from the past. Highly recommended for dads who still show off pictures from their hair band days at family parties.
But Beautiful: A Book About Jazz by Geoff Dyer
Dyer's But Beautiful reads almost like a collage, written in poetic vignettes and drawing on photos, music criticism, and anecdotes. For the real jazz lover, it reads almost like daydream: Charles Mingus hanging around the streets of New York, Thelonius Monk skipping across piano keys, and Lester Young melancholic in a hotel room. But Beautiful is written as musically as it's subjects, and could be the perfect gift for that one "Ugh, I Much Prefer Monk To Coltrane" friend. We do all have one of those, right?
Image: xigianne/Instagram