9 Dresses To Wear To A Fall Wedding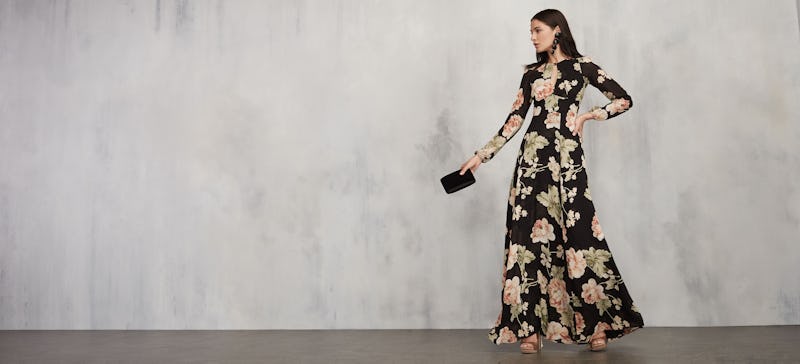 Though wedding season is at its height in the summer months, fall wedding can be equally, if not more, stunning, with gorgeous crimson hues and deep florals all around. Unfortunately, your summer ensembles won't suffice — here, a list of 9 dresses to wear to a fall wedding that'll have you looking chic and feeling cozy, cause nobody's got time for shivering.
While summer weddings are beautiful, especially for vintage, boho-themed nuptials, I almost prefer fall weddings, since there's a little breeze (which we all need after a night of drinking and dancing, tbh), and there's really nothing more beautiful than fall foliage. But — when the temperature drops, especially as the sun goes down, you'll want a dress that'll keep you cozy (or, at least, not let your nips go haywire).
When it comes to formal dresses to wear to a wedding, there's a few criteria: 1. Do not wear white. We all know that as the Cardinal Rule. 2. A little modesty never hurt anybody. 3. It's seasonally and locationally appropriate. If you're attending a summer wedding, a short dress is probably totally cool, but once it's approaching fall, a midi or full-length gown is probably best. Luckily, there are so many options for the gorgeous autumn season.
1. The Layered Dress
ASOS River Island Layered Maxi Dress, $135, us.asos.com
This gorgeous black dress has a subtle layer detail, making it the perfect dress to wear to all of your fall weddings.
2. This Gorgeous Graphite Number
Club Monaco Dauphine Silk Dress, $249, clubmonaco.com
I'm in love with this color, plus, the length is so, so flattering. Throw on a shawl for the evening, and you'll be cozy all night long.
3. This Dress Fit For A Princess
ASOS Truly You Lace Maxi Dress With Thigh Split, $71.66, asos.com
Truly in love with this deep V, slit, and lace overlay.
4. A Floral Fantasy
J. Crew Collection Painterly Floral Dress, $498, jcrew.com
This one would be for a less formal nuptial ceremony, but it's one chic look — backyard wedding, perhaps?
5. This Embellished Stunner
Adriana Papell, $395, shop.nordstrom.com
This one's more skewed for late fall, but this champagne color and beaded details are everything.
6. This Two-Tone Beauty
Yana Two-Tone Floral Lace Gown, $768, bcbg.com
This bodice is absolutely gorgeous, the layer of lace is so intricate and beautiful, it can't be beat.
7. The Most Elegant Dress...Ever
Reformation Lara Dress, $428, thereformation.com
I love the drop sleeves on this dress, and in this deep blue, it's just as versatile as a black gown.
8. This Chevron Beaded Beauty
Adrianna Papell Chevron Beaded Blouson Gown, $360, adriannapapell.com
You'll match the gorgeous fall foliage in this stunning gown.
9. This Sexy Slip
ABS By Allen Schwartz V-Neck Slip Gown, $428, 1.bloomingdales.com
I'm so obsessed with shift dresses right now (shot out to the '90s) and in this deep red color, it's formal enough for a wedding, or even a night out at the opera.
Images: ASOS, Club Monaco, J. Crew, Nordstrom, BCBG, Reformation, Adrianna Papell, Bloomingdale's