The Top 12 Badass Ladies In Classic Fiction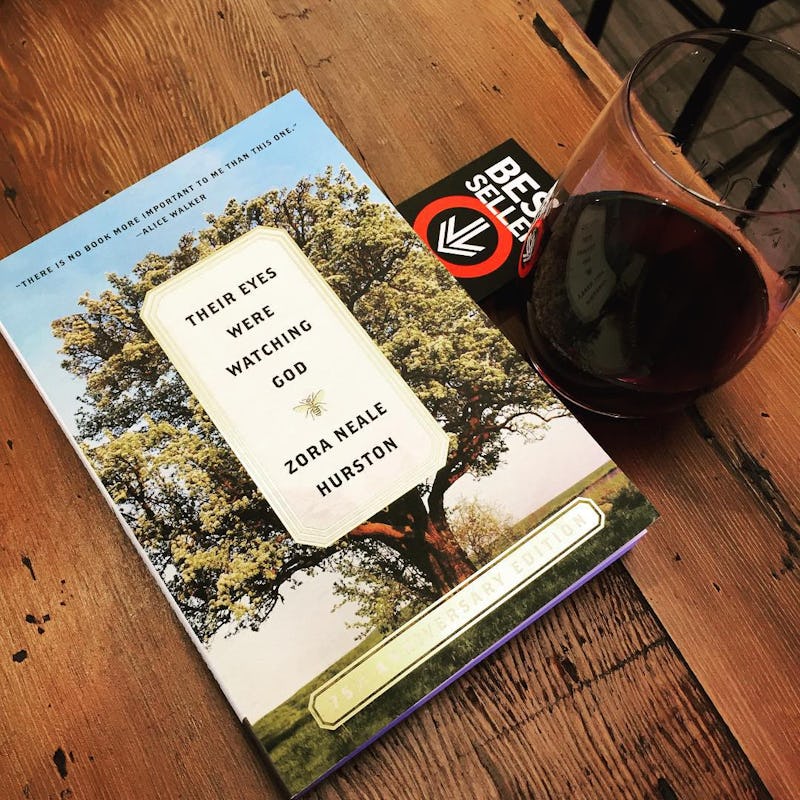 So you loved Reno in The Flamethrowers, and you found Lisbeth Salander fearfully inspiring in The Girl with the Dragon Tattoo. You secretly (or totally openly) wish Bridget Jones was your mother and/or BFF, and everyone knows that Hermione wins everything, every single time. You've noticed a distinct trend in women in books being totally amazing — throwing themselves right in the center of all the action, taking risks, kicking ass, saving their own lives, and sending good ol' Prince Charming straight to the unemployment line. When it comes to featuring totally inspiring leading ladies in fiction, contemporary novels have been doing a pretty darn good job.
But just because the new releases shelf in your local bookstore is filled with tons of fabulous fictional femmes, you definitely shouldn't forget about all the completely badass ladies whose stories have stood the test of time. That's right: I'm talking straight from the pages of those classics you haven't picked up since high school. After all, Shakespeare's ladies were no slouches. If you think about it, Athena pretty much paved the way for Katniss to do her thing. And there's definitely a good reason why my unbridled adoration of Lizzie Bennett will never die. Like, ever.
Are you ready to feel all those inspirational, empowering, you-go-girl feels? Here are 12 of the most empowering female book characters ever written.
Rosalind from As You Like It
You gotta love a lady who's mastered the art of the monologue. Rosalind is a gal unafraid to speak her mind, and when she does (aka a lot) her words are so beautiful you almost don't notice she's actually giving you a fairly stern talking-to. As one of Shakespeare's most recognized heroines, Rosalind is known most for her quick thinking, her witticisms, and her unwavering loyalty to friends and family. Plus, like a lot of these leading ladies, she's great at balancing saving the day with falling in love.
Scheherazade from One Thousand and One Nights
Scheherazade is kind of the ultimate heroine. After King Shahryar kills his wife for her infidelity, he decides to get back at all women forever (awful idea) by marrying an new bride every morning and killing her at sunset. (See, awful.) But when it's Scheherazade's turn to wed, she totally throws a wrench in Shahryar's plan. She stays alive by telling the king a story every day, ending on a cliffhanger just before nightfall. If he wants to hear the end he'll be forced to keep her alive until morning. Which he does for 1,001 nights of brilliant storytelling. You go girl.
Hester Prynne from The Scarlet Letter
Because there's nothing like some good old Puritanical hypocrisy to set the stage for the evolution of a really badass heroine, this was definitely one of my favorite required reading books in high school. I love Hester. Hester, simply put, has no more sh*ts left to give. This leading lady is willing to take the blame, don that ridiculous scarlet letter, work her butt off, and live ostracized from society forever, as long as everyone just gets the hell out of her way so she can raise her baby in peace and quiet. Preach, sister.
Jane Eyre from Jane Eyre
Jane Eyre is a lady who knows exactly how to tell her own story. This novel was revolutionary at the time of publication due to the fact that it was told from the first-person perspective of a female narrator — and a pretty sassy one at that. Despite social convention, Jane is not about to do anything she's not into; especially marry for any reason other than love. Above all, Jane values freedom, independence, and taking care of herself on her own terms. Can't argue with that.
Sula from Sula
You gotta love all the books named after their heroines, am I right? Although Sula is somewhat of an antagonist, she just infuriates everyone in the very best ways: refusing to subscribe to traditional gender norms or conform to socially imposed morals that don't interest her, and leaving her hometown of The Bottom to make her own adventures in the world. Basically, this is a woman who knows exactly how she wants to live, and isn't let anyone going to stop her.
Athena from The Odyssey
First of all, Athena is the goddess of just about anything that holds power: courage, inspiration, justice, war, art, strength... the list goes on. Second of all, there wouldn't even be an Odyssey if she hadn't banished Odysseus for letting his soldiers muck up her temple in the first place. Then, to top it off, basically nobody would have survived the trek if Athena hadn't been there to guide Odysseus out of trouble and disaster at every turn. Basically, this book should be called Athena.
Lysistrata from Lysistrata
Lysistrata, bless her heart, is going to end the Peloponnesian War — by convincing all the women of Greece to withhold affection and sex from their husbands until they agree to put down their weapons and establish a peace treaty. Hilarious. Brilliant. Let's do this again. Who's with me? Anyone?
Janie Crawford from Their Eyes Were Watching God
I'll say one thing for Janie Crawford: this is a lady who never, ever gives up. After being first married off to an old man by her grandmother and then marrying a controlling and abusive politician, most women would call it a day on matrimony, love, and happiness. But not Janie. She finally marries a man of her own choosing, named Tea Cake, who is also kind of a pain, but at least Janie loves him. No matter how much tragedy hits this woman, she's a born survivor.
Beatrice from Much Ado About Nothing
Beatrice is sort of the Shakespearian equivalent of the interrupting cheese on all those Cheez-It commercials (don't pretend you don't know what I'm talking about.) Only she's a lot more mature, and probably the most intelligent of all of Shakespeare's women. Beatrice totally defies every stereotype of the Elizabethan woman: doing and saying what she likes, and making jokes both hilarious and sometimes lewd. Even at the very end, when she finally gives into marriage and love, she tells her betrothed that she's only marrying him because she believed he was dying anyway, and she figured she might as well try to save his life. Love her.
Emma Goldman from Ragtime
So, OK, Emma Goldman isn't a totally fictional character (she's actually not fictional at all) but she does appear as her totally badass self in E.L. Doctorow's novel Ragtime. In real life, as in the novel, Goldman was an anarchist and social activist who fought the good fight for women's rights — at home, in the workplace, and throughout society as a whole. After she was arrested for distributing then-illegal information about birth control, Goldman used her time in prison to study midwifery and prenatal massage. Definitely a woman before her time.
Anne Shirley from Anne of Green Gables
The carrot-topped Anne-with-an-E Shirley is delightfully sassy, hilariously dramatic, honest to a fault, super well-read, outspoken, and can totally rock short hair. Also, she's pretty much having none of Gilbert Blythe's teasing and hair pulling. Despite coming from difficult beginnings, Anne Shirley maintains her Pollyanna-like attitude (except when she's working up a really good drama in her head, and then watch out.) She wants to be a writer and nothing's going to stop her. Get it girl.
Elizabeth Bennett from Pride and Prejudice
Of course this list wouldn't be complete without the utterly unparalleled Elizabeth Bennet. As the second daughter to the Bennet family, birth order psychology dictates that Lizzie would take a backseat to pretty much all her other sisters. But this lady flies in the face of psychology and is basically the ultimate example of literary heroine badassery to all women everywhere.
Image: Alissa Smith/Instagram