Theo Galavan's 'Gotham' Identity Is A Mystery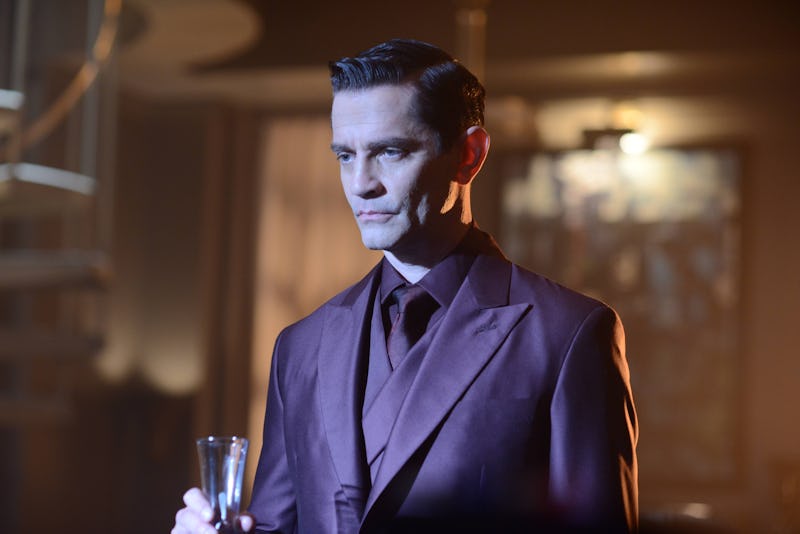 When James Frain strolls onto your television screen, you know it's about to get shady. His latest role is no different, but is Theo Galavan on Gotham in the Batman comics? Frain's character has sidled up to several DC heroes and villains already, but he himself is a bit of a mystery.
From what we saw in the premiere, he's a billionaire who has just returned to Gotham City and is intent on bringing the chaos. He has now broken out and "employed" the residents of Arkham Asylum, which will bring a whole new side to the seedy underbelly of this world. He also may or may not have powers? That green smoke that the decoy villain spouted was pretty ominous, but it did not seem to have the intended effect. All in all, the warring crime families of Gotham Season 1 seem pretty classy and, well, organized now.
As for their fearless leader? Plainly put, there is no Theo Galavan in any pre-existing DC comics or even television series. However, it's possible that he could morph into a more familiar persona before the season is out. I'm still rooting for Butch to be the Joker as a twist. Here are a few more options for Theo Galavan's comic book identity on Gotham.
Someone Related To Tigress
While Galavan isn't in the comics, the supervillain alter-ego of his sister Tabitha is. While Tigress has another name in the comics, Gotham has already announced that this is Tabitha Galavan's identity. What does that mean for Theo Galavan? While Artemis Crock, the comic book Tigress, doesn't have any brothers, she has fathers and husbands and other men in her life.
Is it possible that Theo Galavan is the Wizard and therefore building the Injustice Society, which Tigress was involved with along with other Batman villains? They do look similar, but I guess that all depends on whether or not his "magic" powers are real.
Someone Else Named Theo
In DC Comics, there are a few characters named Theo. There is a comics character called "Loser" whose name is Theo Storm and has a force field that, while it does ward off attacks, also prevents him from doing basic human tasks like moving and eating. There is also Theo Adam, also known as Teth-Adam and Black Adam. He is a bit of a grey villain in the DC Universe. He's also Egyptian and has god-like powers. I don't think that this describes and of the Gotham character we've seen thus far, but Theo Galavan is definitely a dictator of sorts and a super-villain this big in the DC canon would make an interesting addition to the series.
Someone Like Fish Mooney
Of course, he could be this year's Jada Pinkett Smith, whose character Fish Mooney was not in the comics but figured heavily into the narrative of Gotham.
Images: Nicole Rivelli/FOX; Giphy (3)