Can You Wear Snow Boots In The Rain?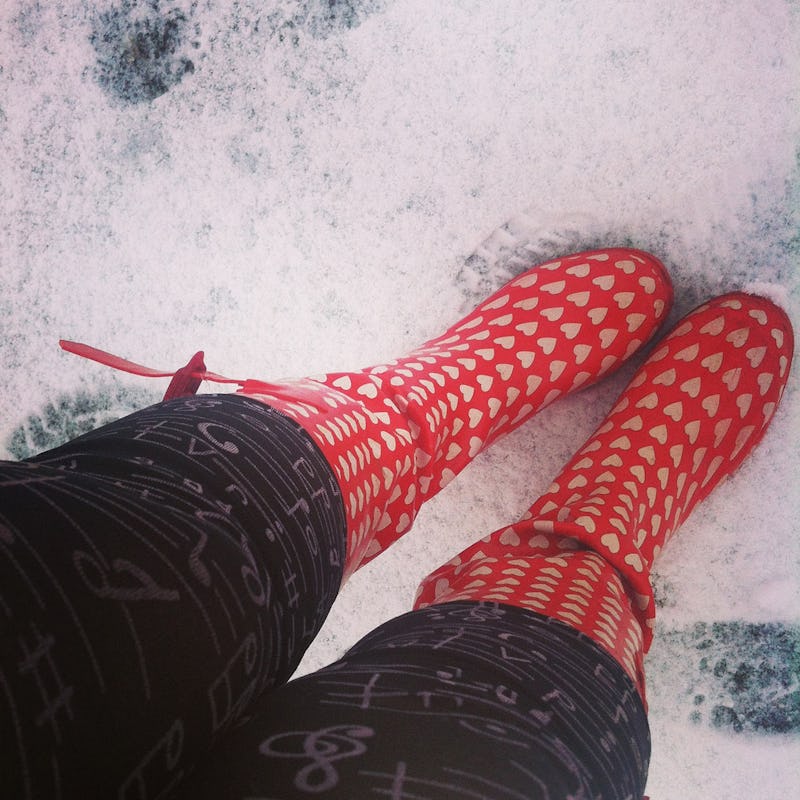 Getting ready for a wicked winter? Snow boots are fashionable, uber functional pieces that your wardrobe needs during the colder months. They can seem like a super expensive buy for something you only wear in the snow, but that's not the case. If you're wondering can you wear snowboots in the rain, the answer is most definitely yes.
I asked national TV host and stylists Catenya McHenry if snow boots work as all-weather wear. "Depending on the material, you can certainly wear snow boots as rain boots," she tells me. "Most of my favorite winter boots come from brands that know how to handle the cold like Hunter, Ugg, BareTraps, SOREL and The North Face. These brands each sell waterproof lace up snow boots. Some pairs are not only waterproof but they are also insulated and lined with fuzzy fleece to keep your toes toasty warm in the snow and bone dry when puddle splashing."
When purchasing snow boots this season you'll definitely need to look for features like traction, waterproof material, and insulation. They're certainly bulkier than your ankle booties, but that's doesn't mean they're any less fashionable.
"Pairing snow boots with your favorite skinny jeans — with the ankles tucked into the boots — can give a casual look great edge," said McHenry. "Wearing them with opaque black tights and a pleated mini skirt, finished with a puffy jacket and plaid scarf is another awesome option."
Here are the toughest, coolest snow boots around that you can wear in the stormiest of weather.
1. SOREL Tivoli II High Herringbone Boot
SOREL Tivoli II High Herringbone Boot, $105, SOREL
These insulated boots are perfect for harsh winters, where snow sticks around for months at a time.
2. Hunter Tall Rain Boots
Hunter Tall Rain Boots, $150, Hunter
Your classic Wellies with durability and insulation for intense snow.
UGG Adirondack Boot II, $220, UGG Australia
UGGS are arguable the best in the game. Unlike the popular, fur-lined boots, these are warm and functional in slippery weather.
SOREL Tofino Felt Boot, $112, SOREL
I live in Colorado, and SOREL boots are everyone's go-to for all weather gear.
5. BareTraps Zeldie Boot
BareTraps Zeldie Boot, $60, Footwear Unlimited
These are not only fashionable, but they're also appropriate for the office or a night out with friends, all while still keeping your toes warm.
BareTraps Elicia Boot, $120, DSWTucking skinny jeans into long boots are fashionable and can be office-appropriate for blustery, snowy days.
BareTraps Addyson Boot, $60, Famous Footwear
These don't look like your average snow boot, but trust me they are. Heavy insulation and durable soles make these perfect for snow weather.
8. BareTraps Fairlee Boot
BareTraps Fairlee Boot, $60, Footwear Unlimited
Another functional, heavy-duty boot disguised as your average ankle bootie. So much yes.
L.L. Bean Boot, $219, L.L. Bean
This boot is a classic, beloved for it's multi-purpose use.
Images: Liz Furla/Flickr; Courtesy of Brands