You Can Drink & Eat This 'Shark Tank' Product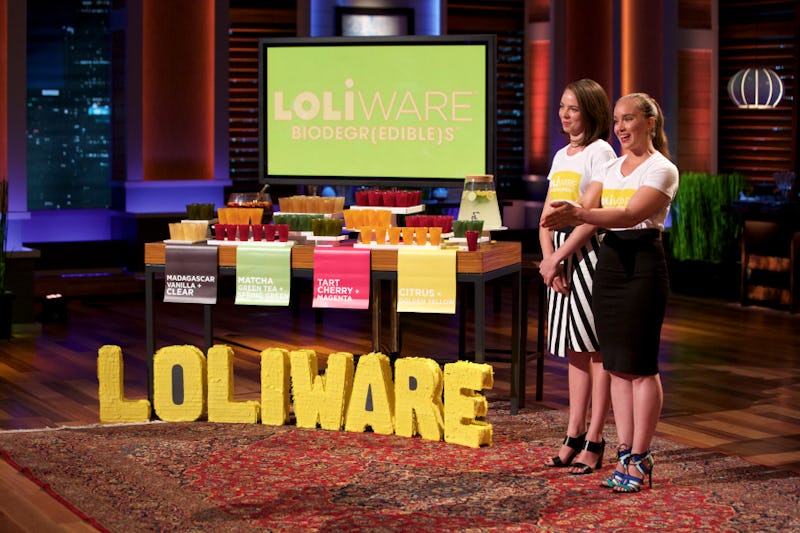 A lot of food has come into the Shark Tank over the years, but nothing has ever been quite like this. Sure, we've seen entrepreneurs pitch sweet confections and mind-blowingly convenient food storage systems, but what would happen if you combined them into one product? The answer, my friends, is Loliware, appearing on Shark Tank this Friday night.
That's right. Loliware makes cups that you can eat. While I'm sure that sounds awesome to you (and if it doesn't, it should), it may also sound like the novelty of Loliware could wear off pretty quickly. However, there's an amazing reason why it shouldn't and probably won't, which I'll get into in a little bit.
As my homegirl Julie Chen likes to say on Big Brother, but first! I have to wonder what the Sharks are going to think about Loliware, since it is something you don't really see every day. Because these are edible cups, they don't last forever, which also means consumers will have to keep shelling out money if they want more of them, ultimately making more money for whoever owns this company. In short, no matter what the Sharks really think of Loliware, they love anything that can get them more dough. Here's how Loliware may offer the Sharks a sweet deal they can't refuse.
What's In A Name?
If you're wondering what Loliware is all about, just look at the company's name. When I first saw Loliware, it immediately made me think of lollipops and some sort of kitchen item, which seems to be the point. If the name doesn't give away that these are edible cups, its use of the word "biodegr(edible)" in the tagline will.
Here's What These Cups Are Made Of
How does Loliware make its cups look so much like vintage glassware? Loliware is made with plant-based gelatin called agar, which helps make the cups translucent and hold their shape as well as be vegan, making it possible for even more people to enjoy these glasses.
They Taste Like Your Childhood
I think Loliware would have a phenomenal response at a kid's birthday party. They come in a variety of bright colors and fruity flavors, you can eat them with your hands, and children would be especially awestruck at being able to do something they never thought was possible up until that point. But even if you're over the age of 12, you'll still probably feel like a kid while eating Loliware. That's because they taste just like your favorite gummy treats that used to fill up your lunchbox. Here's how Gillie Houston described the taste of Loliware on Yahoo Food:
Much as I expected, the Loliware had the tough, chewy texture of licorice (warning: there's not really a dainty or ladylike way to tear off a bite) and the taste of an artisan Fruit Roll Up, if ever there was such a thing. Overall, they're sweet enough to resemble the fruit snacks of your childhood, but not so sugary as to overpower your cocktail of choice.
Luckily, you're not a child anymore so you can enjoy some adult beverages in a Loliware cup, in addition to any other drink of your choice.
They're Not Just A Novelty
Loliware not only tastes good and looks cool, but these cups also do something even better. They may just help save the world. The fact that Loliware is edible and biodegradable means that it cuts down on the waste created by disposable cups. The company has been mentioned in several articles about this new trend in food packaging, so let's hope this is one trend that's here to stay.
Get Your Hands (And Mouth) On Loliware Now
Loliware has been out in the market for some time. The cups are sold exclusively through Loliware's website, according to a June 2015 article on Yahoo Food. There, you'll find them in a variety of flavors, such as Citrus, Matcha, Tart Cherry, and Madagascar Vanilla. As you can probably guess, Loliware isn't cheap. Four of these will cost you $12, and a pack of 48 will set you back $115, which is way more than a pack of those red Solo cups you can get at your local convenience store.
Unfortunately, the company's website was down at the time of this writing, probably in an effort to relaunch it in time for the hordes of Internet users that are sure to visit it once the company appears on Shark Tank. That means it's possible that some of this information could have changed. But once Loliware's website is back up, you'll be able to munch on a cup soon enough.
This Is Why Loliware Looks Good Enough To Eat
Loliware's founders Chelsea Briganti and Leigh Anne Tucker met while attending Parsons The New School For Design in New York, according to Entrepreneur. By the way, Briganti also designed a silicone menstrual blood stem cell-collecting tampon-like device while she was at Parsons. After graduating in 2010, Briganti and Tucker designed an edible drinking glass for the Jell-O Mold Competition. They finally realized this little side project could be a full-fledged business when Absolut inquired about ordering 6,000 cups for an outdoor event. Uh, ya think?
Images: Tyler Golden/ABC (2)