Hilary Duff Reps American Eagle's Coffee Jeans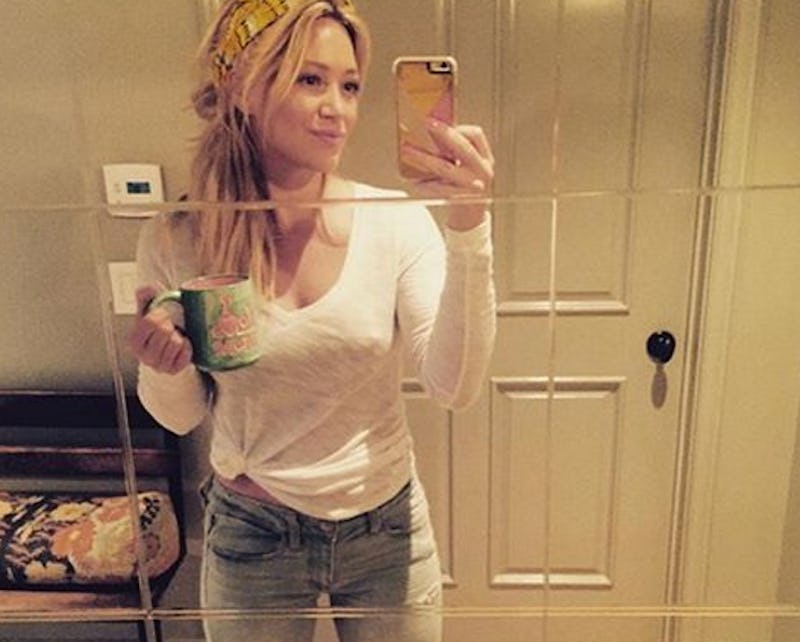 Coffee isn't just a daily source of morning caffeine! Coffee grounds have even been used in some homemade facial scrubs and Hard Candy once sold a range of caffeine-infused lipsticks. Now, it's a secret ingredient in your clothes, as American Eagle's new jeans are made of coffee grounds. Go ahead and process the idea of java-infused jeans, which are being promoted by street style queen Hilary Duff.
The singer and actress is often seen waltzing around Los Angeles in a variety of skinny jeans, so she was a smart choice to help launch the Denim x Cafe line for the mall brand.
As Duff's Instagram post noted, the jeans, which look super on trend and really cute, are made of recycled coffee grounds. My instant reaction to that notion is to squirm a bit, but that said, here's everything we know so far about American Eagle's coffee-infused denim. It's actually pretty fascinating fashion. It's the ultimate when it comes to recycling and repurposing.
Repurposing in fashion is always cool. The concept can be intensive or simple. I've been eyeing a leather jacket that's been repurposed into a pair of leather leggings on Etsy for weeks now. On an even more basic level, projects like the Teens for Jeans campaign, where youngsters can donate gently worn jeans at retail outposts, provide another way to recycle fashion! It's for a good cause, as you can help the less fortunate. It's also environmentally considerate, since donating, as opposed to tossing, your old jeans creates less waste on the planet.
I love the look of the Denim x Cafe jeans so far, as evidenced by Duff and by several AE IG posts. I seriously adore the shredded, destroyed, and skinny shape. The jeans certainly don't look like they're made of coffee!
Here's everything there is to know about Denim x Cafe.
1. You Can Wear Them Several Times Before A Wash
AE's repurposed coffee ground jeans are actually environmentally sound. Racked notes that coffee grounds have "a natural deodorizing quality." So you can wear your jeans multiples times before washing them, thereby saving water, and without having to worry about them smelling all sorts of funky... from dirt or from their secret ingredient.
Ever notice that there are raw and unprocessed coffee beans in cups on fragrance counters? You take a whiff of those to clear your nostrils after inhaling a perfume. So that helps put the deodorizing quality of a coffee ground in perspective.
2. They Won't Smell Like A Coffee Shop
But don't worry, your pants won't smell like a Starbucks (not that I'd be complaining if they did). Racked reports that the jeans are made of 2.25 grounds of repurposed grounds that have been treated and are fragrance-free.
3. They Offer UV Protection
Even better, when you sport the jeans, they protect you from pesky and dangerous UV rays. That's always a good thing.
4. They Will Be Available In October
The Denim x Cafe range will be available for purchase as of October 15. The jeans are affordable, starting at $49.95. Oh look, Vanessa Hudgens and her BF Austin Butler are also rocking coffee jeans. It's Disney stars x coffee denim, since Duff and Hudgens are former queens of the network ladies.
5. There Is A Men's Range, Too
There will be a men's version of coffee-infused jeans. It's name? Oh, just Denim Flex Cafe. How punny!
It's also worth noting that AE announced it's Denim x Cafe range on National Coffee Day, a caffeine junkie's favorite fake holiday. I don't drink coffee; I am a tea girl. But I'll be getting my coffee on on October 15 with these jeans.
Want more unique fashion? Check out the video below, and be sure to subscribe to Bustle's YouTube page for hacks and tricks!
Image: Hilary Duff/Instagram (1); American Eagle/Instagram (3)