9 Novels To Inspire You For NaNoWriMo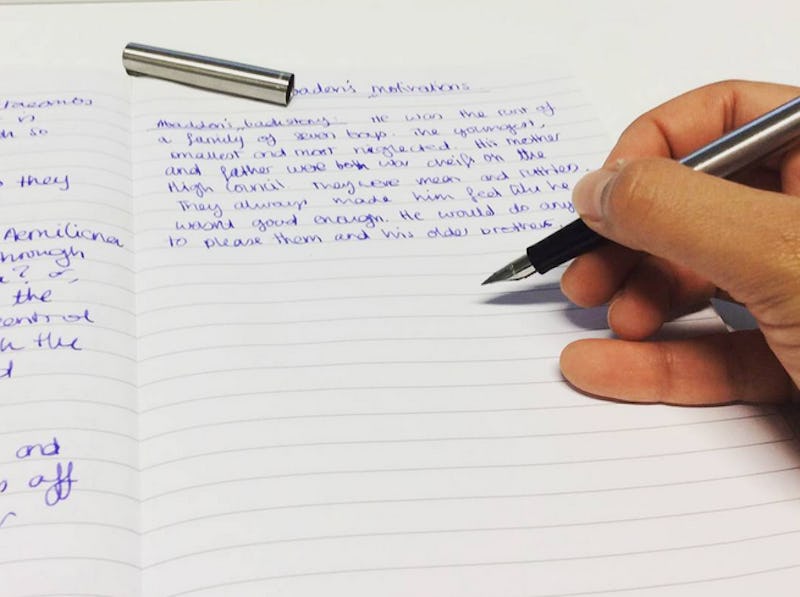 As much as it hurts, I'm going to admit something to you: I am a NaNoWriMo failure. Now, you're probably thinking "Oh shucks, practically everyone fails NaNoWriMo at least once," and "Any number of words at all should be considered a success." But in my case, you're wrong. I can almost guarantee no NaNoWriMo hopeful has ever failed NaNoWriMo as tragically as I've made it my yearly habit of doing.
And I've TRIED. I've printed the prep worksheets, I've made the obligatory donation, I've purchased the T-shirts, and the mugs, and the stickers, and the ten pound sack of coffee that's going to get me through it; and at the end of it all? For the last four years my average word count has been somewhere around 380 — and not 380 pages. 380 words. That's practically less than one sentence a day. My all-time best record was 5,187 words… but more than 5,000 of them came from a story I'd already written in graduate school.
That's right; not only am I a NaNoWriMo failure, I'm also a NaNoWriMo cheater.
Why haven't I given up yet? (Good question.) Maybe I'm a writing masochist. Maybe I just really like t-shirts with typewriter keys on them. Maybe I'm great at deluding myself into thinking that THIS IS THE YEAR, every single year, since 2010. Or maybe, just maybe, it's because some writers actually do win NaNoWriMo. Sure, nobody is going to write an absolutely perfect novel in a mere 30 days, but plenty of writers can use that time to create a really killer first draft — a draft, that with a lot of love and editing, might just go on to become a bestseller.
Feeling inspired yet? Well hang on to your typewriter, because here are nine novels first drafted in 90 days or fewer — some were even written during NaNoWriMo.
The Night Circus by Erin Morgenstern
This novel, about two circus magicians who have been pitted against one another in a duel to the death, but end up falling in love instead, is one of the most well-known NaNoWriMo success stories. After imagining her characters off-paper for years, author Erin Morgenstern finally sat down one November and hammered out part of the first draft of The Night Circus. During the following NaNoWriMo she finished it. Five years of editing later, the book became a bestseller.
On the Road by Jack Kerouac
This semi-autobiographical tale of road-tripping debauchery and questing for experience and self-realization famously took only three weeks to write — at least the first draft did. But Kerouac's archives contain many subsequent drafts of his most well-known novel. Sal Paradise and Dean Moriarty's on-the-road antics aren't the only thing that will inspire you about this novel. First you'll want to hit the road, then you'll want to write your own novel.
A Clockwork Orange by Anthony Burgess
This classic of futuristic dystopia is filled with invented language, criminal activity, and a classic battle between the powers of good and evil. It was also reportedly written in three weeks. In Anthony Burgess's later book Flame into Being: The Life and Work of D. H. Lawrence, the author wrote about A Clockwork Orange: "The book I am best known for, or only known for, is a novel I am prepared to repudiate: written a quarter of a century ago, a jeu d'esprit knocked off for money in three weeks..."
Fangirl by Rainbow Rowell
Twin sisters Cath and Wren have always been fangirls together, but when the two leave home for college, Wren wants to leave fandom — and consequently, Cath — behind. Rainbow Rowell, the author who wrote the beloved novel Eleanor & Park, wrote Fangirl during NaNoWriMo. In an interview with Goodreads, she admitted that almost every word of that first draft remained in the final novel. Kind of amazing.
Water for Elephants by Sara Gruen
There must be something about NaNoWriMo that makes enormously talented writers think about the circus. In this Depression-era novel, main character Jacob Jankowski hops a freight train in the middle of the night, and almost immediately joins the circus. Though this novel wasn't fully drafted during NaNoWriMo, the 30 day deadline gave author Sara Gruen a great start, and the book went on to become not only a bestseller, but a great film as well.
As I Lay Dying by William Faulkner
Inspired by his upbringing in Mississippi, William Faulkner's As I Lay Dying tells the story of the Bundren family's journey across the harsh southern landscape, to bury Bundren wife and mother Addie. Faulkner claimed to have written the novel in a mere six weeks, during his night shift at a Mississippi power plant. He also claims to not have changed a single word of his first draft — but who really knows for sure? Either way, let the tale inspire you to your own literary greatness.
WOOL by Hugh Howey
WOOL was written as a self-published novella before Hugh Howey sat down one NaNoWriMo and reportedly added another 60,000 words. The novella quickly turned into the Silo series, which tells the story of a population of post-apocalyptic underground-dwellers who have escaped a world of toxic air. Of course, one of their own decides to venture to the surface.
The Gambler by Fyodor Dostoyevsky
Fyodor Dostoevsky was notorious for a few things: gambling, losing when he gambled, and writing really, really fast. (Supposedly with a whole lot of help from his wife, God help the lady.) Literary folklore says that The Gambler was written as the result of a gambling bet gone wrong, in just a few days. Think Dostoevsky took some creative inspiration from his real life?
The Boy in the Striped Pajamas by John Boyne
John Boyne claims he writes most of his first drafts in about a month — a feat alone that will make other writers everywhere painfully jealous. But The Boy in the Striped Pajamas? Two and a half days. No, I'm not kidding. The novel tells the heartbreaking story of a family who lives near a concentration camp during World War II, and the tragic friendship that evolves between Bruno, who lives on the outside, and Shmuel, who lives in the camp.
Image: keystrokesandcloseddoors/Instagram