'Pacific Rim' Will Have A Sequel... Eventually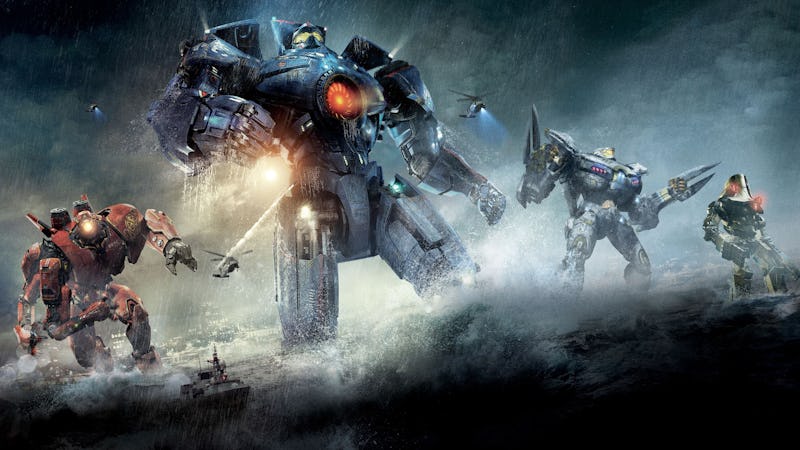 When it comes to movies, you're either a fan of big action blockbusters or you're not. I am, and I also happen to be a massive fan of Guillermo del Toro, so when Pacific Rim hit theaters in 2013, I was totally game. With a cast including Idris Elba, Sons of Anarchy's Charlie Hunnam, and It's Always Sunny In Philadelphia's Charlie Day, there's really no way the movie wasn't going to be a hit, and it was — so much so that a sequel was ordered pretty soon after its release. The problem is that it's now almost the end of 2015 and the follow-up is nowhere to be seen. In fact, production on Pacific Rim 2 was halted earlier this month, leaving fans of the Legendary film wondering if it was going to happen at all. Thankfully, Universal Pictures has allayed some of our fears, revealing that the sequel is delayed, but but ultimately still happening. Whew!
While Pacific Rim 2 was initially scheduled for an August 4, 2017 release date, Universal has since pulled the movie from the calendar altogether, though they've insisted that it will eventually be made. The Hollywood Reporter claimed earlier this month that the change was due to a larger shake-up involving other popular film franchises including King Kong and Godzilla, and that del Toro's sequel was likely never going to be made, but Universal's statement seems to put that report to rest.
"Legendary and Universal Pictures are committed to having Pacific Rim 2, the sequel to 2013's Pacific Rim, which generated more $411 million at the global box office, be the vanguard, fully-immersive experience that the franchise deserves. To this end, the decision was made to delay the production and release of Pacific Rim 2 so that the creative team can continue in its efforts to exceed the amazing experience of the first film."
It's unclear what creative kinks still need to be worked out in order to get Pacific Rim 2 made, but given that the original 2017 release date is still more than a year away, and we're not even getting it then, it's anyone's guess as to when we might get to see it. Fans of the first film are desperate for it, however, so as long as the demand's there, I can't see Universal backing out on their promise to get this onto the big screen.
As for Del Toro, he hasn't given up hope on the sequel, either, and is moving forward with plans to get it made. "As far as I'm concerned, it's not gone. We're still on it," he told Entertainment Weekly earlier this month. "It moved further. I may do another movie in the middle." Let's hope that's the case, because I need to see it!
Image: Warner Bros. Pictures