This 6-Year-Old's Goodbye Letter = All The Feels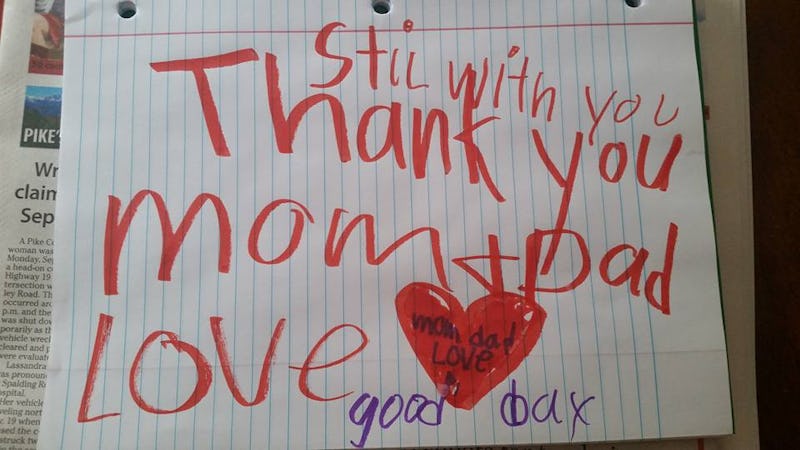 Some time before passing away last week, little Leland Shoemake wrote his parents a touching goodbye letter. The Williamson, Georgia six-year-old first fell ill last month, with what doctors originally suspected was meningitis. His parents, Amber and Tim, immediately set up a Facebook page called Prayers for Leland, as well as a GoFundMe page to help with medical bills. But soon after being hospitalized and running multiple tests, it was discovered that Leland was actually suffering from something even worse: granulomatous amebic encephalitis (GAE), a serious infection of the brain and spinal cord that's caused by an amoeba called balamuthia mandrillaris.
While hospitalized at Children's Healthcare of Atlanta, in Egleston, Tim and Amber never left their son's side. Balamuthia mandrillaris was only recently discovered, and infections from it are very rare. As such, treatment has not yet been perfected. This past weekend, though, after Leland succumbed to his illness, the boy's parents finally returned home to pick out clothing for his burial. It was there that they were shocked to discover a note in the living room — signed by Leland. "Still with you," the note read. "Thank you Mom + Dad... Love..." Finally, it's signed off with two little words that appears to be "Good day." The note also featured a drawing of a bright red heart, with "Mom," "Dad," and "Love" written inside. On Monday, Amber shared a photo of the note on Facebook, along with the caption: "We have no idea when he wrote it but you can tell he was always a special child. We will love you forever Leland. Sleep tight and don't let the bed bugs bite!" (It's OK — go ahead and cry; I am, too.)
Leland's obituary describes him as a gifted child who "enjoyed school, Minecraft, history, CSX diesel trains, Legos, sharks, ships like the Titanic, and playing baseball." His favorite shows, it continues, were Tom and Jerry and Impractical Jokers. His favorite movie? Jaws.
It's pretty clear that Leland was a very special boy, just as his parents say he was; and amazingly, he's still touching thousands of lives, even after his passing. In the days since his letter was first discovered, Amber's post has received over 11,000 likes and more than 2,000 comments of prayers, comfort, and condolences.
"He'll be with you whenever you want him to," writes Wilma T. on Facebook. "You can talk to him and he'll hear you, and sometimes maybe in dreams, you will hear him. Blessings of solace and comfort from a mother who lost her son." "So sorry for your loss. We lost our son when he was only 15 days old. Can't begin to imagine your pain. It us very obvious that Leland felt he was loved by you and Tim. Will pray for you and your family," says Alex H. Mary C. writes, "So very sorry for your loss of your precious son. He loves you very much and will always be with you - just like he left you the picture..."
Condolences for the family have also flooded Twitter, as news of little Leland's note has made its way around the Internet.
If Leland's story has left you at a loss for words, and wondering how you might be of help, the Help for Leland GoFundMe account is still up for donations, or even if you'd just like to leave a comment of support. Proceeds will now be used for funeral expenses.
Image: Prayers for Leland/Facebook