Behold, The "Most Awesome Bed Ever"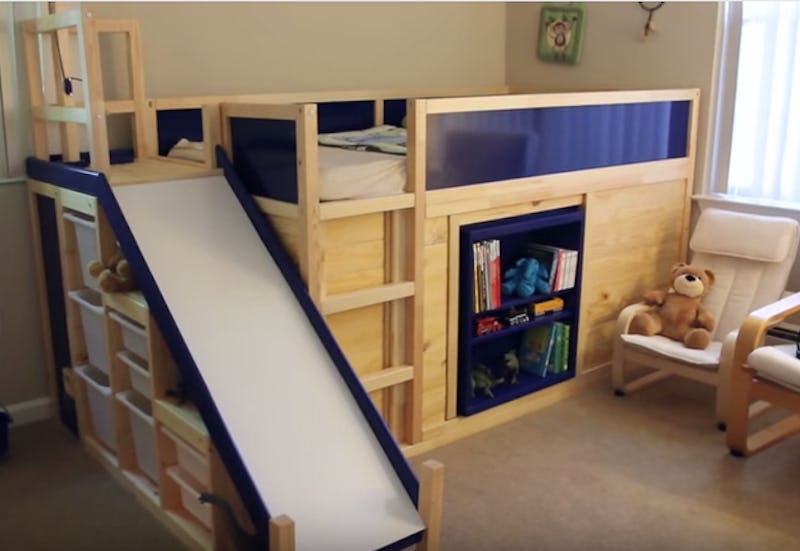 Last summer, a Palo Alto, California dad found himself facing an all-too-familiar parenting dilemma: While his son had outgrown his crib, he was reluctant to upgrade to a full-blown "big kid" bed. Finally, the boy agreed that he would vacate the crib — but only if his dad provided him "the most awesome bed ever." Challenge: Accepted. According to HuffPost Canada, Eric Strong proceeded to create an epic toddler bed mostly from IKEA parts. And I think you'll agree with me when I say that he freaking nailed it.
Chances are, you've probably seen those super trendy loft beds for kids before — the ones with the slides and play houses attached to them. If you're like me, you've also maybe gone so far as ordering the fancy catalog they're in (because it's never really clear how much they cost online). And then you've gotten the catalog in the mail, found out how much they cost, and immediately turned around to buy your kid a plain old regular bed, because are you kidding me, I could buy a used car for that kind of dough.
Strong is not like me, however, because once he found out that awesome beds cost awesome amounts of dollars, he took it as a challenge and decided to build his own. As HuffPost Canada reports, he dove deep into the wondrous world of IKEA hacking, which is the popular concept of repurposing IKEA furniture to suit your needs. (Think adding a tower bookcase to a bed frame to create under-bed storage, or turning an end table into a cat condo.) Strong learned that the Kura loft bed is a popular hack, because not only is it cheap at just $209, but it's also designed to be configured multiple ways. Taking into account his son's interests — which include playgrounds, simple machines, ball runs (like you'd see at a children's museum), and a particular Berenstain Bears book — he designed the coolest bed your eyes will ever see.
In addition to the slide, the bed features a pulley system that's incorporated into a ball maze, a hideout with lighting and a peephole, and best of all, the hideout is accessed by a secret door made from a bookcase! Just like in the movies (and my wildest dreams), the bookcase swings open when you pull on a fake book. (Hey, Eric Strong, are you at all interested in adopting a grown woman?)
The bed was made almost entirely of IKEA furniture, including two Kura beds, a Trofast storage system, and a Besta bookcase. He did also use a bit of wood and some other hardware that was not from IKEA. All told, the bed cost about $850, and his son is now officially the luckiest kid in the world.
Though Strong first shared a video of his bed on YouTube in August 2014, it's just now picking up some viral steam after being shared on Reddit last week. To date, it's racked up over two million views, and gained so much attention that Strong was prompted to post a followup video answering all of his fans' burning questions, like "Why do you have a Korean book?" and "Don't you think that's dangerous?" and "Are you getting paid by IKEA?" My only question remains unanswered: Will you please be my dad?
Images: Eric Strong/YouTube