Get To Know Dash Doll Durrani's BF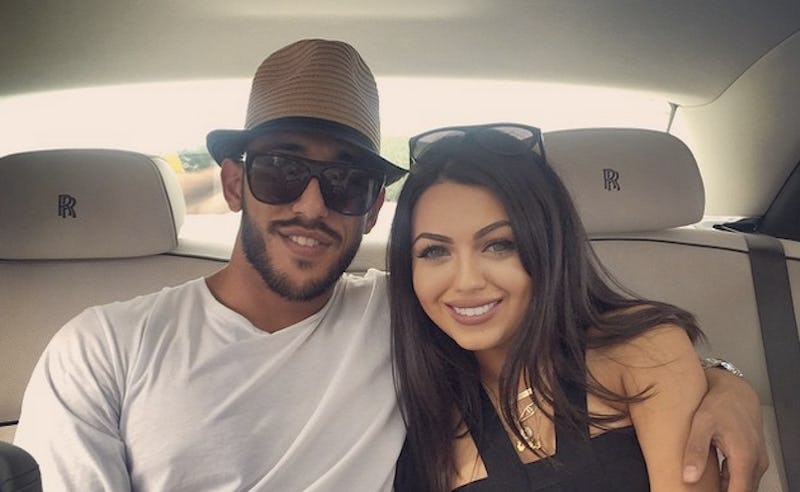 The Kardashian spin-off you never knew you wanted or wish you didn't want Dash Dolls is in full swing for its first season, and things are already getting juicy. The employees at the West Hollywood location of DASH are already garnering a fan base of their own, which was to be expected as almost anything the Kardashians touch (or mingle with) turns to reality television GOLD. One of the dolls who is getting a lot of attention is DASH merchandiser Durrani Popal, who definitely looks and lives the part of a Kardashian. In the latest episode, her boyfriend, gifted her a bubblegum pink Bentley for her birthday and got viewers wondering: Who is Durrani's boyfriend Shalom and what does he even do?
To celebrate his girlfriend's birthday, Shalom was going to drive Durrani to Disneyland to spend the day there... or so she thought. Instead, they pulled into a car shop and she was surprised with a Barbie Bentley that is probably worth an upwards of $200K! So, the only thing I can clearly deduce here is that the dude is very, very wealthy. Viewers don't know his last name, so I tried to use my lurking skills to figure out as much as I could about this mysteriously rich man giving out Bentleys as birthday gifts.
He Is Jewish, While Durrani Is Muslim
One of the center stories in the first episode was that after their first date, Durrani confessed that her family is very religious. She told the camera, "I don't know if my family will accept me for dating a Jewish man but I respect my parents and their wishes so it's a really hard situation... I feel kind of guilty, but I really don't want to think about it right now." Sometimes you just have to follow you heart.
He Asked Her Out At A Gas Station
Their relationship seems to be fairly new because Durrani shared with the other girls that she "met Shalom at the Beverly Hills gas station off Wilshire." Well, guess he had to act quick.
He Is Obsessed With Cars
Shalom doesn't have many photos on his Instagram, but quite a few of them are of luxury cars. He obviously already showed us that while on the show, when he had to use the plural "cars," because he definitely has more than one. He also often uses the hashtag for Roadstarr Motorsports, which is the shop where he got Durrani's car. I am inclined to think he has some sort of connection with them. This spot also supplies rides for many celebrities.
He Is From Munich
I don't have much to go on besides the fact that he has "Munich->LA" on his Instagram. He does have a slight accent of some sort. The mystery continues...
He Lives A Very Luxurious Lifestyle
Just vacationing at the Versace mansion, NDB.
While it is still unclear what exactly Shalom does, it's clear that he is very wealthy and certainly likes living that way and sharing it with his girl.
Images: shalom310/Instagram