Can You Still Get L.L. Bean Duck Boots?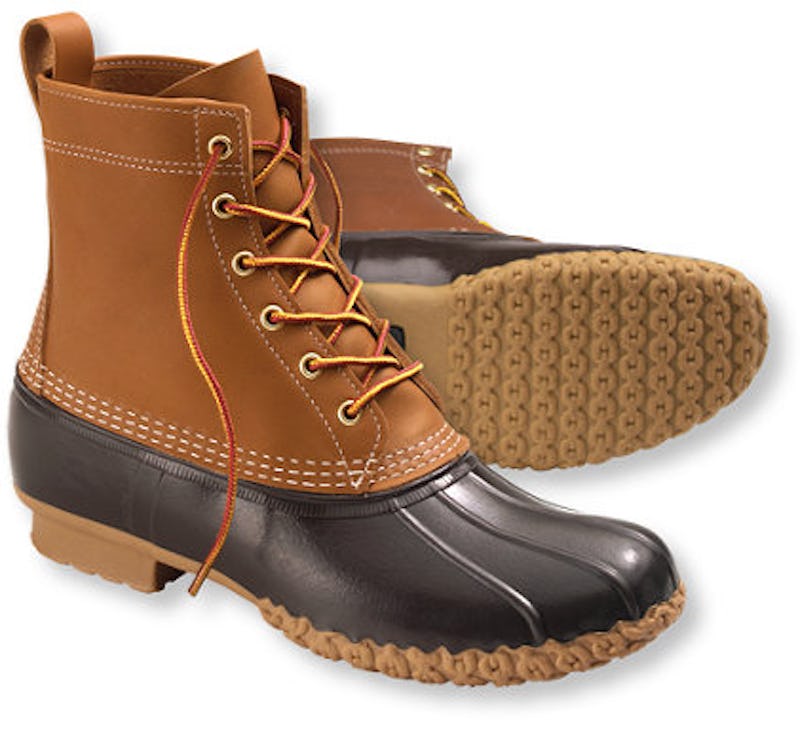 Well folks, it happened again. L.L. Bean's Duck Boots are out of stock, according to Refinery 29, and it's barely even chilly outside. The classic winter boots seems to yet again be a must have for everyone, because they're already out of stock just a week shy of the first day of fall. If you were looking to get your hands on a pair, though, you're in luck. There are other brands and retailers selling similar styles.
If it seems like almost everyone you pass on the street in winter is wearing the style, well, that's because they kind of are. Last year the boots had a wait list of over 100,000 well before Christmas. Now, with just a few days of fall behind us, the L.L. Bean boots are already scarce. Although all of the smaller sizes are already sold out, you can still snag a size 10 or 11 narrow AA or wide D on the site, but you'll have to act fast.
Those with smaller fit will be left to contend with eBay, but it'll cost you. Each pair runs almost double what you'd pay online. Why can't the company's supply keep up with the demand, you ask? Because each pair is handmade in Maine, and according to Bloomberg Business, the brand isn't planning to outsource any time soon.
"We're making them literally as fast as we can," Mac McKeever, a spokesman for L.L. Bean told Bloomberg Business. "It's not something we can just stamp out."
If you're not willing to wait on backorder, there are still plenty of similar boots out there. Here are a few of the cold-weather options to wear while you wait.
All-Weather Duck Boots, $99, Amazon
These boots are similar in style, but feature a bit of shearling around the rim.
Steve Madden's version has a little bit more flair. It's also available in four other colors.
Dede Lace-Up Boots, $70, Amazon
Almost identical to L.L. Bean's pair, the Sporto offers a little more patter but it's one of the closest design-wise.
Sperry Saltwater Boots, $99, Amazon
If you're looking for a more simplistic option, these are the boots for you.
Daphne Duck Boots, $90, Isotoner
This are similar to the L.L. Bean Classic but feature some intense fur lining.
Sorel Boots, $150, Amazon
This is about as close as it gets, if you're looking for an exact replica.
Cecil Leather Boots, $170, Amazon
Opt for some additional warmth with these cold-weather Ugg boots.
If you're not willing to wait, at least you have lots of options!
Want more fashion? Check out the video below, and be sure to subscribe to Bustle's YouTube page for beauty hacks and tricks!
Images: L.L. Bean (1); Courtesy Brands (7)