How To Be Taylor Swift's Cats For Halloween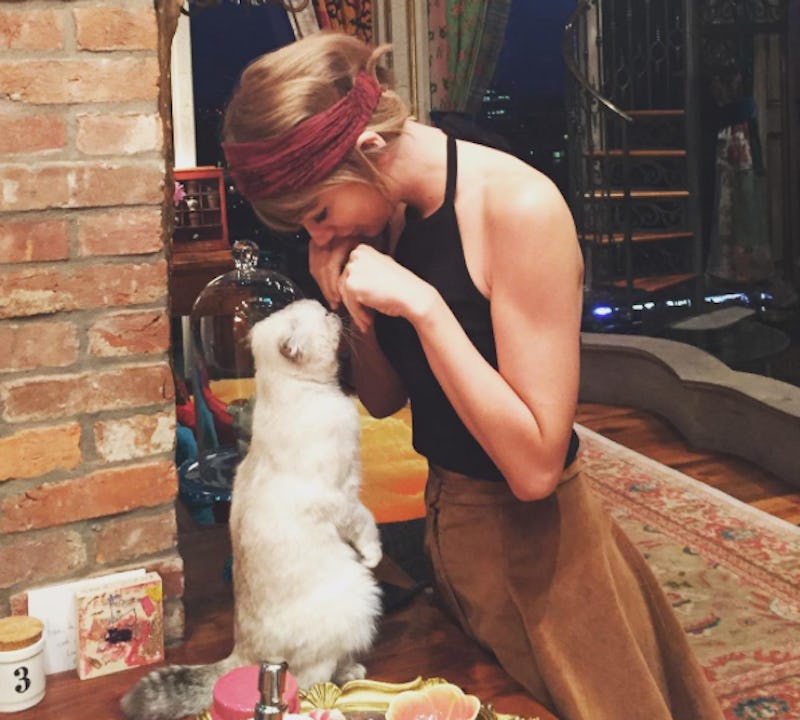 I think we can all agree that life is good when you are one of Taylor Swift's cats. Like, really good. A proud cat lady, the pop star treats Dr. Meredith Grey and Detective Olivia Benson to the best their nine lives have to offer. This includes trips on the "Style" performer's private jet, monogrammed travel carriers, and paparazzi glamour shots. So really, why wouldn't you want to be Taylor Swift's cats for just one night? Try out a Taylor Swift's cats Halloween costume on for size.
At first glance, it may seem a little odd to dress up as such a specific cat. After all, there are many cats out there that look very similar to both Meredith and Olivia. How will people know exactly which cat you are supposed to be? How will you give the cat character? Glad you asked, because there is actually a wide assortment of detail that goes into being one of Swift's cats, and if you follow my instructions carefully, there is no way people won't recognize you, especially if they are fellow Swifties.
Luckily for you, the specific details are not so difficult to obtain. You just need a few other willing participants and some props to add to make your kitty costume purr-fect. You might not be able to win at life quite as much as Swift's cats, but you can still win Halloween, which is still pretty awesome.
Get A Buddy To Play The Other Cat
Let's face it, this costume won't work nearly as well if there is only one cat. So get together with a good pal (who's hopefully just as crazy about the cats as you are) and decide among yourselves who will be Olivia (front and center in this pic, courtesy of Calvin Harris) and who will be Meredith.
Ideally, Swift Herself Will Be In Tow
It would make the costume even better — and more accurate — if you get another pal to dress up like Swift herself for Halloween. However, if you can't find a buddy to play her, a few people with cameras as paparazzi could also work. We all know those cats are always ready for their close up.
Find The Best Matching Cat Onesies
This is the fun part. Go on the hunt for cat Halloween costumes that best match what each cat looks like. For Olivia, a plain white or mostly white cat costume like this one from Amazon ($24.99-$27.99) will do the trick. For Meredith, a onesie with a good mixture of white and varying shades of gray (also Amazon, $19.99-$39.99) should work.
Get Some Pet Carrying Cases
Swift makes sure her pets are cozy when they travel, so it is only fitting that you and your pal also have some nice kennels like this one from Amazon ($19.99). Pro tip: you can use these for purses or for candy storage on the big night. For true Swiftie style, embellish them with your cat's respective namesake like the one Swift got as a Christmas gift.
Carry An Instagram Cutout
We all know Swift's cats are Instagram famous. Heck, they're part of the reason why she was recently crowned queen of Instagram. They're obviously a part of social media's lifeblood, so you better hope to emulate that with a social media prop, like one from Etsy. Or at least take a lot of Instagram photos that night.
If You're Meredith, Carry A Fake $40 Million Dollar Check
You might remember an unfortunate incident when Meredith scratched Tay's legs, causing the singer to post a little tongue-in-cheek response to rumors that her legs were insured. If you're Meredith, draw a fake $40 million check on a piece of paper (big enough for other party-goers to see) and carry it around to pay Swift back!
Add In Some Purr-sonality
If you really want to get into character, act like the cats do! You might remember from an old dramatic video post from the singer that Olivia is famously a much warmer feline than Meredith. If you're Olivia, purr it up and smile as often as possible for photos. If you're Meredith, feel free to look as creepy as possible. It is Halloween, after all!
Image: Taylor Swift/Instagram; Amazon (3); Etsy; Giphy