How To Dress As Netflix And Chill This Halloween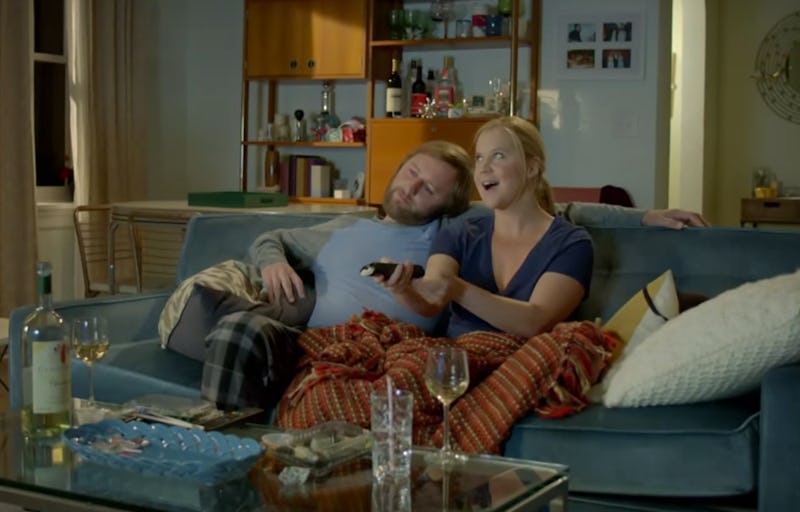 Hey girl, you lookin' for a Netflix and Chill Halloween costume *insert smirk emoji*?! The once innocent expression for binge-watching quality original programming turned innuendo-packed Internet slang provides a slam dunk opportunity for couples looking for a timely and topical costume this Halloween. There are plenty of ways to embody this idiom in costume, all with varying degrees of literality. So, if you're tryna be on fleek in selfies with your bae this Halloween, keep reading. I'm basically your costume guide.
And really, who hasn't Netflixed and Chilled at one point or another, right? I mean, 24 percent of millennials have cut the cable cord in favor of streaming media if you know what I mean. And Netflix users reportedly combine to spend a whopping 10 billion hours per month using the service — that adds up to about 250 hours per user every single month. That's a lot of N&C. So, how best to build a costume to embody something so saucy yet so culturally relevant (10 billion hours, y'all)? As crooner Harry Connick Jr. once said, you'll go together like a wink and a smile... like, literally.
Here are some very ahem... visual interpretations of the phrase to inspire your winning couple's costume for 2015.
1. The Very Literal
Your partner is ready for a House of Cards marathon with pajama pants and popcorn, and you're super chill, prepared to catch a righteous wave, bro. Together, you are the world's most popular power couple — Netflix and Chill.
Image: Polyvore
2. The mildly imaginative
Don the happy, sparkly uniform of The Unbreakable Kimmy Schmidt, while your special someone dresses in unseasonably warm clothing — because, ya know, that's what you wear when it's chilly!
Image: Polyvore
3. The abstract wiseacre
Stay with me here. Basically, this costume is Frank and Claire Underwood, plus lots of bloody accessories (Un-dead-derwoods?), which, naturally, is pretty chilling. Hence, Netflix and Chill.
Image: Polyvore
4. Sexy post-N&C
For maximum authenticity, get super hot and heavy before you go out on Halloween, and unleash the "good kind" of bed head (or just use the hairspray). Then, throw on a nightgown and an oversized button-down, last night's heels, and hit the road. Your friends will be astonished at how you capture the real essence of the Netflix and Chill.
Image: Polyvore
5. A super simple interpretation
These people are definitely chilling. So straightforward, and requires no explanation whatsoever.
6. Or just do it like this guy
He's got the whole package all to himself. Somebody is ready to win at Halloween... and life!
For more Halloween ideas, check out Bustle on YouTube.
Images: Inside Amy Schumer/Comedy Central; Polyvore (4)