DIY Beauty Recipes You Can Make With Leftover Food
by Natalie Turco-Williams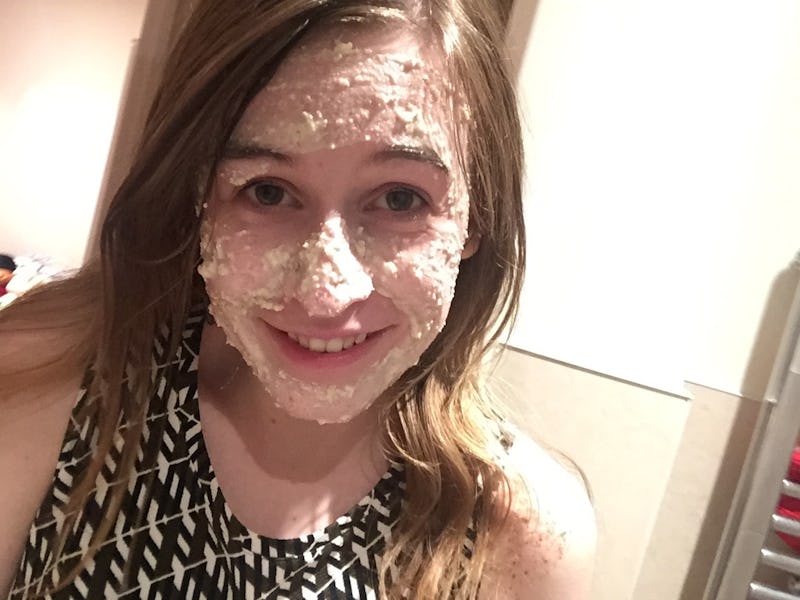 That feeling of desperately fancying a face mask or mini spa sesh at home and realizing you don't have any great beauty products lying around, even for a DIY beauty recipe can be a real bummer. And let's face it, whether you've had a bad day/week at work or are in the need of some serious beautification, the thought of leaving the house to buy a mere scrub or face wash is beyond depressing. But before you inevitably give into temptation and head out the door, take a look inside your fridge and kitchen cupboards, because what may seem like leftover food could be your ultimate spa day at home.
Yep, that leftover porridge you had for breakfast could transform your face and those coffee beans you just brewed could brighten your skin. Who knew! So for those fancying an afternoon or evening of DIY spa treatments here are some quick and easy beauty recipes that will not only save you a few bucks (bonus, right?) but make you feel amazing with what you've got leftover in your kitchen.
1. Shrinking Pore Face Mask
For anyone looking to tighten their pores, this one's pretty awesome. All you'll need is one egg white, one teaspoon of fresh lemon juice and one teaspoon of honey. All three ingredients are really great for tightening, brightening and unclogging your pores. Whisk them together in a bowl and you should end up with a light cream colored mask. Don't worry if it feels a bit watery, that's totally normal. Spread it across your face, avoiding your eyes and mouth. Leave it on for five to ten minutes or until you feel your face start to tighten. Then wash off with warm water and moisturize.
2. Coffee Skin Wrap
Besides keeping you awake during your early Monday morning meetings, coffee is an amazing exfoliator and skin firmer. Take ½ cup of some freshly brewed coffee grounds and mix it with 1tsp of olive oil. Spread the mixture on your legs or arms and rub it into your skin. Once you've scrubbed it in, wrap it up in plastic wrap and leave on for 10-15 minutes. Then unwrap yourself and rinse the mixture off.
3. Hand Sugar Scrub
If your hands are feeling quite rough, this one can work wonders. Not only is olive oil the ultimate moisturizer but when used with sugar, it's the best scrub you can get for beautifying your hands. Just mix three teaspoons of sugar and three teaspoons of olive oil in a bowl and you should end up with a nice golden scrub. Rub it into your hands for a few mins, wash off with some water, and apply moisturizer. Afterwards your hands should feel nice and smooth.
4. Porridge/Oatmeal Face Wash
If you didn't know already, porridge and oatmeal are some of the ultimate deep cleaners you can use. Just take a few cups of oatmeal and mix it with milk until you get a nice thick consistency. Use the oatmeal as you would with any face wash: Rub it into an already wet face, avoiding your eyes, and rinse off with warm water. A really nice way to wash off the mixture is to use a warm face cloth, so not only are you getting rid of the wash but also all that bad stuff like blackheads and dead skin. The cloth will gently exfoliate your skin and, when used warm, help open up your pores for an even deeper cleansing.
5. Protein Pick-Me-Up For Hair
Protein is what makes your hair strong, long, and really shiny. This mask has ingredients that are packed with protein to add some luster back into your strands. All you'll need is a half cup of yogurt, a half cup of honey, two eggs and a half cup of olive oil. Yogurt and eggs are great sources of protein and really awesome at reversing any damage caused to your hair through using gel, hairspray, or hot tools. Mix the ingredients until you get a thick creamy texture and apply to wet hair. Leave the mask on for a few minutes and rinse thoroughly with water.
And there, my friends, is the ultimate DIY spa sesh you can have at home, using some of the best beauty products you can get your hands on: your leftover food.