Hurricane Joaquin Memes Make Landfall Before Storm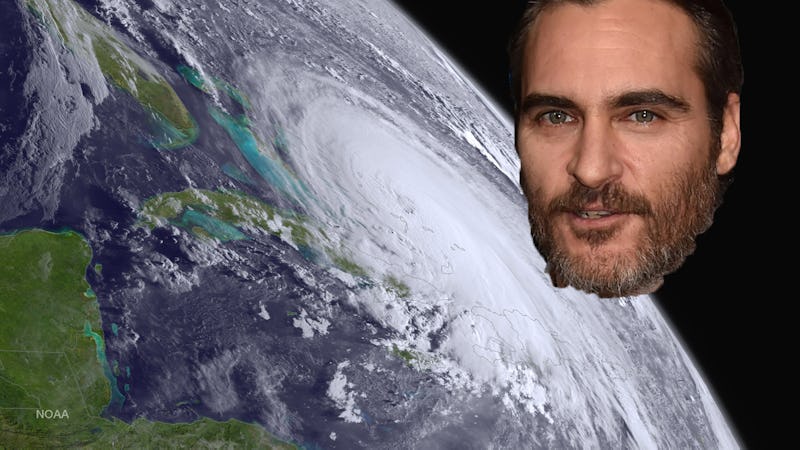 Social media is buzzing on Wednesday with Hurricane Joaquin memes mocking the impending storm. Joaquin is poised to reach the East Coast this weekend, though meteorologists disagree over its impact. As of Wednesday, the hurricane was located over 200 miles east of the Bahamas and ranked a Category 1, but it will gather strength as it reaches the mid-Atlantic region, possibly reaching a Category 3. The weather will most likely affect the New York region late Saturday night and through Sunday, causing heavy rain and wind. (Update: Hurricane Joaquin strengthened to a Category 4 hurricane on Thursday afternoon.)
As expected, the Internet is moving even faster than the storm. Memes have already popped up on social media poking fun at the expected extreme weather. It's nice (or troubling, depending on how you look at it) to know we'll always have Twitter, GIFs, and memes for comic relief during times of peril. During Hurricane Sandy in 2012, sites like Imgur and Tumblr provided us with pop culture spoofs on reactions to the storm, featuring now-common meme "stars" Sudden Clarity Clarence and Sweet Brown. Let's also take this time to look back at some of the Internet's best hurricane-related memes from past storms.
The Internet's Best Hurricane Joaquin Memes
As Expected, Hurricane Joaquin Phoenix Hits The Caribbean
Hurricane Who?
To Prepare For A Hurricane, Ask Floridians — They Know Best
The Best Of Past Hurricane Memes
Skeptical Third World Kid Questions Hurricane Preparations
When You Ask For Sweater Weather, Be Careful What You Wish For
Bro... It's Still Hurricane Season?
Game On, Joaquin
I Wonder What They'll Be Talking About On CNN This Weekend
Images: Rosanne Salvatore/Bustle; Owlsby/Imgur, Imgur, Quickmeme, Victoria Rempfer/Pinterest, Heathrow/Pinterest, Meme Generator, memeshare.net