6 Terrifying Podcasts You Should Listen To Stat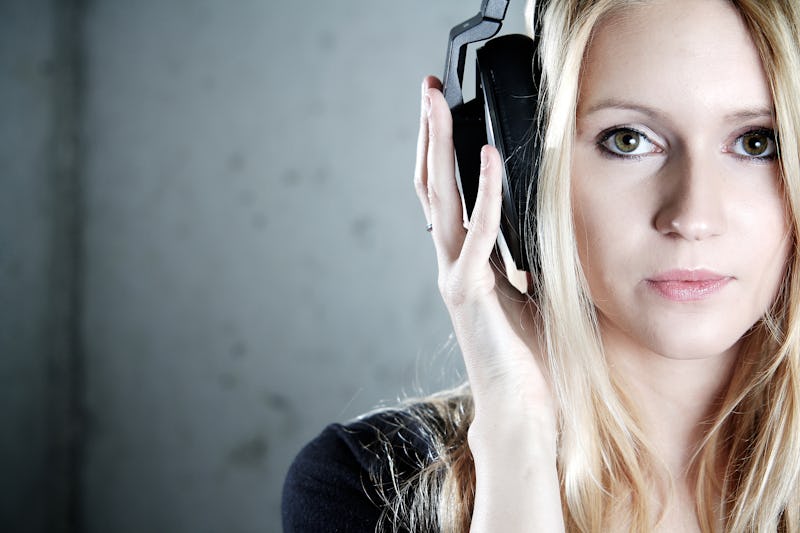 Ever have one of those nights when you stop whatever you're doing and think to yourself, "I really want to get freaked out and hear a story that will keep me from falling asleep all night long for fear of a serial killer coming in through the window, ghosts coming out from under the bed, and general terrors coming to take me away in the midst of the night"? Yeah, I don't either, but that's not going to stop me from sharing these six must-listen-to scary podcasts.
It's the month of October, which means it is time to start embracing all things spooky. I mean, what other time of year is it acceptable to have cobwebs flanking your ceilings? (Just make sure you tell people they're "decorations.") In an effort to help get you all spooked up, I've rounded up six ridiculous podcasts that will have you trembling from head to toe in terror after just one episode. In need of a little costume inspiration? These podcasts might just do the trick. Even if you already have your Halloween duds picked out, I know for a fact that these shows will get you feeling creepy, quickly. Happy Halloween, you guys.
1. The NoSleep Podcast
This podcast's title should tell you enough. Don't tune in if you're looking to catch some shuteye anytime soon. The NoSleep Podcast is an award winning series that originated as a side forum on Reddit, and its stories come from all over the world, meaning they're the cream of the crop.
Listen to it here: The NoSleep Podcast
2. Jim Harold's Campfire
Fans of Jim Harold (the man behind The Paranormal Report , another creep-tastic podcast you should check out!) call into this podcast to record their own true stories of terror — the most frightening word here being "true." From UFO sightings to ghost hauntings, this stuff will raise the hair on your back.
Listen to it here: Jim Harold's Campfire
3. The Black Tapes Podcast
Like the docudrama feel of Serial? Check out Black Tapes next. True crime meets the paranormal in this extra spooky, journalist-driven podcast that will absolutely give you the chills.
Listen to it here: The Black Tapes Podcast
4. We're Alive
If you're a fan of The Walking Dead (and really, who isn't?), then you're going to love We're Alive, a podcast with a continual storyline that continues with each episode. The premise? Your typical zombie apocalypse. What makes it stand out? The development of characters in a world that is all too frightening.
Listen to it here: We're Alive
5. Welcome to Night Vale
If you're looking for something a little more on the clearly fictional side (hey, I certainly don't blame you), check out Welcome to Night Vale, a podcast that focuses in on a small desert town. This podcast is narrated by a returning protagonist, though you will occasionally catch some cameo voices of those actors who are playing local townspeople.
Listen to it here: Welcome to Night Vale
6. Knifepoint Horror
Forget the gimmicks, because you won't find them in Knifepoint Horror. "Here you will find no entry into the thoughts of any characters other than the narrator's, no standard passages of dialogue, no humor, no romance, no profanity, no extraneous gore," this podcast's description reads. Sometimes things can be so much scarier when they're simply executed. I promise you this podcast will send chills up and down your spine.
Listen to it here: Knifepoint Horror
Images: Michael Heigl/Flickr