John Oliver & Stephen Colbert Are So Good Together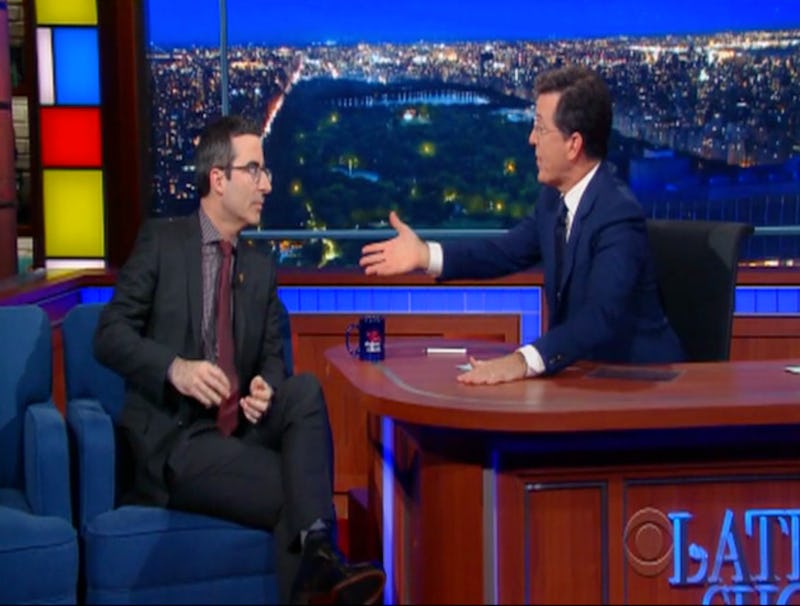 In a brilliant match up of wit and charm, John Oliver was on The Late Show with Stephen Colbert on Wednesday night, and it was almost everything you'd ever imagined it would be. They traded jokes back and forth, they flipped each other off, they joked about Donald Trump. Truly the only things that were missing was, well, more time and maybe some more substantive content. Everyone loves a good joke about not caring about the election, but Colbert and Oliver are both so funny and smart, it would have been great to see them really dig into some current issues.
But what the comedians did deliver was a truly entertaining interview. Colbert started off by telling Oliver that he was setting the world afire, allowing Oliver to retort that it's only a small blaze that could maybe "warm a single human hand" or "partially toast a marshmallow." Compliments aside, Colbert soon goaded Oliver into admitting he does only ONE half hour episode per week, compared to Colbert's five hour-long shows. Oliver totally knew what was coming as he hesitantly admitted his work hours (though, let's be real, Oliver definitely works hard throughout the week for that show, something Colbert conceded). But Colbert had a little something for Oliver because of his cushy schedule.
Then Colbert got real for a minute and said that in all honesty, one half-hour show per week just isn't enough, something we can all agree on. "I know you guys are working your ass off on a daily basis, but we want more of you," he said. And this led up to a hilarious conversation between the two.
Oliver: Less is more. We're like heroin.
Colbert: Ho, ho. Have you tried heroin? It's hard to stop with just one, my friend. No heroin user says, "I've had enough."
Oliver: We are for a disciplined heroin user. Half an hour a week of riding the H train.
The two went back and forth a little more, with Oliver realizing he didn't know his show had a website where users submit suggestions for him to cover (Florida's black bear hunting season, for one). And then Colbert asked Oliver what he thinks about ol' Trump, and he replied with something a lot of United States citizens can probably get on board with:
I couldn't give less of a shit. It's physically impossible. It's the 2016 election, and it's 2015 right now. So I don't care until we're in the same year as the thing I'm supposed to care about.
That's the nice thing, Oliver said, about having a half-hour show that only happens once a week. He doesn't have to care about the election. And what should people be talking about instead? "Almost anything that is not election related."
All in all the interview was pretty excellent. Colbert and Oliver play off each other well, and I could imagine more collaborations with these two in the future. Again, I would have liked to see them actually talk about an issue — maybe the state of American politics, for example. And OK, OK, it could have been better if, say, Jon Stewart was there, too.
To cap it off, Oliver left Colbert a nice thank you note in his video guest book, which you can watch below.
Images: The Late Show With Stephen Colbert