COVERGIRL 'Star Wars' Tumblr Is Halloween Inspo!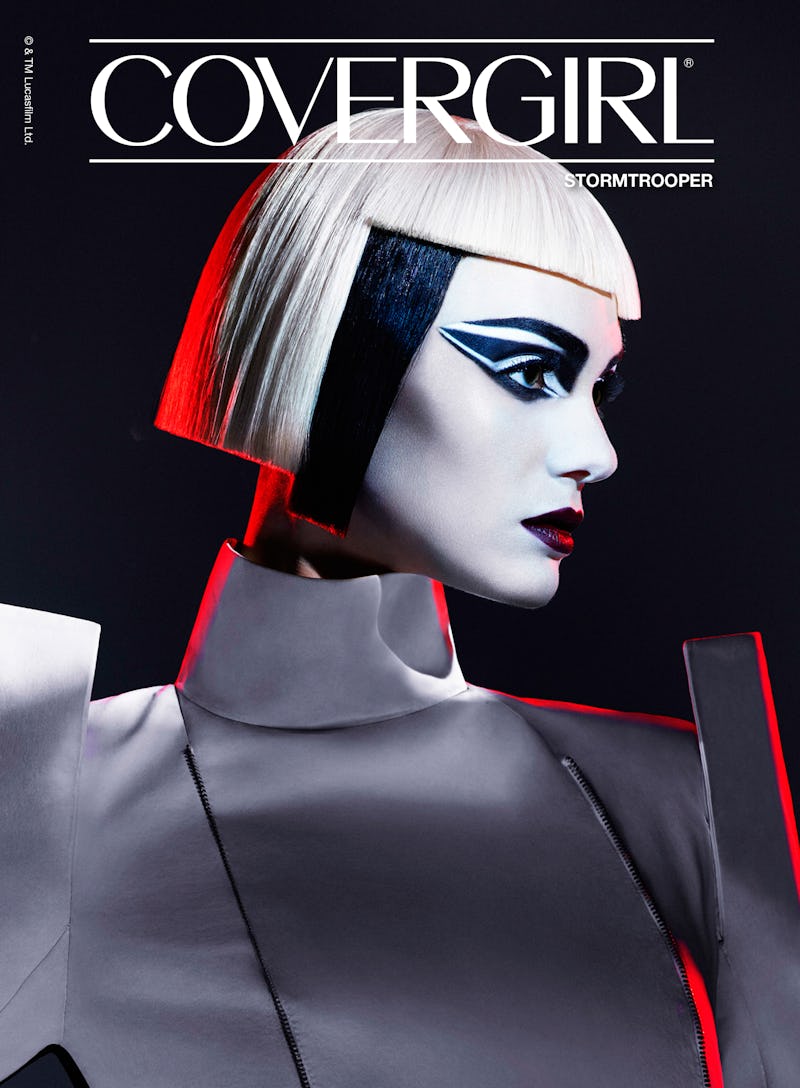 There has a been a disturbance in the force, or at least in my work day! I have a new daily disruption — make that obsession — that indulges both my love of makeup and the Star Wars franchise. The COVERGIRL x Star Wars Tumblr is pretty epic and visually stunning, thanks to all the insanely artistic and futuristic looks created with the limited edition Star Wars-themed makeup products.
Granted, most of these stunning looks, like the golden goddess Droid, aren't practical IRL. It doesn't matter if they represent The Dark Side or The Light Side. But this Tumblr serves a lot of purposes besides visual delights.
It probably just inspired your Halloween costume or outfit this year. These dramatic presentations do showcase the artistry that is possible with makeup. More importantly, these spacey styles remind us that drugstore and mass market products can work the same wonders as those sold on high-end department store counters.
When the COVERGIRL x Star Wars collab was announced, the Internet lost its damn mind. It had been a challenge to locate and order the products at first, as noted by multiple posts on the official COVERGIRL Instagram.
The Tumblr is cute and playful resource, just like the range of products.
BTW, who needs a light saber when you have 10 limited edition mascaras?
The Stormtrooper look is built around dramatic, winged liner and kabuki-like white face paint. It's very future-leaning Bride of Frankenstein.
Meanwhile, the Droid look is gold-dusted and more monochromatic. You don't have to copy the looks stroke-for-stroke, but the Tumblr offers an amazing reference point, especially since cosplay season is upon us.
I have looked for the CG x SW products in stores but haven't been able to find them yet. However, a small handful of the products did land on my desk because, well, #BeautyWriter.
I got my mitts on the gold No. 40 lipstick and two of the mascaras (No. 3 and No. 10.) I admit I only opened one and am keeping the other its package just 'cuz.
But I love the frosty lip look I get from this lipstick. I don't feel too C3PO while wearing it and it is so shiny that it mimics a gloss. I am ready to stock up on more and actually use them IRL.
But you can't argue with the three-fold nature of this collection. It's collectible. It's wearable. It's also perfect for Halloween.
Want more beauty tips? Check out the video below, and be sure to subscribe to Bustle's YouTube page for more hacks and tricks!
Images: Amy Sciarretto (1); Giphy (1), Courtesy of COVERGIRL (2)