Rock Gold Makeup Looks Off The Runway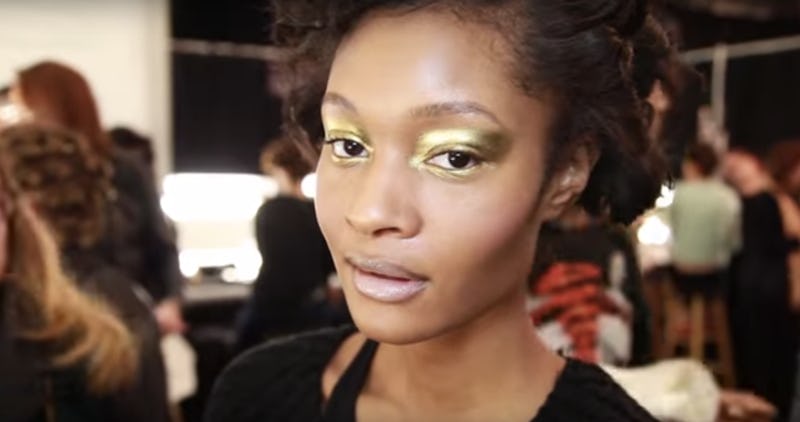 British makeup artist and Vogue regular Pat McGrath is responsible for some of the most gorgeous runway looks, period — her makeup for Dolce & Gabbana, Gucci, and Covergirl are some of the most replicated and re-pinned around. And on Wednesday at Paris Fashion Week, Pat McGrath announced her own makeup line with free makeovers in the Tuileries for a few hundred passersby that included stylists, editors, and even models.
Bella Hadid, Lily Donaldson and Daria Strokous were among the mix of civilians and industry insiders who got a golden makeup look, presumably from her line's first product, Gold 001. The Tuileries takeover was then captured by famed fashion photographer Patrick Demarchelier, who took advantage of Paris' naturally golden lighting to snap shots of the models' makeup.
The now already Insta-famous shade will go on sale for 24 hours only in November. The exact date will be announced on McGrath's Instagram account, of course.
Since the free makeovers, social media has been on fire with images of gorgeous golden looks, giving me a serious craving to replicate the look stateside while I wait for Gold 001 to make its brief but highly anticipated debut.
Here are some ideas for rocking a McGrath-inspired gold makeup look, even if you couldn't make it to Paris. (Ahem. My flight was delayed.)
A word of warning: Like McGrath's Tuileries creations, these looks are not subtle. It's not about blending, it's about BAM! So if you're looking for ways to get a precious, natural-looking dewy glow, this post isn't for you. Like a flash tattoo for your face, this is NYE party-at-Gatsby's, Gilded Age gold, honey.
1.) High-Impact Foil
Youtuber Pixiwoo posted a complete tutorial for using 24k gold foil, which she bought online, as eyeliner. She fully primes her face and eyelids first, then cuts two pieces from the foil and presses it onto her eyelids for this majorly gilded look.
The good news? Gold leaf is cheap. Seriously. Like, less-than-a-PSL cheap, with all the impact of a full fist of gold coins. You can snag a packet of 20 sheets of gold foil from Amazon for $10:
2. Abstract, Creamy Gold Eye
Backstage at Desigual, MAC's lead makeup artist Gordon Espinet gave models a creamy, smudgey gilded makeup look. "In an undeliberate, almost amateur way, we sort of just shmeared it onto the eyes, so that it doesn't look like gold eyeshadow, we want it to look like gold leaf or gold paint," Espinet explains in the video above. This look is so my speed — "amateur" and "shmear" are kind of my things.
Try: Mac Fluidline liner in Brassy Gold , $18, MAC
Or, blend some Mac Pigment in Old Gold, $22 , with water and shmear it on:
3. Party-Ready Rose Gold Eyes
Tyme the Infamous took to her Youtube page to share how she rocked a NYE look using loose, rose gold leaf and some pretty pink powder for this party look. Go for gold foil like Tyme, or cut a couple steps with Stila's Magnificent Metals Foil Finish Eyeshadow in Metallic Merlot, $32.
4. Go For Full-On Glitter
This is not your high-school dance glitter. Beautiful beauty vlogger J Renna uses tape and glue to make sure this look is grown-up, glamorous, and mess-free. She starts with Ben NYE Glitter Glue, $5 and then adds a healthy dose of gold glitter. Urban Decay Heavy Metal in Goldmine, $12, is a pretty boss option.
5. High-Pigment Gold Lips
McGrath shared snaps of megawatt gold lips backstage at Prada during Milan Fashion Week on her Instagram. While not exactly kissable (I'm being realistic here...) it's worth foregoing Prince Charming to look this golden.
Try Kaoir Lipstick in Golden Goddess Gold, $16:
NYX Wicked Lippy in Mischievous, $6, also doesn't hold back on the pigment, but despite the slightly evil name, it's chock full of glitter, so it'll lend a less matte finish.
And there you have it! The perfect McGrath-inspired look, no makeup artist required.
Want more beauty tips? Check out the video below, and be sure to subscribe to Bustle's YouTube page for more hacks and tricks!
Images: Screenshot/YouTube, Courtesy Brands