How To Shop For Oversized Sweaters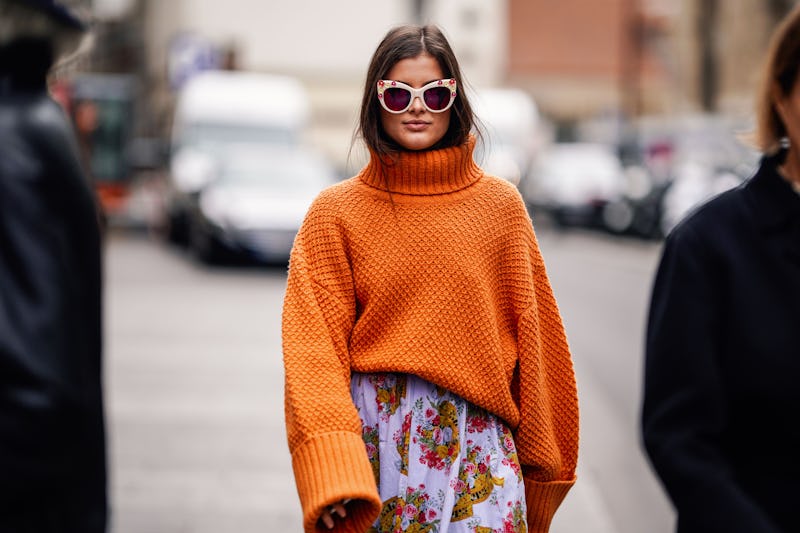 Edward Berthelot/Getty Images Entertainment/Getty Images
Many people may think that winter means bulky coats, way too many layers, and sweating when finally entering a building with heat. Despite the bad reputation that winter weather fashion can get, comfortable is the real key. That's why learning how to shop for oversized sweaters is essential to being both warm and comfortable during the coldest months of the year. Whether it's a chunky knit or an sweatshirt, you've got tons of options going for you this upcoming season, but there are things to keep in mind when purchasing your best oversized sweater.
For quite some time now, oversized sweaters have been the go-to look for women looking to stay warm but keep comfortable. Whether you're planning on rocking an oversized sweater with leather skinny jeans and booties for a cool, downtown vibe or you're running errands for the day and throw it on over a pair of leggings, the look can be far more versatile than what most assume. There's no reason to believe that rocking a chunky sweater will make you look messy. Just recently, Selena Gomez wore a baggy sweater with a pair of oversized trousers that proved that there are no rules when it comes to rocking fall and winter fashion, so why not give the look a try?
Here are my tips for shopping for an oversized winter sweater.
Choose Fabric Weight
Do you want a thick knit or a thinner fabric? They're both great options, but the former will cozy you up, while the latter will drape a little more readily so you have to decide what you feel most comfortable in.
Pick A Neckline
V-neck? Crewneck? Turtleneck? The world is your oyster. Consider which neckline you are either lacking in your wardrobe and on the hunt for, or if you have a favorite that you wear nearly exclusively.
What Length Are You After?
Just because your sweater is oversized doesn't mean that it has to literally look like it's a few sizes too big. While a "fashion tuck" with a longer silhouette is one way to go, you can also opt for a cropped option that's boxier and chunkier as well!
Consider Styling Options
When thinking of a sweater, consider what's already in your closet. Do you have a great sequin mini that could be paired with your sweater choice and worn out on the town? Keep in mind how you'll be able to style your choice.
Printed Or Plain?
Graphic sweaters are great for casual on-the-go looks while non-printed looks have great versatility.
How Do You Feel About Color?
There's nothing quite like that go-everywhere black sweater, be it oversized or not, but an oversized option is a chance to go bolder than ever as well, with a bright color or even a subtle pastel.
Choose A Silhouette
Cardigans, pullovers, or vests? The sweater silhouettes are endless. When thinking about how to shop for oversized sweaters, remember that they're not just the traditional pullover and explore all your options.
Explore Where To Shop
Size inclusivity is incredible, and we love the body positive stance of tons of retailers. Sites like ASOS Curve, Torrid, and ModCloth all offer inclusive sizes for every potential sweater purchaser.
Blending With Your Style
Is your style preppy? What about a more hip look? Or maybe bohemian sweaters would be your thing? When shopping, think about your overall style and how the sweater fits you.
Choose A Price Point
Like most fashionable pieces, sweater price points vary greatly. If you're looking to splurge on the comfy, oversized staple, sites like Free People have great choices. Maybe value is your goal, and if so, Forever 21 is the ideal place for you.
What's Your Fabric of Choice?
Just because you love cashmere doesn't mean you have to break the bank—though you might prefer a wool or cotton with a little more body to it when it comes to your oversized choices as well. Think about how much "chunk" you're really after with your new oversized sweater and go from there.
Now that winter is fast approaching, it's definitely time for you do some shopping. So with these tips on how to shop for an oversized sweater in mind, it's time to hit your closest retailer or favorite online store and prepare for colder weather. Start with the below!
We only include products that have been independently selected by Bustle's editorial team. However, we may receive a portion of sales if you purchase a product through a link in this article.