13 Books For People Who Want To Escape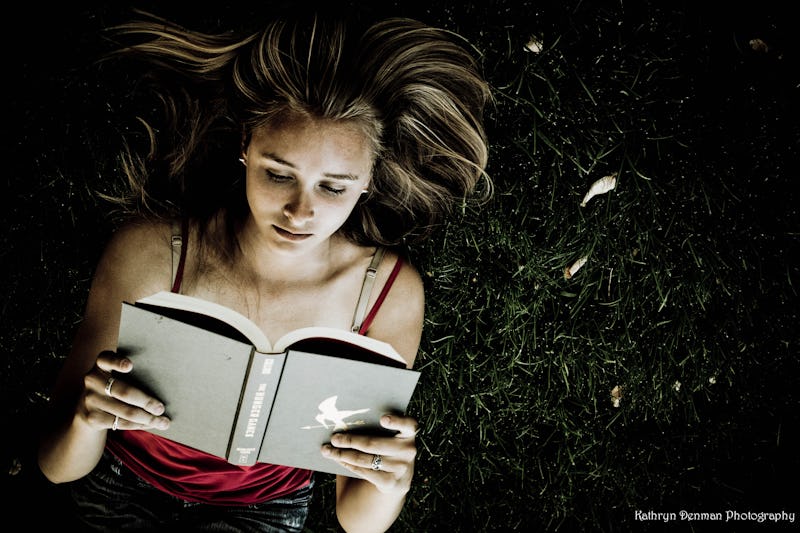 When you're reading a book, what do you remember the most? Do you remember the writing? The dialogue? Perhaps plot points? I know that when I'm looking back at a book, I have a tendency to remember characters first and foremost. There's something about these neat imaginary people that I can't ever get out of my head. Truly, without a character, what do you have? Who would fall down the rabbit hole in Alice in Wonderland? (In fact, would the story just be called In Wonderland?) Who would journey to the center of the earth? Who would fight Dracula? Where would we be without character-driven works?
Of course, I'm just being silly — even the most plot-driven books contain characters. Traditionally, character-driven works focus on the inner conflict of a character, which in turn drives the plot. This usually leads to introspective works, and are most likely considered literary fiction, but that's not always the case.
If this sounds like your cup of tea, read on, friend! I've compiled a list of 13 books for the character-driven soul, ranging from deep historical epics to light, fun reads, from heartbreaking YA to fairytale-like fantasy. Read one, or all of them, and enjoy living in someone else's head for a while. Take a look:
Bernadette Fox doesn't do well around people who aren't her Microsoft-guru husband and 15-year-old daughter, and her increasing agoraphobia has gotten so bad that she's hired a virtual assistant from India to take care of all of her errands. When her daughter Bee achieves a perfect report card, she claims her reward: a trip to Antarctica, prompting Bernadette to mysteriously disappear. It's up to Bee to sift through her mother's emails and official documents in order to uncover where her mother might have disappeared to.
It's the 1980s, and 19th century literature major Madeline Hanna is torn between two very different men: Leonard Bankhead, a charismatic loner, and Mitchell Grammaticus, an old friend who is convinced that Madeline is his destined mate. Over the course of a year, as the triangle graduates college and moves into the real world, Madeline and Leonard move to Cape Cod and Mitchell travels the world in an attempt to forget Madeline, one question arises: are the great love stories of the 19th century dead?
It's 1964 Lily Owens' life has been shaped around the blurry memory of the day her mother was killed, and when her surrogate mother insults the three biggest racists in town, they decide to flee town and escape to Tiburon, South Carolina. Taken in by a trio of African-American sisters who specialize in beekeeping, Lily is introduced to their world and slowly uncovers the secret about her mother's past.
Cadence Sinclair is 17, nearly 18, and she's recovering from an accident that occurred during the summer of her 15th year, leaving her with crippling migraines and very little memory of the incident itself. Used to spending her summers on Beechwood Island with her fellow "Liars," consisting of her two cousins and Gat, the great love of her life. Disconnected from the Liars as she recovers in Vermont, Cadence returns to Beechwood for one final summer in an attempt to learn what happened during "Summer Fifteen" once and for all.
Set in the years after World War I, veteran Tom Sherbourne returns home to Australia from the Western Front and takes a job as a lighthouse keeper on the isolated Janus Rock, taking his grieving wife Isabel, who is recovering from multiple miscarriages and one stillbirth. Things change for the couple once a dead man and a living infant is washed ashore, prompting a moral crisis thanks to the fact that Tom would like to report the infant, while Isabel decides to adopt her as her own. Two years later, the family returns to the mainland, only to learn that their choice has a deeper effect than they could have realized.
It's 1910, and when Ursula Todd is born to a wealthy English banker and his wife, she dies before she can take her first breath. On that same night, at that same time, Ursula is born healthy, embarking on a journey where her life resets every time she dies. Growing more and more unusual as Ursula grows more and more aware, as World War II looms on the horizon, Ursula begins to wonder if the fate of civilization may truly rest in her.
Eli and Charlie Sisters are hitmen for a mysterious figured called The Commodore. While Charlie has a deep and abiding love for both whiskey and killing, his young brother doesn't share the same enthusiasm, sticking around solely because he doesn't know anything else. Now they've received their latest target: Hermann Kermit Warm, and as they travel from Oregon City to Warm's gold-mining claim outside of Sacramento, Eli might finally begin to question his career.
Agnieszka lives in a quiet little village on the edge of a corrupted forest called the Wood, reliant on a wizard called the Dragon to keep the powers of the Wood at bay. In return, every ten years, the village offers up their young women, knowing that one will be chosen to serve the Dragon for a set period of time. Agnieszka was never worried about being chosen, since her best friend Kasia has all of the qualities usually found in the chosen girls, and Agnieszka is about as normal as it comes. Everything changes, however, when the day of the choosing comes and it's Agnieszka who is chosen, throwing her into a world of magic and discovery.
On one snowy night, famous actor Arthur Leander has dropped dead on stage during a production of King Lear, prompting paramedic Jeevan Chaudhary to rush the stage in order to give him CPR. Meanwhile, Kirsten Raymonde, a child actress, watches the commotion. On the same night, a terrible flu begins to spread across the Earth. Bouncing between past, present, and future, Station Eleven follows Arthur, Jeevan, and Kirsten as they live their lives. Arthur falls in love, Jeevan bars himself in his apartment with his disabled brother as the sickness rages, and fifteen years after the initial outbreak, Kirsten travels with a ragtag group of performers before arriving in a community run by a violent prophet who digs graves for anyone who tries to leave.
Set in the 1930s, Euphoria centers on Andrew Bankson, an anthropologist who has been studying the Kiona River tribe in New Guinea alone for several years. On the brink of suicide due to his isolation and the memory of his brother's death, his life is changed forever when he runs into fellow colleagues Nell and Fen Stone as they flee from a bloodthirsty tribe. Desperate for a new discovery, Andrew leads them to a new tribe nearby, and in the process brews an intellectual and romantic storm that will threaten everything between them.
Inspired by a true story, Burial Rites centers on the last days of Agnes Magnúsdóttir, a woman sentenced to death in Iceland in 1829 for the brutal murder of two men. Sent to an isolated farm to await her execution by beheading, Agnes is avoided by the family who has taken her in, uncomfortable with the notion of housing a convicted murderer. Taken in by a priest who seeks to guide her spiritually, soon the farmer's family begins to realize that there might be more to Agnes' story than originally thought.
Set in Vermont, The Secret History centers on six classics majors, a tight-knit group of the elite who, under the guidance of their professor, attempt to create a new way of thinking that will break them out of mundane, everyday life, a plan that unfortunately led to a murder within the group. Narrated years later by Richard Papen, a member of the group, he ruminates on the circumstances that led to the murder, as well as the impact it had on the group once it happened.
Little Children follows the stories of several thirtysomething couples as they raise their children in a quiet suburb. Sarah thought she was a feminist, until she married a man much older than her in order to escape singlehood. Feeling trapped, she strikes up an affair with Todd, a stay-at-home father and the "Prom King" of the playground. Meanwhile, Larry, a retired policeman, is furious when Ronnie McGorvey, a convicted pedophile, moves into his neighborhood. Little Children studies the tragedy of suburban ennui as well as the horror of adult life.
Image: Kathryn Denman/Flickr