Several Dead In Oregon Community College Shooting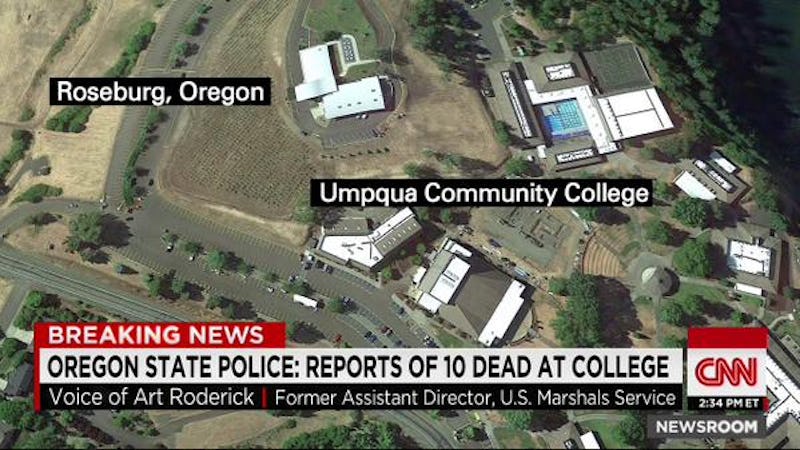 Update: At 1:45 p.m. PST, Douglas County Sheriff John Hanlin confirmed that the shooter, a 20-year-old white male, is dead. Hanlin said he believes there was gunfire exchanged between the shooter and police officers. He confirmed that there were fatalities and injuries, but could not confirm the number. The Oregon Attorney General claims the death toll is 13. At 5 p.m., Hanlin said he could confirm nine fatalities and seven injuries. The shooter was identified by the New York Times as Chris Harper Mercer Thursday night. The victims' names were released Friday night: Lucero Alcaraz, 19; Treven Taylor Anspach, 20; Rebecka Ann Carnes, 18; Quinn Glen Cooper, 18; Kim Saltmarsh Dietz, 59; Lucas Eibel, 18; Jason Dale Johnson, 33; Lawrence Levine, 67 (assistant professor); Sarena Dawn Moore, 44.
Earlier: On Thursday afternoon, a devastating shooting at Umpqua Community College in Roseburg, Oregon left between seven and 20 people dead. Details are scarce, but according to CNN, police on the scene are reporting that as many as 10 people may be dead, with another 10 possibly injured. KATU, among other local media, reports that as many as 15 people may be dead, citing confirmation by Oregon State police, who are at the scene. At least 20 people are injured alongside the deceased.
The shooter is "down" and in custody, according to CNN, and the campus is on lockdown. Students are being taken from campus by bus. If the death toll is accurate, this would make Umpqua the site of the most fatal school shooting since Sandy Hook in 2012.
Tweeted CNN's Jake Tapper at 2.32 p.m. ET: "Douglas County Commissioner Chris Boice told CNN that situation at Umpqua Community College is NO LONGER an active shooting situation."
Fire District No. 2, aka the Douglas County Fire Department, Tweeted: "Active shooter at UCC. Please stay away from the area ... Active shooter scene is code 4. Multiple casualties all pt's transported."
CNN's Brian Stelter also Tweeted: "A fire department spokesman, on the phone with MSNBC, sounds shaken. Says the death toll is unknown — but will be high."
Multiple ambulances are on the scene tending to the victims. Roseburg is a small city south of Eugene, and in the 2010 census had just over 20,000 residents.
The Bureau of Alcohol, Tobacco, Firearms, and Explosives (ATF) said in a Tweet: "ATF sending additional agents from Portland along with K9 team to #UCCShooting tragedy."
CNN Breaking News tweeted that a fire marshal had reported "multiple patients in multiple classrooms."